When Will Inflation End? (And What Can You Do in the Meantime?)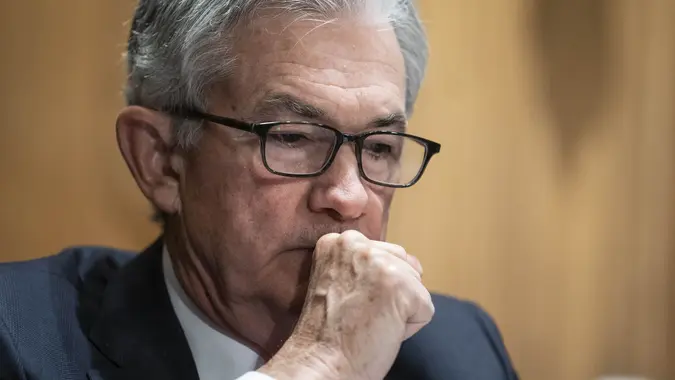 Sarah Silbiger / UPI / Shutterstock.com
Anyone who survived the holiday season knows that short supplies and high prices have been par for the course for months. The December Consumer Price Index Report, which measures price changes across the economy, confirmed the damage. Inflation had risen by 7% since December of the year before, the fastest pace since 1982.
With the same dollars buying less and less each month, the question of the day is: When will it all end? Unfortunately, not for months at least — but the good news is there are steps you can take while you're waiting for the pain to go away.
Learn: What Is Inflation and What Does It Mean When It Goes Up or Down?
Also See: Why Inflation And The Supply Chain Could Bring More Volatility To Economic Recovery
Inflation is Expected to Normalize — But Not Until Next Winter
On Jan. 26, Gallup released data showing that an overwhelming majority of Americans expect rising inflation to persist for at least six months. All signs point to the public mostly getting it right.
"Inflation will continue to rise and stay elevated for the next several months, though the pace of its growth may start to slow," said David Frederick, director of client success and advice at First Bank and adjunct professor of economics at Washington University in St. Louis.
Make Your Money Work for You
That analysis parrots what has been conventional wisdom since the fall — that the weather will get warm, then hot, then cold again before any real relief arrives.
"2022 will see more inflation, as the National Institute's Autumn 2021 report indicated," said Chad Price, who consults his clients on business and entrepreneurialism at ChadPrice.com. "The situation will change in the fourth quarter of 2022, when inflation will fall to 2.3% from 5.1% at the beginning of this year."
Advice: How To Beat Inflation at Costco and Other Grocery Stores
Large-Scale Anti-Inflation Measures Are Slow-Moving Beasts
CNBC cited analyses from Goldman Sachs and data from CME suggesting that the Fed will hike rates more than four times this year — the highest credible projection yet — and slash its balance sheet by $100 billion a month in an effort to tamp down inflation. All of that will take a year to play out, which is why normalized inflation isn't expected to return until the fourth quarter.
It will be well worth the wait, according to the experts who believe the economy is simply saturated with way too much money.
Make Your Money Work for You
"The difficulty with the current inflation is that there is a tremendous amount of newly created money coming into an economy that lacks the supply of goods and services needed to absorb it," Frederick said.
Citing the Federal Reserve's balance sheet, Frederick pointed out that during the Great Recession, the Fed added only about $2 trillion of new money to the economy from 2008 to 2011. This time, over the course of only about 18 months, starting in March 2020, the Federal Reserve added about $6 trillion to the economy — more than doubling its balance sheet from about $4 trillion to nearly $9 trillion. 
"This torrential flow of new cash has created the waves of inflation we are all experiencing now," Frederick said. "As long as the federal government's firehose of cash continues to pump, inflation will stay high."
Fight Inflation: Buy These 10 Items Now Before Prices Go Up
Those Measures Could Tip the Scales Toward a Recession
Frederick went on to explain that interest rate cuts alone — even four or more — wouldn't be enough to stave off inflation, which is part of the reason the Fed is now primed to slash its balance sheets, a fact backed up by the Wall Street Journal's reporting.
Make Your Money Work for You
But Frederick offered a word of warning.
"If the Fed is not careful, moving interest rates too high, too fast may move the U.S. economy toward a recession, while having little impact on inflation," he said. "We may be seeing some of that move to recession already from the turbulent stock market and rising bond yields. Indeed, if the experience of Paul Volcker and the Fed of the early 1980s is any indication, it may be all but impossible to slow down this level of inflation without creating a recession."
It's Time to Get Real — Real Assets, That Is
So, the most accurate synopsis is that high inflation is all but certain for the next two quarters at a minimum and a recession is now at least as likely as it is unlikely. Troubled waters, indeed. 
"So, what's an investor to do? Buy real assets," said Gary Zimmerman, a former investment banker and the CEO of MaxMyInterest. "Residential real estate is as good an asset class as any in an inflationary environment as its nominal value will go up while simultaneously the real value of the accompanying mortgage will go down.
"Or traditional gold, which was down last year because it's out of fashion, like brown furniture. But it's a classic inflation hedge and could return as an important store of value. Some cryptocurrencies may continue to perform well too, even though they are fundamentally worthless — in the same way that a painting on canvas is fundamentally worthless, even though through fashion and scarcity it can attract a premium price. Bitcoin's economic appeal is largely centered around its one feature that the U.S. dollar lacks: limited supply."
Find: 11 Places Where Cost of Living Is Still Low, Despite Inflation
Savers Can Use the Moment to Pounce on Rising Rates
Traditional saving can ease the pain, too, but only if you have a strategy.
"Individuals wanting to protect themselves from inflation this year can invest in high-yield savings accounts and take out their cash before inflation rates decrease," Price said. "This will create a buffer of funds that have appreciated at optimal conditions and recoup the losses of the past two years. The inflation rate should not so much affect investment decisions as much as savings practices."
For small business owners, the best move might be no move at all.
"The Federal Reserve intends to raise interest rates in March 2022," said Dr. Bob Castaneda, program director at Walden University's College of Management and Technology. "Right now, companies will be best suited holding off on expansions until economic conditions stabilize, while consumers should prioritize saving."
It's Complicated — Get Help
In the end, the right thing to do during these challenging times is different for every person, household and small business. Unless you have a really strong grasp on the powerful and highly complex forces at work, you're almost always better off enlisting the help of someone who does.
"Individuals worried about inflation, turbulent stock markets, rising bond yields or possible recession should consult with a financial advisor," Frederick said. "These financial professionals understand how the economy works and how businesses, consumers and investors can put themselves in the best possible position to weather storms of inflation, turbulent markets and recession. Individuals should not try to navigate this economy alone."
More From GOBanking Rates
Make Your Money Work for You