25 Worst Floods of All Time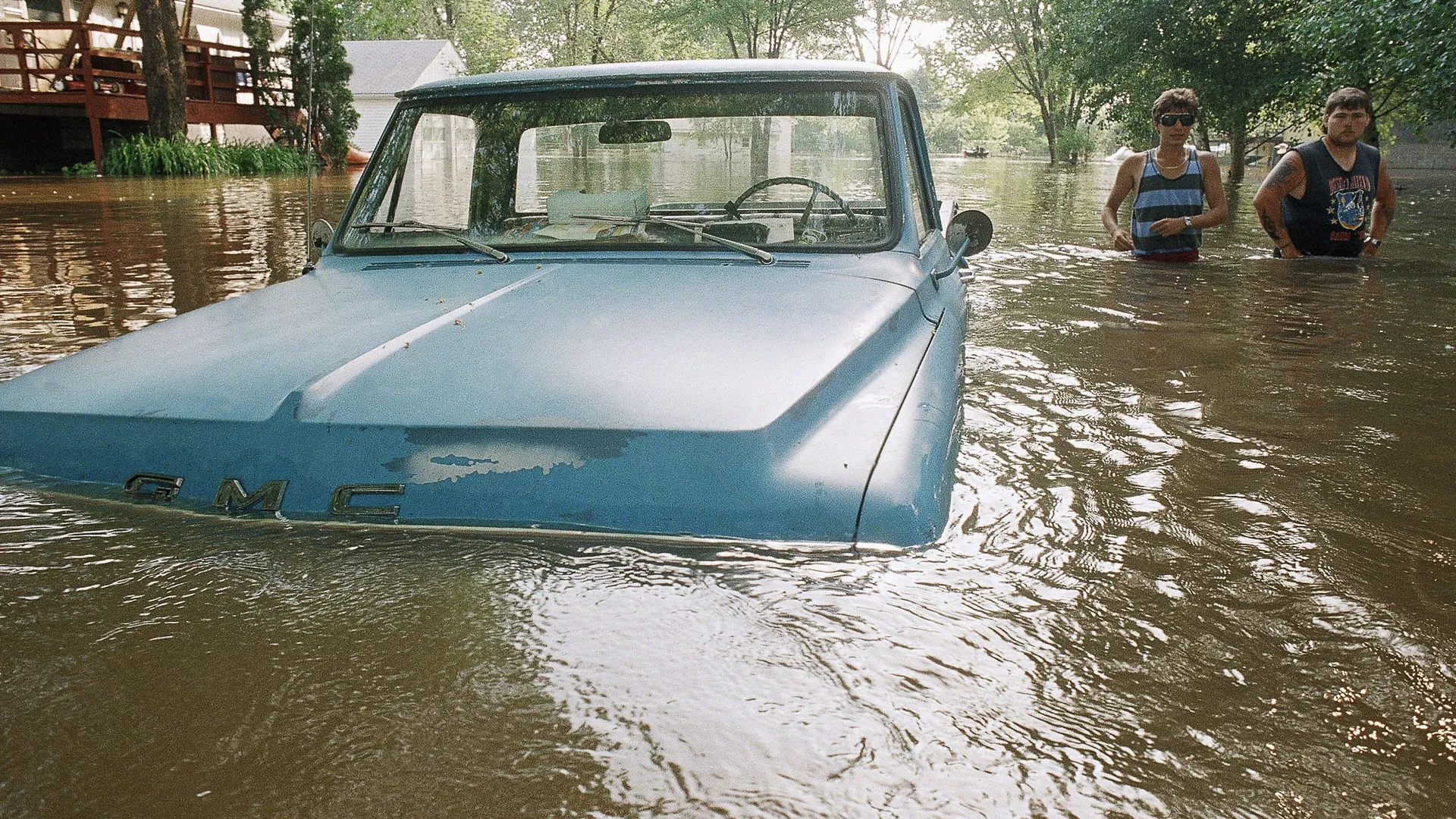 Floods can cause serious damage even on a small scale. The large ones can turn tragic. When storms hit an area nonstop, potentially for days, the loss of human life and cost of destruction can be devastating. To get an understanding of just how impactful these events can be, take a look at some of the worst floods of all time.
Midwest Flooding, Summer 2008
Deaths:

24

 

Cost: $12

billion 
For nearly three months in 2008, unrelentingly rains pounded the Midwestern states of Iowa, Illinois, Indiana, Missouri, Minnesota, Nebraska and Wisconsin. The result of several storm systems was a cumulative rainfall of more than 12 inches that amounted to $12 billion in damages to homes, businesses, farms and infrastructure.   
Northern India Floods, 2013
Deaths: 6,000
Cost: $170 million
Floods in northern India left thousands scrambling for higher ground as monsoon rains brought on landslides and water engulfed villages and towns in the Indian state of Uttarakhand in 2013. Government aid was promised to the tune of $170 million for the rebuilding efforts. 
Louisiana Flooding, August 2016
Deaths:

13 

Cost: $10.8

billion 
Dubbed by the American Red Cross as the worst natural disaster to the country since Superstorm Sandy, the massive floodwaters that fell on Louisiana in 2016 destroyed 50,000 homes, 100,000 vehicles and 20,000 businesses in its wake. Inside of one week, an estimated 6.9 trillion gallons of rainfall pummeled the region, and one community experienced more than 31 inches of rain in just 15 hours.
Make Your Money Work for You
China Floods, 1931
Deaths:

3.7 million

Cost: Unknown
The 1931 China floods were one of the worst natural disasters in history. On Aug. 18, 1931, the Huai, Huang (Yellow) and Yangtze rivers overflowed and spilled into nearby villages and towns. While a pattern of wild weather contributed to the disaster, a decades-old system of river management ultimately led to the water levees breaking, and catastrophe ensued. The quantified cost of the tragedy is unknown, but many lost their lives both directly and indirectly from the event.  
West Coast Flooding, December 1996 to January 1997
Deaths:

36

 

Cost: $4.9

billion 
An early winter storm in 1996 devastated parts of Washington, Oregon, Idaho, California, Nevada and Montana. More than 20 inches of rain fell in some locations, and water levels rose due to an unseasonably warm snap that melted snow in the mountains. The area experienced mudslides, flooding and road closures that caused close to $5 million in damages.
Midwest Flooding, Summer 1993
Deaths:

48 

Cost:

$37.7 million 
The size and scope of the floods of 1993, known as the "Great Flood," were so widespread that nine states were impacted and 400,000 square miles covered. During the period of sustained storms, some areas received more than 4 feet of rain and rain fell on 20 or more days in some locales in July alone. As the summer wore on, hundreds of levees failed to keep the waters at bay along the Mississippi and Missouri rivers, and the death toll tragically totaled 48.
Northern Plains Flooding, Spring 1997
Deaths: 11
Cost: $5.9 

billion
Minnesota and the Dakotas' Red River reached record-breaking levels in April 1997 during a springtime snowmelt that inundated the river with water. The flood's destruction killed 11 people and caused nearly $6 billion in damages to homes, businesses, farms and infrastructure.
Make Your Money Work for You
Great Iran Flood, 1954
Deaths:

2,000

Cost:

Unknown
In August 1954, scores of Iranians were praying at a mosque when disaster struck. An entire pilgrim camp was washed away by the floodwaters, leaving about 2,000 fatalities in the aftermath.
Pictured: Teheran, Iran flood in 1962
Gulf States Storms and Flooding, December 1982 to January 1983
Deaths:

45

 

Cost:

$4.2 billion 
A wide swath of the states of Illinois, Missouri, Arkansas, Lousiana, Mississippi and Tennessee experienced catastrophic flooding in late 1982 and early 1983. Reaching from the Great Lakes down to the Gulf of Mexico, the areas surrounding the Mississippi River basin flooded because not one, but two, major weather systems tore through the area in a matter of weeks. Many of the areas reached peak flood heights and after the dust settled, the damage totaled more than $4 billion.
Western Storms and Flooding, December 1982 to March 1983
Deaths:

50 

Cost:

$4.1 billion 
The mighty Mississippi River spilled over its banks and flooded many of the streams in Illinois, Missouri and Arkansas from December 1982 to March 1983. The long stretch brought unrelenting storms, and the states endured record-breaking amounts of rainfall and water heights.
Yellow River Flood in China, 1887
Deaths:

Estimated between 900,000 and 2 million

Cost:

Unknown
Known as "China's Sorrow," the Huang, or Yellow, River is responsible for more deaths than any other river on Earth. As the country's second-longest river, the Yellow River is predisposed for flooding due to its elevation. In 1887, a period of heavy rain outpaced the river's dikes and massive flooding in the coastal areas. Little information about the flood's damage cost exists, but it's estimated that as many as 2 million people were killed in the tragedy.
Make Your Money Work for You
Mississippi River Flooding, April to May 2011
Deaths:

7 

Cost:

$3.5 billion
For two months during the Spring of 2011, a perfect storm of heavy rains combined with heavy snowmelt led to devastating floods along the Mississippi River. Water engulfed homes, acres of farmland, roads and athletic fields. The Army Corps of Engineers busily worked to displace the rising water level, but the storms still contributed to $3.5 billion worth of damage and seven deaths.       
Texas and Oklahoma Flooding and Severe Weather, May 2015
Deaths:

31

 

Cost:

$2.8 billion 
The outlook was bleak for pockets of West Texas and Oklahoma on May 6, 2015. Torrential rains and hail pelted the land, along with strong winds, tornadoes and flash floods that left the area in ruins. The damage in Texas alone reached $1.1 billion. The severe weather system was responsible for 31 deaths and $2.8 billion in damages. 
Bangladesh Flood, 1974
Deaths: 40,000 to 300,000
Cost: Unknown
A 1974 flood and famine in Bangladesh was responsible for the deaths of thousands, but it was the flood's aftermath that nearly decimated the region. After the waters receded, the government was overthrown the following year in response to the perceived mismanagement of resources, aid and disaster relief.
Pictured: Bangladesh flooding 1996
East/South Flooding and Severe Weather, May 2010
Deaths:

32 

Cost:

$2.7 million
Over a three-day stretch, a beastly storm that brought thunderstorms, tornadoes, hail and flooding tore through parts of Tennessee, Arkansas, Alabama, Kentucky, Mississippi and Georgia from April 30 to May 2, 2010. Of the affected areas, Western and Middle Tennessee topped the rainfall totals with 20 inches of water in some areas surrounding Nashville. The bill for three days of destruction: $2.7 billion. 
Make Your Money Work for You
Yellow River Flood in China, 1938
Deaths:

Estimated between

500,000 and 900,000

Cost:

Unknown
Severe weather wasn't the culprit in the 1938 Yellow River flood. Instead, the destruction that claimed the lives of as many as 900,000 was at the hand of Chinese Nationalist forces who destroyed dikes to abate the advancement of Japanese troops during the Sino-Japanese War. It wasn't until 1946 that the dikes were rebuilt and the river was redirected.
Johnstown Flood, 1889
Deaths:

2,200 

Cost:

Unknown
Johnstown, Pennsylvania, located outside of Pittsburgh, was hit by severe flooding in May 1889 when the Allegheny, Little Conemaugh and Stony Creek rivers flooded. The raging floodwaters swept away homes and buildings and even caught 33 train engines in its path. The town's population of 30,000 suffered a loss of 2,200 lives. The devastation was so immense that it took five years to rebuild Johnstown. 
Yangtze River Flood in China, 1935
Deaths:

145,000

Cost: Unknown
A scant four years after the deadliest flood on record, the Yangtze River flooded once more, this time killing 145,000 people. Millions more lost their homes, were injured or had little food in the wake of the flood.
California Flooding, January to March 1995
Deaths:

27 

Cost: $4.3

billion 
Much of the Golden State was pummeled by heavy rains in the winter of 1995 due to El Nino, an irregular weather pattern that brought on climatic changes. In January and in March, Californians endured thunderstorms, flooding and tornadoes that caused electrical outages for 2.6 million Pacific Gas and Electric customers, the damage and destruction of more than 10,000 homes and over $4 billion in damages.
Make Your Money Work for You
Hanoi and Red River Delta Flood in North Vietnam, 1971
Deaths:

100,000

Cost: Unknown
An estimated 100,000 people lost their lives in North Vietnam's Red River flood in 1971, but relatively few details are known because it took place during the Vietnam War. The low-lying delta area was heavily populated, and the dike system was no match for the torrential rains that descended on the region. The floodwaters caused an even greater hardship as farmlands were wiped out and thousands were killed.
Yangtze River Flood in China, 1911
Deaths:

 100,000

Cost: Unknown
Asia's longest river flooded in horrific fashion in 1911 and claimed the lives of an estimated 100,000 people. While the cost for the damages is unknown, the country and its citizens pay a hefty price for the river's temperamental nature. 
Houston Flooding, April 2016
Deaths:

8 

Cost:

$2.9 billion 
The city of Houston was paralyzed by extreme rainfall during April 2016. As much as 17 inches fell in less than 24 hours and the historic deluge of water destroyed homes and roads that racked up almost $3 billion in damages. Emergency teams were able to successfully complete more than 1,800 high-water rescues, but, sadly, eight deaths occurred. 
Yangtze River Flood in China, 1954
Deaths:

30,000 

Cost:

Unknown
The Yangtze River experienced what was considered a dire amount of rainfall in 1954. During spring and summer — with 19 inches of rain just in June alone — one of the worst floods of the first half of the 20th century happened in China. An untold number were homeless, 30,000 people died as a result of raging waters and the loss of crops was severe.
Make Your Money Work for You
Tianjin Flood in China, 1939
Deaths: 20,000
Cost: Unknown
Tianjin, China, was hit by an epic flood in the summer of 1939 that killed 20,000 people and pooled so much water into the town's roads that boats were the only mode of transportation for two months following the storm.
Ohio River Flood, 1937
Deaths: 385
Cost: $20 million
Cities along the Ohio River in Kentucky, Indiana and Illinois faced serious problems in 1937 when the water levels rose as high as 80 feet in Cincinnati. Adding to the water damage sustained by homes and other structures, gas tanks exploded and oil fires erupted on the river. With sections of Cincinnati submerged for 19 days, electricity and freshwater were scarce and contributed to 385 deaths.
More on Money

BEFORE YOU GO
See Today's Best
Banking Offers