Beyond the Numbers: What It Really Means to Be an Entrepreneurial Mom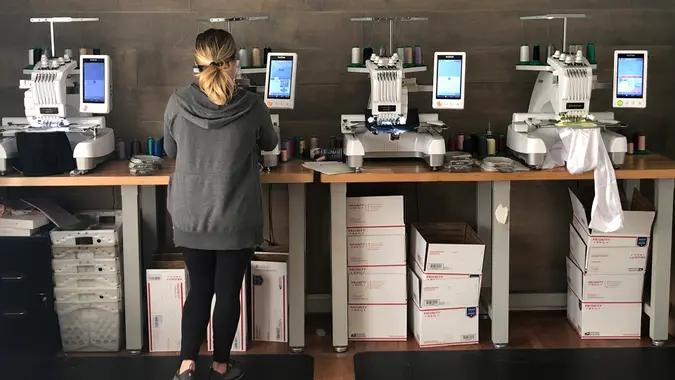 ©Courtesy of Alison Turner
When it comes to launching new businesses, women are blowing men out of the water. The number of women-owned businesses in the U.S. has soared 114 percent over the past 20 years compared with an overall national growth rate of 44 percent, according to a study commissioned by American Express.
Granted, the majority of businesses operating in the U.S. are still owned and operated by men. However, women are catching up thanks to a surge in entrepreneurialism among them. Women-owned businesses now account for 39 percent of companies in America, according to the American Express study.
The numbers are impressive. But what's really remarkable is that many of these women have launched successful businesses while juggling the demands of motherhood. Keep reading to find out what being an entrepreneur is like for these three moms.
Allison Turner — Etsy Entrepreneur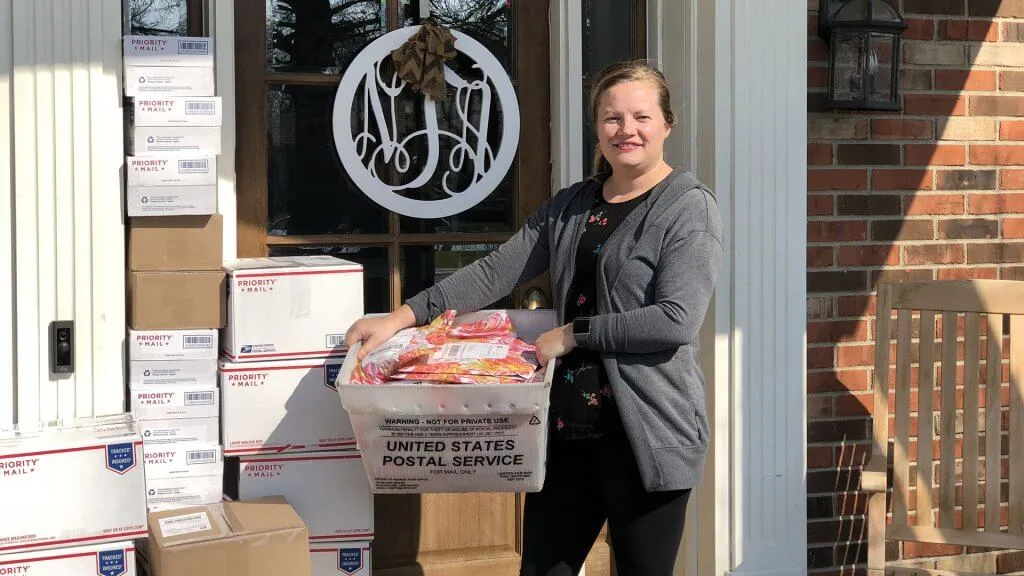 In August 2011, Turner — who already had one son — gave birth to triplets. The two boys and one girl were 13 weeks premature, so they had to remain at the hospital. Once the last of the triplets was released from the hospital 75 days after birth, Turner had just two weeks with all of them before having to return to work.
She went back to nursing part-time, which still meant working eight-hour shifts at a hospital from 7 p.m. to 3 a.m. Turner was getting only a few hours of sleep because she had to get up as soon as her husband left for his job and care for the kids until he came home in the evening. She knew her lack of sleep wasn't safe for her patients, her children or herself. "But we had to have money," Turner said. "It was a necessity."
Make Your Money Work Better for You
That's when she realized she needed another way to make money. Around that time, a friend told Turner she wanted to get monogrammed bathrobes as bridesmaids' gifts for her wedding. Turner, who didn't even own a machine to do the monogramming, said she could do it. "I came home and told my husband I needed an embroidery machine," Turner said.
But not just any machine — a $7,000 professional-grade embroidery machine. However, she bought it with 0 percent financing for 12 months. Turner figured that if she could start selling monogrammed robes and make $1,000 a month, she could pay off the machine before a year.
So, Turner monogrammed seven robes for her friend, took pictures of them and launched her Etsy shop — The Fancy Pigeon — in December 2011. "They were terrible pictures," Turner said. "I can't believe I sold any."
But she did. Turner sold enough to pay off the embroidery machine in about five months. By the second full year of running The Fancy Pigeon, Turner had a profit of about $40,000 — enough to replace her nursing income. By 2016, her business was making enough to replace her husband's income, so he quit. The two now run The Fancy Pigeon from their home and have four embroidery machines, about $500,000 in annual sales and a profit of more than $200,000.
Despite The Fancy Pigeon's success, Turner never thought the company would last. "I thought it was a temporary thing," she said. And it certainly hasn't been easy growing a business while being a mom to four kids — now ages 6 and 12.
Make Your Money Work Better for You
Turner and her husband often work 11 hours a day filling orders for monogrammed robes as well as scarves, clutch bags and other personalized bridal gifts. Yet, she takes time to pick up the kids from school daily, and all six of them have dinner together. She even volunteers occasionally in the triplets' kindergarten classes. It just means she has to work at night after the kids go to sleep.
"Really, there's nothing we're missing other than our sleep time," she said. "Even though I have to work when they're at home, I'm here more." And that makes the hard work of running her own business worth it.
Did You Know: These Are the 10 Best and Worst Jobs for Work-Life Balance
Shannon McLay — Financial Gym Founder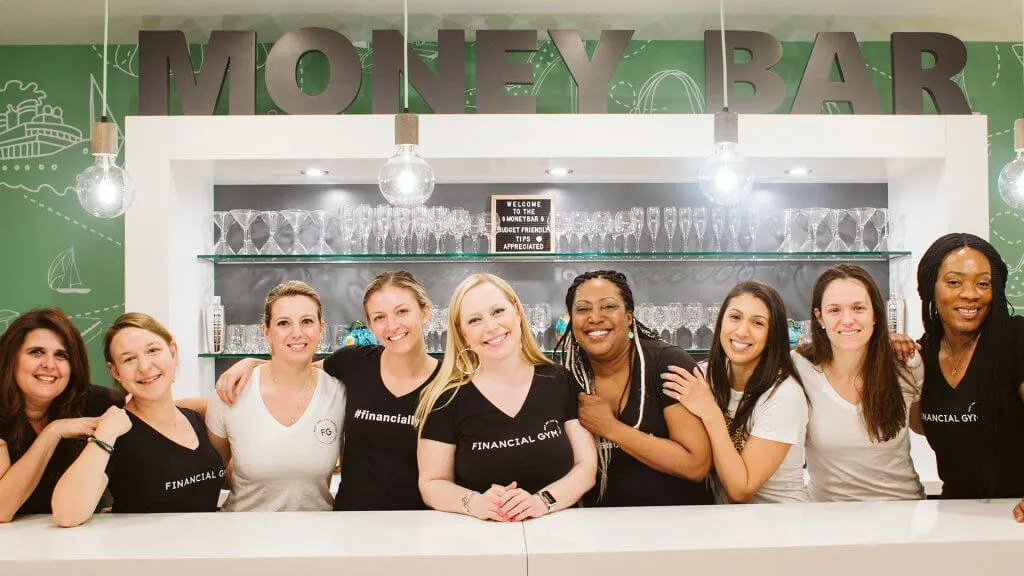 Like Turner, Shannon McLay never had any intention of becoming an entrepreneur. "I never even had that in my life trajectory," she said.
McLay had worked in financial services for 13 years and was an advisor at Merrill Lynch when she got the idea to launch a different kind of financial services company. "While I was at Merrill Lynch, I saw the need for one-on-one help for people who didn't have the wealth," she said. She wanted to create a company that would care for clients even if they didn't have a high net worth.
When McLay got the idea to create the Financial Gym, her son was 8 years old. "I feel fortunate that my son was 8," she said. "I could explain it to him and he got it. From the beginning, I told him I was building a business." To build it, though, took a lot of sacrifice.
Make Your Money Work Better for You
For starters, McLay gave up a six-figure job at Merrill Lynch. For two years as she was getting the Financial Gym off the ground, she went without pay. "I went through every last bit of my life's savings," McLay said.
Get the Truth: Here Are 7 Surprising Costs That Come With Starting a Business
Once she raised $1.8 million in venture capital funding, McLay gave herself a salary of $60,000 — which was less than her starting salary at her first investment banking job out of college. That funding also helped her open the doors to the first Financial Gym in 2016 in New York City to help people get financially fit. She now has nine employees and expects to have more than 20 by the end of 2018.
It almost goes without saying that launching her business also took a huge investment of time. In fact, McLay said it was like having another child. Fortunately, McLay's mom and now ex-husband have helped care for her son. No matter how busy she's been, though, McLay has always made sure she puts him on the bus to school every day. "The morning routine is very important," she said. And whenever she spends time with him in the evenings or weekends, "I am 100 percent with him," she said.
"You just have to get out of your mind that it's all about quantity of time with your children," she said. "It's about quality of time with your children."
Make Your Money Work Better for You
Although integrating parenthood with entrepreneurship is challenging, McLay said that being a mom has helped her excel at her business. "I'm nurturing with my clients," she said. Plus, it's the mom in her that wants to help this generation become financially literate so their children will be better off, she said.
Molly Hamilton — Cookie Company Creator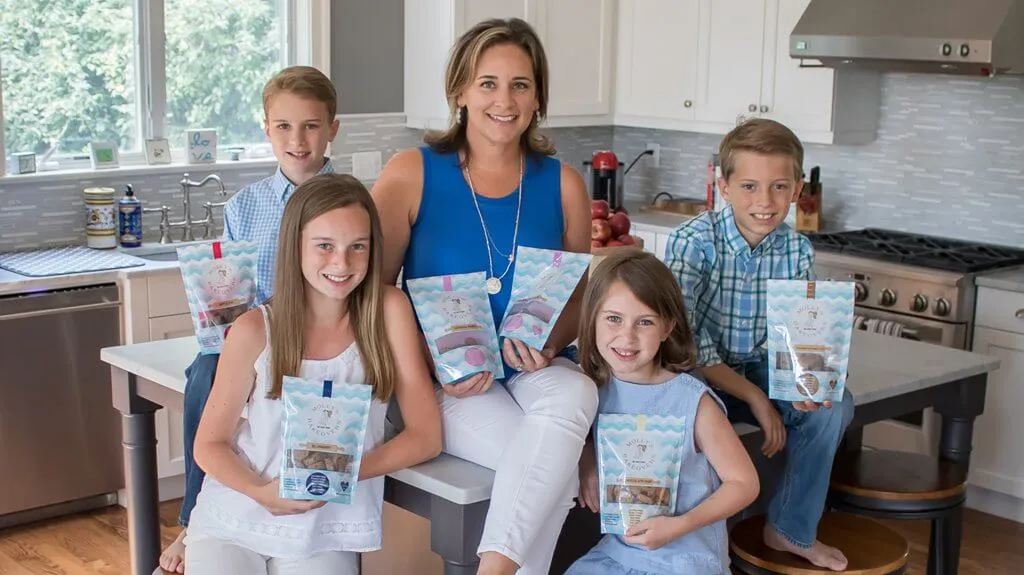 Being a mom of four kids with food allergies played a big role in Molly Hamilton's desire to launch her own cookie company. "I was frustrated by the amount of junk on store shelves," she said. And she knew how few items on store shelves were allergen-free.
However, it's one thing to have an idea for a business. It's another thing altogether to bring it to life — especially when raising four children. For starters, it took nearly two years to come up with a cookie recipe that was nutritious and allergen-free and that her kids and others liked.
The next challenge was sourcing ingredients. She wanted organic and GMO-free ingredients, and they had to come from a supplier that didn't process dairy, gluten, eggs and peanuts. "That rules out 99 percent of producers," Hamilton said.
Then she had to find a facility to produce the cookies — which took several tries. "It's two steps forward and three steps sideways," Hamilton said. Plus, it took working 70 hours to 80 hours a week — sometimes on the sidelines of her kids' lacrosse games — and plenty of her own money to start her cookie company.
"You and your family need to be ready to make the sacrifices and believe in your mission," Hamilton said. "In my case, my husband does, as do our kids."
Make Your Money Work Better for You
But the sacrifices paid off when she started selling her Molly's Bakeovers on Dec. 28, 2015, at Whole Foods in Rockville, Md. She knew it was a good sign when she sold about nine cases of cookies in less than three hours.
Molly's Bakeovers now come in four flavors — chocolate chip, oatmeal raisin, old-school chocolate chip and brownie — and are sold on Amazon and in Safeway, Balducci's, Bed, Bath & Beyond and some independent retailers, in addition to Whole Foods.  The company is profitable, but Hamilton invests the money back in the business to grow it.
She still works long hours and has had to miss special moments in her kids' lives, such as a talent show her youngest daughter was in last year because Hamilton was at a food show on the West Coast. But, for the most part, running her own business lets Hamilton work around her kids' schedules and even take them with her on work trips.
Being an entrepreneur can be challenging no matter who you are, Hamilton said. "Certainly, when you have children you are caring for, it adds another level of complexity," she said. "But those same children also provide incredible motivation as well as a great deal of support."
Click through to see the best and worst cities to be a mompreneur.