Money Expert Says You'll Regret Retiring Early — 4 Reasons You May Want To Keep Working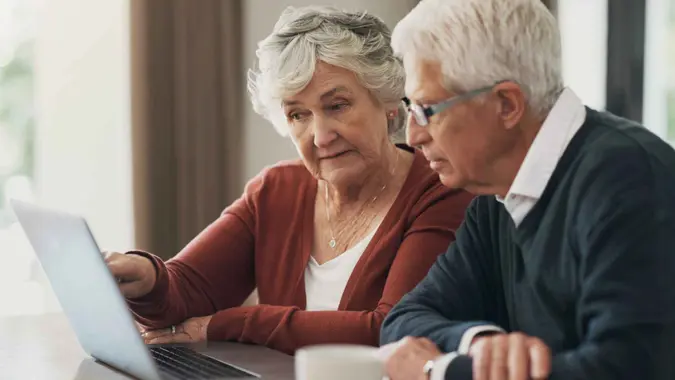 shapecharge / Getty Images
Noted economist and author Laurence Kotlikoff got a lot of attention last year when he wrote in a column for CNBC that for most Americans, early retirement is "one of the biggest" mistakes they will one day regret.
His position had nothing to do with the usual problems associated with early retirement: boredom, not enough to do, missing your workmates, missing the adrenaline of work, you're tired of chasing golf balls into the woods, etc.
Kotlikoff's reason had to do with money — specifically, that most Americans are "lousy savers," which makes retirement unaffordable. He cited a Boston College retirement study showing that 50% ofworking families today risk a "major living standard decline" in retirement. That figure would drop by half if all workers were to retire two years later.
If you're considering retiring early, it's a good idea to make a list of the pros and cons both financially and otherwise. Here are four reasons you might want to keep working even after you hit retirement age.
1. You Don't Have Enough Money
In his CNBC column, Kotlikoff cited a Transamerica study showing that the median retirement savings of baby boomers was $144,000 as of 2020, which amounts to less thanthree years of median household spending.
"If they had significant private, state or local pensions on which to rely, things would look better," Kotlikoff  wrote. "They don't."
The worrying part is that boomers are still far and away the wealthiest of all generations. According to Transamerica, the estimated median retirement savings for all workers was $50,000. Gen Xers had median savings of $64,000, while millennials had median savings of $23,000.
Make Your Money Work Better for You
One in 10 workers reported having no retirement savings at all, including 12% of millennials, 9% of Generation X and 7% of boomers. Even as those numbers have risen over the past three years, high inflation has cut into savings for many workers.
2. You'll Live Longer than You Think
Advances in medicine, healthcare and lifestyle choices mean that Americans are living a lot longer now than they used to. A woman who retires at age 65 can expect to live another 20.4 years on average, according to the AARP. A man can expect to live about another 18 years. For couples who make it to 65, there's a 25% chance that the surviving spouse lives to 98, according to the Society of Actuaries.
The longer you live, the longer you'll have to stretch your retirement savings. If you retire early, there's a chance you might outlive your savings.
3. Social Security Won't Be Enough
The average Social Security retirement check as of July 2023 was $1,790.56 a month, according to the Social Security Administration. That won't even cover the average rent in the United States, which was $2,038 a month in July, according to Rent.com.
If you retire early — and collect Social Security early — your check will take even more of a hit. Waiting until age 70 to collect instead of age 62 increases your total monthly payment by more than three-quarters,
4. You'll Spend More Money Than You Anticipate
As the AARP has noted, a typical rule of thumb is that you'll spend about 80% as much in retirement as you did when you were working. The reality is often quite different, however. A study from J.P. Morgan Asset Management found that many new retirees go on a spending splurge that might include travel, home renovations or relocation, and other lifestyle changes.
Make Your Money Work Better for You
In times of high inflation — like we've see the last couple of years — your budget (and retirement savings) can be eaten up in a hurry. The AARP cited research showing that more than one-quarter of retirees spend more on housing, health and medical expenses than they anticipated.
Retiring early gives you less time to build a nest egg, making your savings more vulnerable to spending sprees and rising costs of living.
More From GOBankingRates