Nearly a Quarter Will Depend on Family Help to Afford Retirement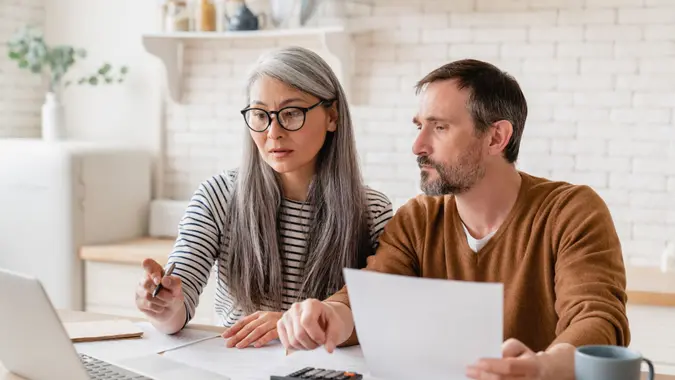 Inside Creative House / Getty Images/iStockphoto
For many Americans, growing old is a group project.
A new GOBankingRates survey of more than 1,000 adults found that one in four people are counting on help from family members to afford retirement. That could include assistance with long-term care, housing, spending money, or anything else people need to live comfortably after their careers wind down.
GOBankingRates spoke to various experts to find out what that means for the 25% who aren't able to go it alone, the family members who will aid them and future generations.
Family — the Original Retirement Plan — Has Risks and Rewards
Leaning on loved ones to endure old age is a tradition that long pre-dates the 401(k) — or even cities and civilizations. 
"Depending on family is something that has always been part of the aging process," said Melanie Musson, an insurance planning expert with Expert Insurance Reviews. "During some periods, nearly everyone depended on family, and during others, fewer retirees depended on family."
Here's what you need to consider if you're nearing retirement with few options beyond your family, or if an older loved one is turning to you for help.
There's No Shortage of Emotional and Psychological Considerations
Like any situation, there are pros and cons to family members supporting their own in retirement — especially when one moves in with the other.
Make Your Money Work Better for You
"On the one hand, family support can be a robust safety net, emotionally and financially," said entrepreneur and personal finance expert Tim Schmidt, vice president of business development at Cayman Financial Review. "On the other, there's a tipping point where dependency can strain relationships and lead to financial instability for all involved."
The stark realities of the arrangement can quickly grind on both parties.
"For retirees, depending on family means giving up independence," said Musson. "For example, if you move in with your children, you're not living in your house. You're not in charge, and you have to live with other household members in mind. Retirees may also feel down about not being able to support themselves. Going from having full executive power over your life to depending on others can be challenging. For family members, it means sacrificing time and space. There can be times of frustration. But overall, caring for older generations is a good thing that can help caregivers grow in compassion and understanding."
It Only Works If Both Parties Are Prepared for the Financial Realities
Musson's optimistic assertion that both young and old benefit when the former cares for the latter depends heavily on whether the arrangement comes by choice. If financial necessity leaves no other options, the dependent retiree can be stuck in poor living conditions and the overstretched supporting party can endanger their own financial future.
"It is very risky to rely on family members to be able to support you financially in retirement," said Kendall Meade, certified financial planner at SoFi. "What happens if your family member is not in a place financially to be able to assist you? This can also cause the family member to fall behind on their own savings goals, which may leave them in debt or unable to retire."
Make Your Money Work Better for You
Schmidt has witnessed it firsthand.
"One of my relatives found themselves becoming the sole breadwinner for aging parents, which had a significant impact on their ability to save for their own future," he said.
Relying on Family Is Healthy — Becoming a Dependent Is Not
The ideal retirement has many components — and while a strong network of loved ones should undoubtedly be one of them, no retirement is secure with all its eggs in a single basket that the retiree doesn't control.
"While family support is valuable, it shouldn't be the primary retirement plan for anyone involved," said Schmidt. "Both the retirees and their supporting families must have a balanced, diverse financial strategy."
Schmidt used the example of Social Security, which is an excellent supplementary income source, but not enough to support a healthy retirement on its own.
"Social Security and family support should be components in a diversified retirement strategy, but neither should be the sole pillar holding up your financial future," he said. "Diversification in income streams and support systems is more crucial than ever, given the unpredictability of modern life. Whether investing in various assets or fostering strong family bonds, a well-rounded approach will make your retirement years endurable and enjoyable."
Confidence Grows As Retirement Draws Near — Or the Young Are in Deep Trouble
The study showed that roughly equal percentages of men and women rely or plan to rely on family members in retirement — but responses varied dramatically by age.
Here's the percentage of people who plan to rely on their families to afford retirement, broken down by age group:
18-24: 36.49%
25-34: 30.17%
35-44: 26.10%
45-54: 22.15%
55-64: 13.28%
65 and up: 10.66%
Make Your Money Work Better for You
As you can see, the youngest adults with the longest time to go are most likely to think they'll need help in their golden years. The oldest Americans already in or nearly in retirement are the most optimistic about going it alone. In between, the number of people who expect to need help decreases with each consecutive age group, from more than one in three Gen Zers to just 1-in-10 boomers. 
The Results Are Either Good for Today's Retirees or Bad for Tomorrow's
The age disparity could indicate that the younger and less prepared you are, the more overwhelmed you're likely to be about the distant but daunting idea of saving enough money to retire comfortably.
Or it could be that today's young people recognize ominous writing on the wall.
"Millennials and Gen Z are likely to rely on family even more as they near their retirement years," said Lindsey Crossmier, a financial researcher and writer for RetireGuide.com. "Due to skyrocketing costs with stagnant wages, there will be less money to support high retirement costs in the future. If the government doesn't fix Social Security by 2033, retirees and their supporting family members could find retiring comfortably a very difficult task."
More From GOBankingRates
Make Your Money Work Better for You