Reasons Not To Retire in This Month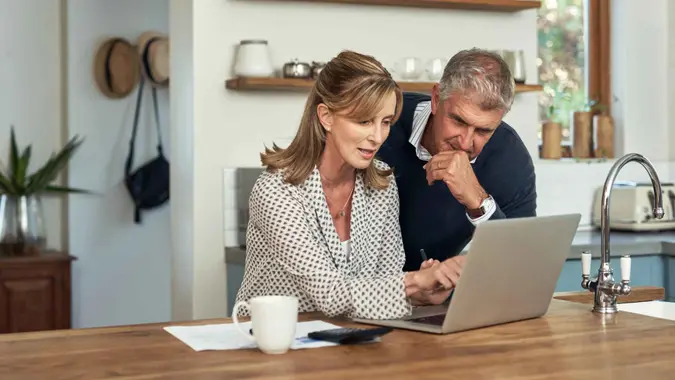 shapecharge / Getty Images
Retirees spend endless hours pondering the right age to retire — but how many of them put as much thought into which month is most likely to set them up for success?
Whether they think about it or not, months matter.
Andrew Lokenauth is a 15-year financial advisor and Wall Street veteran who held leadership positions at JP Morgan, Goldman Sachs and Citi. In his experience, the worst thing you can do is retire as the year winds down.
"The worst month to retire is December," Lokenauth said.
Here's why he might be right — along with some considerations about another month that could be just as bad.
Distributions Could Increase Your Tax Obligation
It's not just the calendar year that wraps up in December. The 12th month also signals the end of the tax year — and that can have significant implications for your retirement income right out of the gate.
"Tax considerations make December retirement challenging," Lokenauth said. "Retirement plan distributions taken in December are taxed for that year. This could bump you into a higher tax bracket."
The wiser move might be to hold out for just a few days so you can start fresh in the new year. This way, your new retirement income won't pile onto previously earned employment income.
"It's better to wait until January 1 to take distributions, delaying taxes by one year," Lokenauth said.
Make Your Money Work Better for You
Dennis Shirshikov, professor of finance, economics and accounting at the City University of New York and head of growth at Awning, agrees.
"The worst month to retire could arguably be December," he said. "You're closing out the tax year, so retiring in December might not give you ample time to make the best financial adjustments for your new income status."
It Can Be Hard To Find Good Help at Year's End
According to Farm Bureau Wealth Management, the "year-end rush" makes the run-up to the new year the busy season for financial advisors of all stripes, which could limit your choices for finding the assistance you need to start your retirement off right.
This has been Lokenauth's experience, as well.
"Professional help for retirement planning is scarcer," he said. "Financial advisors and other professionals are often busy in December handling year-end tasks."
You probably won't have trouble getting an appointment with even the most in-demand money pro a month or so earlier, or — as long as you don't wait until the busy tax season starting in March — in the first weeks of the new year.
Considering the stakes, it's usually worth the wait — especially for investment property owners or anyone else with complex situations, like the kind Shirshikov advises.
"Most financial advisors are super busy at year-end," he said. "That makes it challenging to schedule that critical last-minute consultation."
Make Your Money Work Better for You
The Other 11 Months Are Usually Cheaper and Less Stressful
The final month of the year is the culmination of the months-long run-up to the winter holidays and the finish line for the expensive and stressful shopping season. Cramming retirement in with the year's ugliest credit card statement might be an exercise in poor planning.
"December is costly," Lokenauth said. "With holiday spending, travel, gifts and end-of-year bills, December is already an expensive month."
Retiring at the same time can make it even more expensive, thanks to the many associated costs, including housing, moving, insurance and professional planning services.
"The holiday season is already stressful and expensive enough without adding the emotional and financial weight of retirement into the mix," Shirshikov said. "Let's face it, December is a high-spending month for most people. Tossing in retirement could easily lead to overspending, potentially derailing your financial plans right at the outset."
Maybe December Isn't So Bad — The Argument Against October
Like Shirshikov, Fred McGill, co-founder of Simple Showing, is a real estate professional with a background in finance who guides property owners out of the labor market and into retirement. 
He thinks October is even worse — and for many of the same reasons that the others advise against a December retirement.
"October marks the start of the fourth quarter of the year, which can have implications for tax planning and withdrawals from retirement accounts," he said. "Careful consideration of tax implications and withdrawal strategies is crucial to ensure your retirement income lasts throughout your lifetime."
McGill also frowns upon October because the start of the fourth quarter is when many corporations and organizations finalize their year-end financial statements.
Make Your Money Work Better for You
"If you're entitled to any company benefits, such as bonuses, stock options, or retirement contributions, retiring in October may affect the timing of these payouts," he said. "While there is no universally worst month to retire, October presents unique challenges due to historical market volatility, tax considerations and corporate financial schedules."
More From GOBankingRates