4 New Scams Targeting Americans and How To Keep Your Money Safe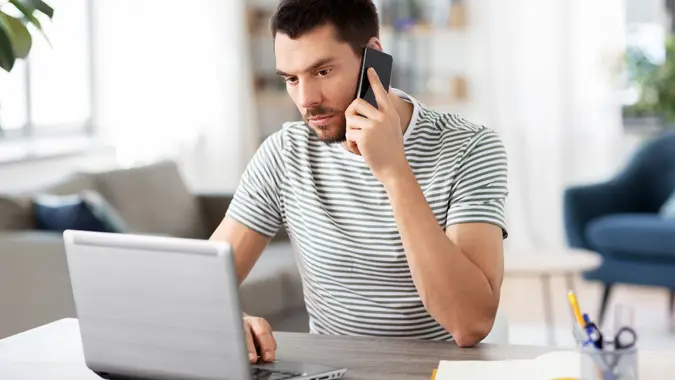 dolgachov / iStock.com
Scams always seem to be on the rise, and criminals are constantly developing new tactics to swindle the average American. Recent Federal Trade Commission data showed that consumers reported losing nearly $8.8 billion to fraud in 2022 — a 30% increase over the previous year — with the most commonly reported being imposter fraud.
"Right now, transnational criminals from all over the world have their sights set on American citizens, American banks and the American government," Haywood Talcove, the CEO of LexisNexis Risk Solutions Government Group, wrote to GOBankingRates.
"Vast amounts of Americans' personally identifiable information (PII) is available on the dark web, and it was this information, in conjunction with weak fraud prevention systems, that led to our government losing hundreds of billions of dollars to fraud during the pandemic," added Talcove. "Now that 'pandemic relief' programs are over, or winding down, these same fraudsters are using our PII, except they're going after individuals rather than the government."
Here are the details on four new scams targeting the American public and how to better protect yourself:
1. Voice Cloning and AI Deepfakes
Scammers are using artificial intelligence to mimic your voice, or that of a loved one, using examples of your speech online pretending to be in trouble. For example, you could get a call from your grandson's number saying he's in jail and needs $5,000 to bail him out with directions to pay. You rush to the bank and wire the funds only to learn it was all a scam.
According to the Identity Theft Resource Center, if something seems off, ask security questions to verify the person on the other end. Voice cloning and AI deepfakes are sophisticated, but they won't be able to answer personal questions without a delay.
Make Your Money Work Better for You
2. ATM "Tap and Glue" Scheme
ATM thieves use a "glue and tap" function to drain users' bank accounts in seconds. A fraudster fills the card slot in an ATM machine to get you to use the "tap" feature. However, this feature doesn't sign you out of your account right away. When you walk away, the thief walks up and immediately withdraws money from your bank account.
Chase Bank warned ABC7 about the ruse: "When using an ATM, be vigilant in protecting your PIN number and making sure you have logged out of your account."
3. EBT Phishing
A common EBT scam is card skimming, where criminals place a device on a retailer's card-swiping machine to copy EBT card information to steal SNAP benefits. But now, there are reports of EBT "phishing" where scammers use phony numbers pretending to be the U.S. Department of Agriculture (USDA). Scammers may say that your EBT account is frozen and that they need your EBT card numbers and PIN to unfreeze your account. This information is then used to empty your SNAP account.
The USDA says never to give anyone your EBT card number or PIN by phone or text. If you think you are the victim of a phishing scam, contact your local SNAP office.
4. Deepfake-Driven Unemployment Insurance Fraud
A criminal can use deepfake software to transform their face into your face based on photos that are easily discoverable online. This is used to trick facial recognition software when attempting to file an unemployment insurance claim in your name. Once they have access, the scammer can file a claim and have the money sent directly to them.
Make Your Money Work Better for You
If you suspect UI fraud, visit here to contact your state's fraud hotline.
"America is in the crosshairs right now," Talcove noted. "Hundreds of thousands of cybercriminals from all over the world are working daily to exploit any and every vulnerability they can."
More From GOBankingRates