Father's Day Poll: The Surprising Money Advice Dads Give Their Kids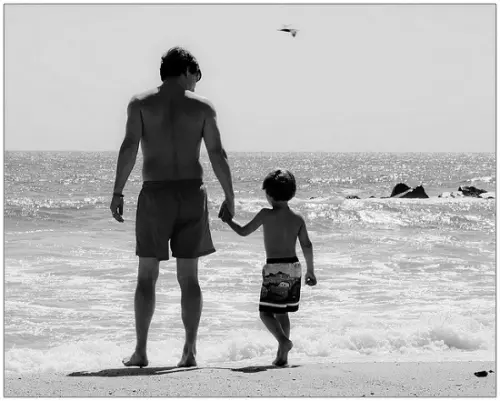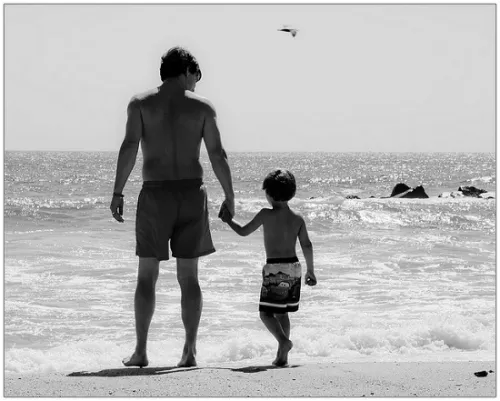 This upcoming 2014 Father's Day weekend will be spent honoring dads across the country for their dedication and wisdom. Included in the life lessons fathers teach their children are best practices when it comes to saving money.
Related: These 7 Celebrity Dads Make Great Financial Role Models for Their Kids on Father's Day
With as many as 70.1 million fathers in the United States, according to the most recent U.S. Census data, these role models have a significant influence on how today's working professionals perceive and manage money. GOBankingRates surveyed a group of 1,501 Americans to uncover the best financial advice respondents learned from their dads growing up.
Father's Day Financial Advice Poll
The poll, which ran May 22-24, sought to find out which financial lesson is most often preached by dads across the country.
The survey asked: What's the best money advice you learned from your dad?
The responses — in order of most selected — were:
Don't spend money you don't have. (34.4 percent)
Pay your bills on time. (20.1 percent)
Save for a rainy day. (18.5 percent)
Don't quit your job before you have another. (17.7 percent)
No risk, no reward. Invest! (9.3 percent)
The poll also found that men are more likely than women to say the best lesson they learned from their fathers was to invest. Additionally, respondents in the lowest income bracket polled were more likely than any other bracket to say the best lesson they learned from dad was to save for a rainy day.
The economic climate that each generation faces also contributes to the financial lessons fathers go on to teach their children. One finding that speaks volumes arose when looking at age-based data and generational tendencies with money.
Related: 13 Cheap Father's Day Gifts That Won't Break the Bank
Fatherly Advice Across the Generations
According to the U.S. Department of Health and Human Services, a majority of men have their first child when legally married to the child's mother. With this said, the average married man becomes a father at about 25.
If that holds true, then the average GOBankingRates poll respondent is 25 years younger than his father; accordingly, this study could shed light on how major financial crises in the fathers' generations affected the way their children approach money management.

Traditionalists
Born between 1925 and 1945, traditionalists felt the brunt of economic hardship during the Great Depression — or, at least, its immediate aftermath. Lost profits caused employers during this era to cut wages, and layoffs were a regular occurrence.
The oldest age bracket polled in the Father's Day study, 65 and up, were more likely than any other respondents to say the best advice about money they received from their fathers was, "Don't quit your job before you have another." These traditionalists (and their fathers) lived through one of the most epic and financially jarring events in U.S. history, when unemployment affected as many as 15 million Americans.
Baby Boomers
Respondents between the ages of 55 and 64, baby boomers, were more likely than other age group to say their fathers' best advice was, "Don't spend money you don't have," another holdover from parents who formed their financial values during the Great Depression.
Generation X
The first generation to adopt the internet, Generation X, was born roughly between 1965 and 1985. Middle-aged respondents, between 35 and 44 years old, said their fathers' best advice was to, "Save for a rainy day," with 24.7 percent of Gen Xers selecting this response.
According to the Society for Human Resource Management, this generation accounts for 29 percent of today's workforce, and, "Gen Xers witnessed their parents' experiences with corporate downsizing and restructuring in the 1970s and '80s." Witnessing this hardship firsthand might be the reason "save for a rainy day" was such a valuable piece of advice gleaned from their fathers.
Generation Y
Studies have shown Gen Y is the best generation when it comes to saving money; GOBankingRates' Father's Day poll found that millennials also heeded their fathers' advice about spending money. Gen Y participants were more likely than any other age bracket to select "don't spend money you don't have" as their fathers' best money advice, at 32.2 percent.
Why? Millennials are the children of baby boomers — and, like their grandparents, weathered hard financial times in formative years. As Gen Y graduated college and entered the job market, the Great Recession was in full force; it's no wonder millennials have learned to live within their means.
Generation Z
Generation Z is composed of young children, adolescents and teens on the cusp of entering adulthood. Many in this bracket are still counting on their parents' financial support and have years ahead to map out their finances.
It comes as no surprise that more of these financially adventurous (yet parent-reliant) 18- to 24-year-old people have taken to heart their fathers' money advice of, "No risk, no reward. Invest!," at 14.8 percent, versus just 3.5 percent of respondents age 65 and older.
After all, as the youngest generation polled, members of Gen Z have the most time to take risks before starting to think seriously about retirement.
Lessons Dads Taught Today's Personal Finance Gurus
Robert Kiyosaki's "Rich Dad, Poor Dad"
Professional risk-taker Robert Kiyosaki explained that the influence fathers have over their children's perception of money is so powerful that money lessons learned at a young age often follow people into adulthood.
"Having two dads — my real dad and my friend Mike's dad, the man I refer to as my 'rich dad' — taught me a huge and valuable lesson very early in life. I learned that there are two sides to every coin. … I learned that I didn't need to believe that there was only one right 'answer,' one way to solve a problem or read a situation or agree with someone else's point of view," Kiyosaki said. "Having two very different dads, who viewed life and money and investing very differently, taught me that our thoughts can shape our lives. One dad was closed-minded in his thinking, often saying 'We can't afford it,' [while] my rich dad challenged us to ask ourselves, 'How can I afford it?'"
Rachel Cruze, Dave Ramsey's "Smart Kid"
Rachel Cruze developed an "intentional" relationship with money as soon as she was born.
Cruze, co-author of "Smart Money Smart Kids: Raising the Next Generation to Win with Money," learned about being smart with her money at an early age — which is no wonder, considering her father is personal finance expert Dave Ramsey. In a GOBankingRates exclusive interview, Cruze shared that the best money advice her dad gave her goes deeper than just saving money and staying out of debt.
"Overall [it was] just learning to be intentional with your money," Cruze said, explaining that intentions start with creating and adhering to a budget.
Cruze emphasized that when budgeting, "You are telling your money what to do. [By budgeting], you're being very intentional with where your money is going — being intentional with living below your means."
When asked about the biggest mistake dads can make when teaching kids about money, Cruze said that parents sometimes let their feelings of inadequacy about money matters get in the way of teaching their children about an important lesson.
"So many parents that I talk to have shame and guilt with the mistakes they've made with money," Cruze said. "My encouragement to parents is: You don't lose your parenting card just because you're not perfect. You're not going to be perfect in every part of parenting, including money; you're going to make mistakes and that's okay, but it is still your responsibility to do that. Start teaching your kids today, and do it in the ebb and flow of life."
Cruze identified small but powerful opportunities to teach children about smart money choices, such as choosing to buy generic cereal rather than name-brand cereal at the supermarket.
Photo credit: Brandon Atkinson