Feeling Poor? Here's How To Overcome It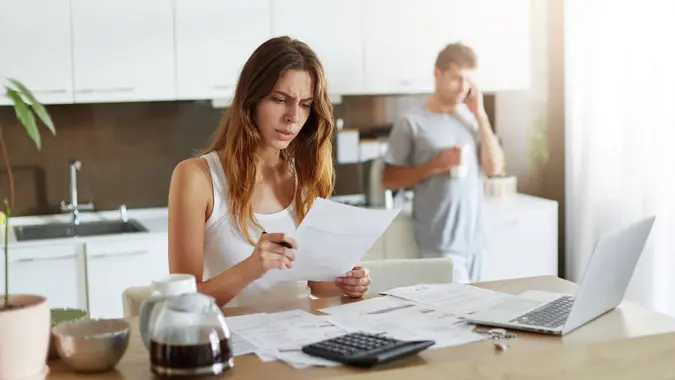 ©Shutterstock.com
With social media full of teen and 20-something influencers decked out in designer clothes and living the high life on yachts, "I feel poor" might be the mantra of your financial world. 
Wealthy Millennials Aren't Banking on Stocks: Here's What They're Investing In Instead
Take a Look Back: 2022 Year in Review
It's certainly understandable. In America's consumer culture, your station in life often comes down to what you can buy. But feeling poor is a state of mind that more money won't cure. The poverty mindset can plague a person with a six-figure income who aspires to be a millionaire, while people who earn $15 an hour can feel rich if they once toiled for minimum wage. 
The good news is there are remedies for the toxic mentality of feeling poor, and the sooner you snap out of it, the faster you'll be rich — because if you think rich, you are rich.
Clearing the Clutter: You Feel Only as Rich as Your Surroundings 
According to Very Well Mind, there's a direct connection between a cluttered space and poor mental health. Disorganized and haphazard surroundings make it hard to find things and complete tasks, but the detrimental effects go beyond just diminished efficiency. Living in a cluttered space leads to:
Increased stress levels
Procrastination
Difficulty focusing
Poor impulse control
Relationship problems
Constant frustration
Difficulty relaxing
Depression and diminished mental health
Overall low quality of life
What does any of this have to do with feeling poor? A lot, as it turns out. 
In 2015, Next Avenue and Grandparents.com established a link between living with clutter and the feeling of being poor. It was directed at older readers, but the advice is universal and still holds true today. 
The first step to breaking the chains of a poverty mindset is to get organized, purge your clutter and give yourself the gift of neat and orderly surroundings — that includes both your house and car. Even if you're not poor, commuting amongst empty Gatorade bottles, drive-thru receipts and food wrappers sure can make you feel that way.
Take Our Poll: Do You Think Student Loan Debt Should Be Forgiven?
Once You Declutter Your Space, Move on to Your Money
Living in clutter and living in poverty both cause stress, anxiety and frustration — and just as the symptoms are the same, so too is the cure. 
Creating a budget is the financial equivalent of decluttering. When you finally take the time to create a spending plan, you'll enjoy the same feeling of empowerment that comes with tidying up a messy and disorganized space. 
"People often talk about 'sticking to the budget,' but not everyone actually has one written out to stick to," said consumer finance expert Kyle Enright, president of Achieve Loans in San Mateo, California. "The past few years — with COVID and inflation and supply-chain issues — have wreaked havoc on the best of budgets. Take a good look at assets, liabilities and revenues — and your goals, which may range from taking a trip to retirement to having time to learn a language. Then create a simple budget for 2023, using an app, spreadsheet, online program or just pencil and paper."
The thought of scanning bank statements and confronting credit card debt is as dreadful as the idea of sorting through mountains of clutter in your home; but, without a budget, you'll never achieve the feeling of control that is the foundation of a wealthy mindset.
Do Things That Make You Feel Rich
With a neat and organized space and a budget and spending plan in place, you're probably feeling less poor already. Now it's time to take the next step and follow the behaviors of people who think rich, which can make you feel wealthy no matter your income or net worth.
Cut spending and invest the difference, even if it's just a few bucks per month. Watching a nest egg grow is a favorite hobby of the rich. 
Set aside money for small luxuries every month. Whether it's a latte or a manicure, a well-earned splurge is a sure remedy to a poverty mindset. 
Give to charity. Donations can be small, but research shows a direct connection between giving and good mental health.
Volunteer at a homeless shelter, soup kitchen or food pantry. Like charitable giving, volunteering promotes strong mental health while reminding you of all you have.  
Take the no-spend challenge to gain perspective on how much money goes to your wants.  
Practice gratitude and focus on what you have.
More From GOBankingRates