How To Ensure You're Being Responsible With Your Finances Midway Through 2021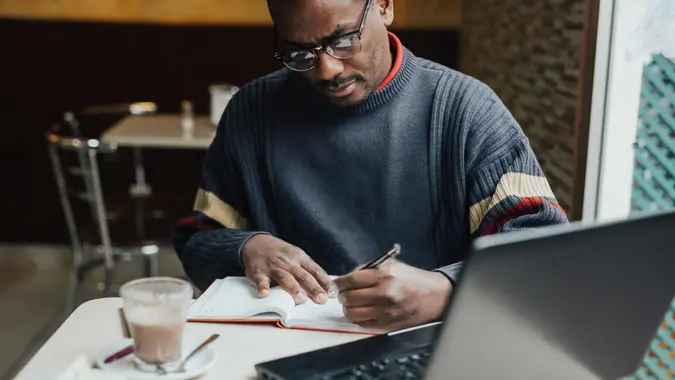 Anchiy / Getty Images
Your life and your finances are probably very different than they were at the beginning of the year. Now that 2021 is halfway over and much of life is opening back up, it's a good time to reassess your finances. It's always helpful to have a mid-year financial review — but this year it's more important than ever, now that jobs, schools, loans, savings opportunities and daily life are changing again.
Follow Along: 31 Days of Living Richer
See: 10 Ways To Bounce Back From a Heavy Spending Month on Your Credit Card

"Now that people are starting to go back to their regular schedules with work and school, it's a good time for them to review their finances with a fresher and wiser mindset given what we've been through in the past year," said Ana Gonzalez Ribeiro, an accredited financial counselor and owner of Rise Up Financial Coaching in Bronx, New York.
Consider the following as you review your finances for the second half of 2021.
Reassess Your Tax-Advantaged Savings Opportunities
You may have pulled back on your 401(k) contributions during the uncertainty of the last year — or you may have been laid off and lost the opportunity to save in an employer plan. If you have a new job now or are less worried about losing one, now is a good time to revise your savings plans. You can contribute up to $19,500 to a 401(k), 403(b), 457, TSP or other employer-based retirement plan in 2021 (plus an extra $6,500 if you're 50 or older). Try to contribute at least enough to get any employer match — that's free money. "Ramp up your retirement savings again, try to reach the contribution limit or aim to start doing it in a few months when you feel more settled," Ribeiro said.
If you started freelance work, you can still benefit from tax-advantaged retirement savings with a Simplified Employee Pension (SEP) or solo 401(k) — see Retirement Plans for Self-Employed People at IRS.gov for more information.
Check Out: Old-School Money Advice You Shouldn't Follow Anymore
Build Up Your Emergency Fund
Many people had to tap their emergency funds over the past 1 ½ years to help pay their bills if they lost their jobs, encountered new child care expenses when schools were closed or had to deal with expensive healthcare costs or other surprise bills. But if you are employed again and are getting back on your feet financially, don't forget to add more money back to your emergency fund so you'll be prepared next time something unexpected happens. Aim to have at least three to six months of essential expenses in a safe and easy-to-access account, such as a money-market account or online savings account. Even if it takes a while to build up that cushion, starting small can still make a difference and help you avoid expensive debt in the future.
"If we learned anything financially from this pandemic, it's to always have an emergency fund," Ribeiro said. "Review your current budget, keep track of your current expenses and income. Notice patterns of expenses you can decrease or eliminate so you can go ahead and start filling up your emergency fund again." Ribeiro recommends having this money taken out of your paycheck automatically before it reaches your hands. "This is an important and great habit that will serve as a security blanket that will protect you in the future," she said.
Helpful: How To Live Richer on a Budget
Take Advantage of Tax Breaks as Your Child Care Needs Change
Many parents had to scramble to find new child care when schools were closed during the pandemic. But if you're returning to the office and your kids will be attending school in person this fall, you may need to readjust your child care plans again. Take advantage of any opportunities your employer offers to set aside money in a dependent-care flexible spending account, where you can use tax-free money to pay for child care for children under age 13 while you and your spouse work (or look for work). Or you may be able to benefit from the child care tax credit, which was expanded for 2021. The lower your annual income, the larger the credit you can receive. The cost of day care, a nanny, preschool and before- and after-school care counts, and you can even claim the credit for the cost of summer day camp while you and your spouse work. See Child and Dependent Care Tax Credit FAQ at IRS.gov for more information.
Start Saving for Your New Short-Term Goals
Many people put vacations, large family celebrations and other special events on hold during the pandemic and are now starting to make new plans. Start saving in advance for these expenses so you don't end up in expensive credit card debt. Setting aside a little money from each paycheck can make it easier to reach these goals — especially if you sign up to save the money automatically in a special account before you have a chance to spend it on anything else. To find extra money, continue with some of the techniques that helped financially during the pandemic — when everyone had to reassess their everyday expenses and discover what was essential and what was not. "During the pandemic, we were extra careful with our budget, tightening our belts given that many of us were out of work or on a decreased schedule," Ribeiro said. "I myself am reviewing my budget and noticing that I can go ahead and splurge a little but always cautiously."
Try: 5 Budgeting Apps That Can Help You Live Richer
Prepare For Rule Changes on Your Debts
A lot of lenders relaxed the rules for paying back loans during the pandemic — but many of those special programs are ending. For example, the Department of Education suspended payments and interest on federal student loans until Sept. 30, 2021, but they're scheduled to start back up after that date. If you're in good shape financially now, don't just prepare to make the regular payments, but try to be proactive to reduce the debt for the future before interest kicks in again.
"For people who can swing it, I recommend making payments before then, which will decrease their overall balance. Then once interest starts accruing again, it will be on a lower balance," said Michelle Morris, a certified financial planner and owner of BRIO Financial Planning in Quincy, Massachusetts. See the Coronavirus and Forbearance Information at the U.S. Department of Education's Federal Student Aid page for more information.
Benefit From Refinancing Your Mortgage
Mortgage rates are still low, and if you haven't refinanced recently you may be able to lock in a lower rate and reduce your monthly payments or shorten the term of your loan significantly.
"Mortgages are still at rock-bottom rates," Morris said. "Those with existing mortgages should evaluate whether it makes sense to refinance into a lower rate if they haven't already."
Watch Out: 17 Biggest Budgeting Mistakes You're Making

Make Tax-Smart Charitable Plans
Despite the financial challenges from the pandemic, many people who invested in the stock market have seen some big gains. Some of them want to help communities and organizations that have been struggling financially, and they can make smart moves now to help give more money to the charity while receiving extra tax breaks themselves. "A lot of my clients, particularly older retired clients, have seen robust increases in their portfolio balances," Morris said. "In many cases, these clients are rebalancing and opting to give away some of the bounty – either to charity or gifts to family. We look at the most tax efficient ways to make charitable gifts, such as gifting appreciated shares to a donor advised fund."
Don't Miss: 5 Money Beliefs That Are Holding You Back
Rather than waiting until the end of the year to write a check, giving appreciated stock can give you extra benefits — you won't have to pay capital gains taxes on the increase in value since you purchased the shares, and you can deduct the value of the shares when you give the stock if you itemize. If you give the shares to a donor-advised fund, which is administered by many brokerage firms and community foundations, then you can get the tax break when you give the shares but have an unlimited amount of time to decide which charities to support. Some major donor-advised funds, including Fidelity Charitable and Schwab Charitable, recently eliminated the minimum contribution required to open an account.
More From GOBankingRates
Last updated: July 7, 2021