How To Live Richer in Your 30s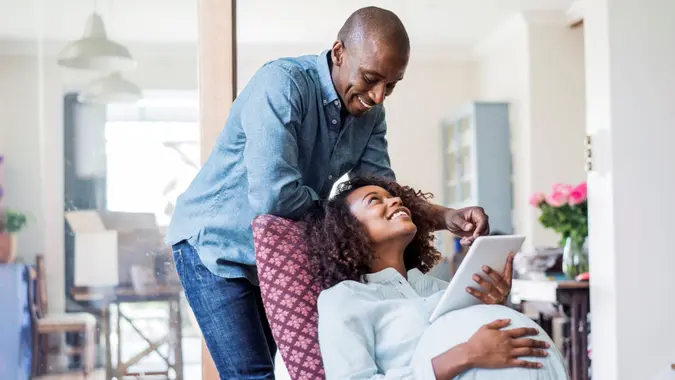 Portra / Getty Images/iStockphoto
Day 26: GOBankingRates wants to help you Live Richer. For a month, we'll be sharing daily tips for how you can do just that, with advice on budgeting, saving, investing, making the most of your career and managing debt — plus money advice for every phase of your life. Check back each day during our 31 Days of Living Richer to learn everything you need to know to set yourself up for financial success and live the richest life possible.
When you reach your 30s, you are likely more secure in your career and are now focused on other major life events, like beginning or expanding a family, buying a home or paying off any remaining student loans. Here's how to live richer during this decade.
Back to Day 25: How To Live Richer in Your 20sCheck Out Day 24: How Debt Prevents You From Living Your Richest Life
Define What a 'Rich Life' Looks Like for You
Danetha Doe, a financial wellness educator and the creator of Money & Mimosas, emphasizes that in order to live a rich life, you have to understand exactly what that looks like for you.
"Define what a 'rich life' looks like for you: look at your finances, health, relationships and desires, and get clear on what your dreams are in each area," she told Authority Magazine. "Only then can you create a life worth living."
Once you've done that, "create a vision board of your rich life: if you can see where you're headed, it's much easier to get there. Create a Pinterest board or poster board of your dreamiest, richest life and look at it regularly."
Read Day 23: How To Pay Off Your Debt in a Manageable Way
And Day 22 of Living Richer: How To Stop Accumulating Debt Once and for All
Negotiate Your Salary Whenever You Are Given the Opportunity
Whenever you start a new job or get promoted into a new position, don't hesitate to negotiate your salary.
"Asking for $55,000 instead of $50,000 early in your career could amount to $600,000 over 40 years," personal finance expert Farnoosh Torabi wrote on Oprah.com.
If you're unsure what salary you should be asking for, use this rule of thumb: "Do some research on what the average base salary is in your field and ask for 10% more," Mandi Woodruff, host of the "Brown Ambition" podcast, told Money. "Online resources such as Glass Door can provide a gauge of standard industry salaries."
Discover Day 21: Top 3 Expert Tips for Managing Debt
Make a Plan for Paying Off Your Remaining Student Loans
"If you still have student debt, working with an advisor can help you pay it off faster through debt repayment plans that the advisor specializes in," said Brian Walsh, Jr., senior financial advisor at Walsh & Nicholson Financial Group.
And Day 20: 3 Signs You've Found Your Dream Job
Be Dedicated About Paying Down Your Other Debts
"When you're in your 30s, this is the time to make sure you are aggressively paying down any non-mortgage debt," said Amin Dabit, CFP, chief operating officer at Alto.
Financial expert and host of "The Ramsey Show" Dave Ramsey recommends using the debt snowball method to tackle your debt.
"List your debts, from smallest to largest (don't worry about interest rates), and start attacking them with a vengeance," he shared on his blog. "Once you get that first one paid off, roll that minimum payment into the next payment, and watch as it snowballs you toward debt freedom!"
Day 19 of Living Richer: Top 3 Expert Tips for Salary Negotiations
Boost Your Retirement Contributions
"The next time you get a salary increase or bonus, dedicate some of it to retirement savings or other investments — before you get used to having the extra money," said Marcy Keckler, vice president of financial advice strategy at Ameriprise Financial. "And if your employer's retirement plan offers an automatic increase option, consider signing up for it to put savings increases on autopilot, with annual step-ups in your contribution rate."
Read Day 18: How To Achieve Better Work-Life Balance
And Day 17 of Living Richer: Top Perks To Look for When Searching for a New Job
Invest In a Home
As soon as you are financially able to go from renting to buying, you should do it.
Buying a home is "an escalator to wealth," David Bach, the bestselling author of "The Automatic Millionaire," told CNBC. "If millennials don't buy a home, their chances of actually having any wealth in this country are little to none. The average homeowner to this day is 38 times wealthier than a renter."
Day 27: Join us tomorrow for our Living Richer series when we discuss how to live richer in your 40s.
More From GOBankingRates
Last updated: July 26, 2021