Why Now Is the Time To Hire a Financial Advisor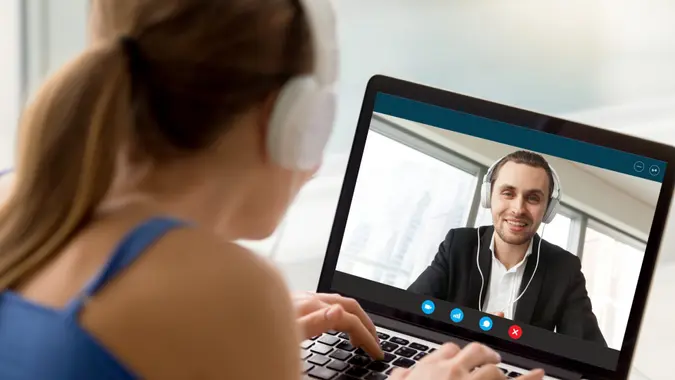 fizkes / Getty Images/iStockphoto
Whether you're planning for a life milestone, like purchasing home or retiring, looking to be more strategic about your investments or are just in need of a financial checkup, a financial advisor can be an invaluable resource for you. However, many Americans are hesitant to hire one.
Read: How To Keep Your Financial Planning on Track in 2021
"When it comes to financial wellbeing, a skilled financial advisor brings experience and knowledge that most of us don't have. But according to an eMoney survey, 63% of U.S. adults have never consulted with one," said Matt Rogers, CFP, manager of financial planning at eMoney Advisor. "Additionally, more than half of Americans avoid talking about money altogether. Although some people may feel that their financial situation doesn't require an advisor, working with a planning-led financial advisor can help encourage greater fiscal responsibility and improve money habits."
Related: How Much Money Do You Need To Consider a Financial Advisor?
If you've been toying with the idea of hiring a financial advisor, you might be looking for a sign that now is the time to actually do it. Here are a few reasons why you might consider hiring one right now.
You Don't Have the Time To Devote To Financial Planning
"Time is a valuable and limited resource that you can't borrow or purchase more of," said Philip "Rusty" Ross, CPA, senior wealth advisor at Exencial Wealth Advisors. "An advisor can reduce the amount of time a person would spend researching and developing their own plan. This is crucial for highly successful entrepreneurs, executives and professionals with limited time to focus on their personal planning that they may want to allocate to their family, business or recreational endeavors. Advisors allow people to focus on the areas and expertise that drive or have driven their success, and alleviate much of their planning concerns."
Learn More: 8 Reasons Women Should Get a Financial Advisor Right Now
You Want To Feel Peace of Mind When It Comes To Your Finances
If thinking about your financial situation makes you anxious, hiring a professional to take the reins can alleviate that.
"Consulting a financial advisor will give you the confidence that you are making sound financial decisions and will likely lead to better outcomes," said Mark Schoenbeck, CFP, executive vice president of advisor engagement at Kestra Financial. "Think of it this way: You could learn to change the oil in your car yourself, but do you have the time and ability to learn to do it well? Will the outcome be as good or as efficient as if an experienced mechanic did it? You enlist the help of professionals every day for work that is far less important than your long-term financial security. For the most important work in our lives, we should seek expert advice."
You're Facing a Transitional Period in Your Life
"Professional financial advice can help navigate life's transitional moments, like getting married, buying a house, paying for your children's education, or successfully navigating a leap from your working years to your post-working years," said Mark Triplett, CEO and founder of Triplett-Westendorf Financial Group in Ankeny, Iowa. "A financial advisor can be a client's financial first responder. If their house is burning down, they would call 911. If they are making a major financial decision, an advisor can help by stress-testing the situation before they commit to taking action, and provide guidance on how it could impact their long-term financial plan."
Find Out: 12 COVID-Proof Money Tips From Financial Planners
Triplett especially recommends hiring an advisor if you are planning to retire soon.
"Although financial advisors come with a cost, they can assist with the complex aspects of retirement income planning, like tax planning and Social Security optimization strategies aimed at maximizing your retirement income, and may end up saving you money in the long run," he said.
Did You Know: How To Set Realistic Financial Goals for 2021
Mario Hernandez, principal and director of operations at Gemmer Asset Management, also recommends seeking out a financial advisor if you are getting married, having a child, are recently retired or have lost a spouse.
Times Are Particularly Volatile Right Now
"Investors need to ensure they are prepared to manage the unexpected," said Rob Cavallaro, chief investment officer at RobustWealth. "A good financial plan allows individuals to endure events like COVID-19 that produce market volatility without having to make hasty, uninformed decisions to adjust their financial needs and goals. Having a financial professional in your corner who leverages digital advice solutions can be advantageous to investors when challenging conditions emerge."
More From GOBankingRates: