Spender vs. Saver: Which Financial Personality Are You?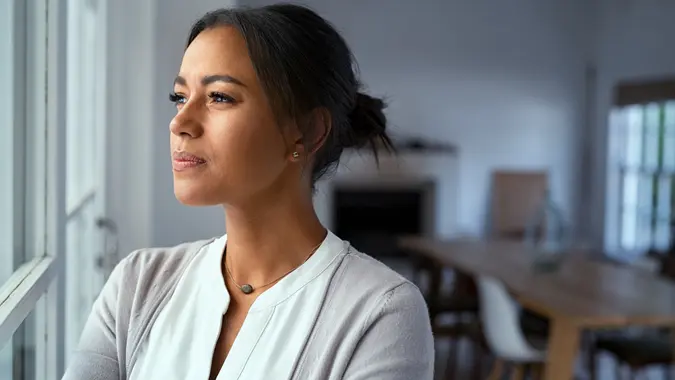 Ridofranz / Getty Images/iStockphoto
Are you a spender or a saver? Many people may already be familiar with their financial personality type. Others might not know the answer or the right questions to ask in order to find out. 
Dollar Tree: 5 High-Quality Items To Buy Now
See: With a Recession Looming, Make These 3 Retirement Moves To Stay On Track
Discovering your financial personality type can be beneficial in improving your overall financial health. Ask yourself these questions to discover your spender or saver financial personality.
Are You a Spender?
Determining if your the spender financial personality takes more into account than simply reviewing a stash of receipts. Ask yourself these questions to determine if you are a spender.
Do You Buy Things You Don't End Up Using?
This is one of the most basic signs your personality aligns as a spender versus a saver, said Michael Liersch, head of advice and planning for Wells Fargo Wealth & Investment Management. Spenders will buy items they don't use and make purchases they later forget about.
The litmus test for answering this question is to remove 10% to 30% of the items you own from your residence or space. Does this action make you feel more at peace with yourself? Liersch said doing this shows how it would be better if these items weren't there.
Take Our Poll: What Are Your Financial Priorities in 2023?
How Does the Word 'Budget' Make You Feel?
Most spenders will cringe hearing the word "budget," said Sara Gardner, CFP, vice president and wealth advisor at EP Wealth Advisors' Denver office.
A spender, Gardner said, likely has the gist of how much they are spending, but they tend to be surprised at the outcome when going through the exercise of backing into their spending level. "When it comes to those car purchases or remodels, they will often still spend the funds if it does not hurt their overall financial plan," Gardner said.
How Much Do You Have in Savings?
If the answer is not much money or no money then your financial personality type is likely a spender. Gardner said spenders usually don't have much money set aside in savings. In some cases, they may be living paycheck to paycheck. 
Are You a Saver?
On the flip side of the coin, answering these questions will help determine if you are a saver.
Do You Enjoy Spending Money?
While a spender's answer to this question is usually yes, a saver will typically say no. Liersch said the basic sign of a saver is they don't spend money. The saver's relationship with money usually means enjoying watching the money pile up rather than spending it on items that don't really need.
Do You Pay Yourself First?
If you do, Gardner said this is a sign you have a saver personality. Those who are savers will put savings toward an emergency fund, retirement account, travel or their next project. 
How Do You Feel About Budgeting or Delaying Purchases?
The odds are good that a saver is open to both of these ideas and feels pretty good about them.  
"Savers are typically okay with using a budget or spending plan, whether they are still income earners or retirees which have a good idea of their spending and where the money goes and how much the next project or goal is going to cost," Gardner said. "They take a lot of pride in having a budget or plan."
Is It Good or Bad To Be a Spender or Saver?
If you identify more as a saver or a spender, you may be quietly wondering if this is good or bad for your overall financial personality. The answer is neither type is inherently good or bad. Gardner said it is about a balance between the two spectrums.
"Most people have a money story that led them to be a spender or a saver: their upbringing, a specific crisis, their careers or whether they have people financially dependent on them," Gardner said. 
Once you discover your financial personality, Liersch recommends doing a bit of self-reflection. The key question to ask yourself is this: "What are my money messages?" Essentially, what do you say to yourself about spending and saving? 
After answering this question, Liersch said to ask yourself if these messages are true or relevant in the context of your life today. 
Liersch uses the example of someone who says spending money is bad. However, this is not the money message they tend toward. Alternative messages could include "Spending can be good if I can afford it" or "I value spending on needs, and carefully evaluating spending on wants." Doing this will help ensure your saving or spending tendencies serve you in an authentic way.
More From GOBankingRates