What President Biden's First 100 Days Have Meant for Your Wallet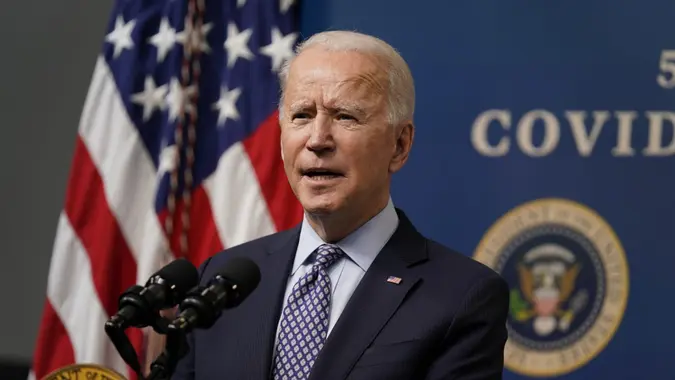 Evan Vucci/AP/Shutterstock / Evan Vucci/AP/Shutterstock
It has become a tradition in D.C. (and in the media) for folks to assess the U.S. president's first 100 days in office. Almost every president has had to sit in this imaginary hot seat, and now, it's President Joe Biden's turn to undergo the unofficial review. In just a little more than three months leading the country, Biden enacted sweeping changes, many of which have had an impact on the wallets and bank accounts of the American people. The impetus for the vast majority of Biden's economic rollouts is the ongoing COVID-19 pandemic — one of the most tragic, chaotic and complex crises an incoming president has ever had to face.  
Read: Fourth Stimulus Check Proposed by 60 Legislators in Congress
"The first and most profound challenge for the incoming Biden/Harris administration was dealing with the ongoing COVID crisis," said Peter C. Earle, research fellow at the American Institute for Economic Research. "Another issue Biden has faced is one of messaging: never before, at least not in recent history, have the political, economic and social views of an outgoing and incoming presidency been so starkly different. That has as much to do with the intense politicization of the modern era as it does with the presidents and their Cabinets and other advisors themselves. On nearly every issue – except, notably for tariffs – the new White House occupants are essentially diametrically opposed to those of the previous ones."
Biden's most significant economic move to date has been the launch of The American Rescue Plan Act of 2021, an act that comprises a multitude of financial measures. Under the act, individual taxpayers and married taxpayers making up to $75,000 in annual income-qualified for up to $1,400 stimulus checks each, and married couples filing jointly were eligible for $2,800 per couple. Heads of households earning up to $112,500 also qualified for the payments, while married couples filing jointly and surviving spouses qualified if their income was at or under $150,000. Eligible taxpayers also qualified for an additional $1,400 for each dependent. 
See: The Next Stimulus? Biden to Introduce $1.8 Trillion Family Relief Plan
The American Rescue Plan Act also boosted the child tax credit from $2,000 to $3,600 for kids under 6 years old, while children ages 6 to 17 are eligible for a $3,000 tax credit. Additionally, the credit is fully refundable. Previously, kids in Puerto Rico and other U.S. territories were only eligible for tax credits until the age of 16; now they, too, qualify for the credit until the age of 18. The act also renewed the federal unemployment supplement, which was initially passed under the CARES Act under the Trump administration. Through Sept. 6, unemployed people receive a $300 federal benefit weekly. The Pandemic Unemployment Assistance (applicable for the self-employed) has been upped to 79 weeks (up to 86 weeks in the states hit hardest by unemployment). The Pandemic Emergency Unemployment Compensation has also been extended for up to 53 weeks. Will these extensions be renewed beyond Labor Day? That is yet to be determined. 
Addressing the needs of renters who are threatened with eviction because of loss of work due to the pandemic, Biden enacted the Emergency Rental Assistance program —  a $25 billion fund to help struggling households pay their rent and utilities. More than 1 in 5 renters are unable to keep up with monthly payments.
Find Out: How Rich Are Joe Biden, Donald Trump and All the Other Living US Presidents?
While there are downsides for the average American's wallet — for instance, the price of gasoline is soaring, in part, because the markets recognize the Biden/Harris administration as anti-U.S. oil production — overall, we have reason to be optimistic about money matters under Biden's presidency. 
"The economy was beginning to recover before the November 2020 election, and now seems to be picking up even more," Earle said. 
But an economic upswing doesn't mean Biden won't endure fusillades of criticism. 
"I expect blame for errors, shortcomings and unintended consequences of policies to be blamed on the previous administration, and credit to be taken for things that work," Earle said. "I also think it's too clever by half that the Biden/Harris administration would throw itself into radical change from day one, while the economic recovery that began late last summer and fall is picking up steam.
More: All You Need To Know About the Economy
"The costs, trade-offs and ineffectiveness of certain new policies and programs can be masked, somewhat, by introducing them during a strong economic expansion," Earle continued. "And I believe that, just like under the previous president (and many others in the past), we'll find out in a year, two or three how packed with wasteful spending and pork the so-called infrastructure bill is."
More From GOBankingRates
Last updated: April 29, 2021