What Will Happen to All of the Expiring Event and Travel Credit From COVID-19?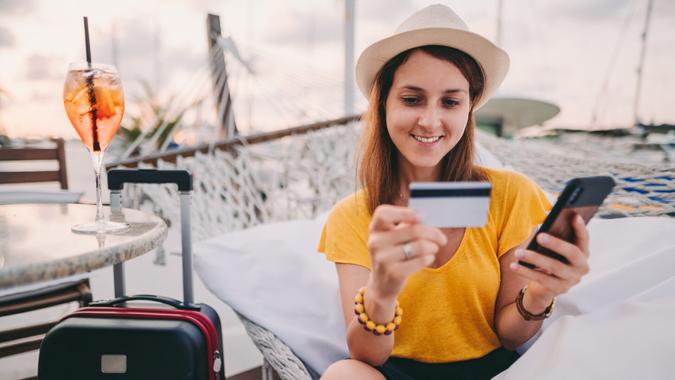 martin-dm / Getty Images/iStockphoto
In many ways, our lives have begun to return to something like normal even though we are still in a pandemic. While the Delta variant continues to raise alarm and is keeping many industries on tenterhooks for surges and potential shutdowns, travel has resumed for some time. However, many people had to cancel trips and stays and may have obtained credits that will be expiring soon. What do you do if you're facing expiring miles or credits and you don't want to lose your money?
See the List: GOBankingRates' Best Travel Credit Cards
Important: 40 Pandemic Airport Secrets Only Insiders Know
Call the Provider
The first, most important step if you're facing expiring miles, credit or points, is to reach out and call the provider, be that an airline, a hotel or a destination of some kind. "If someone can't use a credit, generally it expires if you do nothing," said Alex Miller, founder and CEO of UpgradedPoints.com. "In general you always need to speak up–doing nothing will always result in your credit getting trashed."
Chaz Wyland echoes this, "It never hurts to ask, and many companies have eased their rules to better please customers."
Check With the Credit Card Company
"The capabilities and flexibilities of credit usage is typically dependent on the specific credit card company or airline that you booked through," said Brian Donovan, CEO of TimeShatter. "Some will allow the user to carry the credit over indefinitely, while others may refund you in lieu of credit."
Definitely check on expiring miles, Donavan urges. "They will, in most cases, understand the precarious time and give you extensions.
Book a New Flight or Stay
In many cases, Miller explains, you can extend your credit simply by using them. "For example, you could book one flight, cancel, and then book a new flight a year later using the same credit," he said. "Simply by booking a flight, you'll be able to renew the expiration on the ticket."
Rebook Sooner Than Later
If you do have the means to book a new flight or stay with your credit, AFAR recommends you book sooner than later to avoid travel prices rising again, particularly if your travels are for a holiday or peak travel season.
Check Expiration Dates
When looking at your expiration dates for any credits or travel vouchers, be sure you're looking at the right date, according to AFAR — is it that you have to travel by the date of expiration, or simply book the flight? That can make a big difference.
Find Out: 35 Things Your Hotel Will Give You for Free
Check If There's a 'Reschedule, Don't Cancel' Policy
Some companies even have policies in place specifically for these kinds of circumstances, such as Kids Love Greece's "reschedule and not cancel" policy, said the company's founder, Katerina Makatouni. The policy "reassured our clients that their money is safe and built a rapport with our trip planners."
Ask For a Credit Extension
Additionally, you might be able to ask for a credit extension, Miller said. Though, he adds, "Airlines to have pretty hard rules about this–sometimes explaining your story in a sympathetic manner will get you to a nice agent to help you. It's always worth asking what can be done versus doing absolutely nothing."
Chazy Wyland, founder of SnowmobileHow.com said, "United and American airlines have extended their pandemic-related points into 2022, so…you have a little extra breathing room."
How To Redeem an Airline Credit
If you're not sure where to actually start when redeeming an airline credit, CNBC suggests the following steps:
Search up your original email confirmation and write down the confirmation number and/or ticket numbers.
Go to the airline's website and use search terms such as "redeem flight credit" or "check travel funds."
You will most likely be prompted to type in your information, which should bring up your credits.
Note your expiration dates.
If you plan to redeem the credit now, there may either be an immediate option beneath your credits, or you can search up "redeem" or "apply unused credits" for future flights.
Airline Extension Dates
According to AFAR magazine, the following airline policies are in place for credits:
American Airlines
If your flight was canceled due to COVID-19, you can use it for travel through March 31, 2022. Its general policy is that travel vouchers and trip credits have to be booked within one year of the issue date, though the actual travel date does not.
There are no change fees on any new tickets booked between March 1, 2020, and March 31, 2021.
Delta Airlines
If you have travel vouchers for tickets booked before April 17, 2020, for travel between March 2020 and March 2021, these will expire on Dec. 31, 2022. For vouchers purchased after April 17, 2020, you have one year from the date of purchase to use them. Its general policy is that new travel has to occur within one year of the original ticket purchase date.
Delta has no change and cancellation fees for all domestic travel and international flights originating in North America booked by March 31, 2021.
Find: Is It Better To Use a Travel Agent or Plan Your Own Vacation?
United Airlines
Flight credits for tickets purchased between May 1, 2019, and March 31, 2021, need to be used for travel that takes place by March 31, 2022. For bookings made after March 31, 2021, you have a year to rebook.
United won't be charging change fees for any flights booked by March 31, 2020. After March 31, change fees will apply to Basic Economy purchases or international travel that does not start here in the U.S.
Southwest Airlines
Southwest prides itself on no change fees and allows you to use expired travel credits on flights that are cheaper than the original. Typically, travel vouchers are good for one year from the purchase date. In the pandemic, Southwest pushed out the expiration date for travel credit to Sept. 7, 2022. Fortunately, they don't put any limits on how many times you can change your flight.
JetBlue Airlines
JetBlue travel credits that were purchased between Feb. 27, 2020, and June 30, 2020, expire 24 months after their date of issue. All other JetBlue travel credits are valid for one year from the date they were issued.
All tickets booked by March 31, 2021, have no change fee. After that date, you will have to pay a $100 fee to change any Blue Basic fares if you are traveling within the U.S., Caribbean, Mexico or Central America, or $200 for all other routes. No change or cancellation fees will apply to Blue, Blue Plus and Mint fares.
More From GOBankingRates
Last updated: Oct. 19, 2021