When Will High-Yield Savings Account Interest Rates Bounce Back?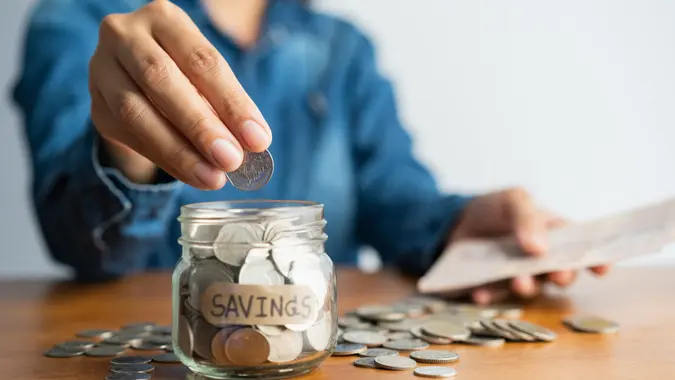 sorrapong / Getty Images/iStockphoto
Volumes have been written about the record-low interest rates that homebuyers enjoyed as they took out mortgages for next to nothing all pandemic long. Less has been said about the millions of savings accounts earning a few pennies in interest while being ravaged by ever-rising inflation. Savings accounts have become black holes where purchasing power goes to die, but will things improve in 2022?
Find Out: Inflation Winners and Losers: Who Benefits When Inflation Rises?
Read: 5 Times Inflation Is Actually Good for Your Finances
GOBankingRates asked the experts.
In 2021, 'High-Yield Savings Account' Is an Oxymoron
The average U.S. savings account pays an annual percentage yield of just 0.06%, according to the Federal Deposit Insurance Corp., although a handful of "high-yield" savings accounts pay 0.50% or even a little more.
That's low. Really low.
"The last time the interest rate fell to such a level was in 2008 when there was a global financial crisis," said Greg Rozdeba, co-founder and president of the digital insurance brokerage Dundas Life. "It took the rates seven years to return to normal."
Today's rates would be a pittance even if inflation weren't rising to its highest level in decades. In fact, rates are so low and inflation is so high that people who deposited money into savings accounts in the summer of 2021 did so at a real average savings rate of -5.34% — the most negative rate in history, according to Vox. At that rate, $10,000 deposited into a savings account would be worth only $9,460 just one year later. A gain of $6 in interest would cost you $540 in lost buying power — so much for saving.
Learn More: The Most Controversial COVID-19 Price Hikes
Rates Will Probably Inch Up Late Next Year, but There Won't Be Fireworks
People who hoped that 2021 would see rates finally start to rise are leaving the year mostly disappointed.
"An interest hike was supposedly coming this year to compete with inflation and a recovering economy," said Jake Hill, CEO of the personal finance site DebtHammer. "It never really came, though, with individual banks raising by a fraction of a percent to win over customers but not going above 0.50% for very exclusive accounts."
It would be wise to temper your expectations for next year, as well.
"Interest rates are likely to see an increase of 0.25% beginning in the third quarter of 2022," said Daniel Foley, marketing and mortgage specialist at Mortgage Advice. "From there onwards, we would expect to see an increase of 25 basis points in the following quarters."
Explore: How Social Security, Wage Hikes and SNAP Will Alleviate Inflation in 2022
But Even That's No Guarantee
Even a modest bump in the third quarter of 2022 depends on the outcome of several economic variables, and thanks to the virus, there are still a whole bunch of unknowns.
"Right now, interest rates seem to pretty heavily depend on the Omicron COVID variant," said Carter Seuthe, CEO of Credit Summit. "While the US hasn't been hit hard by it yet, if positive cases begin to spike, interest rates are likely to decline. So, it is kind of a waiting game at the moment to see when and if this will happen."
The other big variable is the very thing that's robbing savings accounts across the country at this very moment — inflation.
"The Federal Reserve has said that there won't be any rise until inflation reaches its goal of 2%," Rozdeba said. "This could very well take the entirety of 2022."
Find Out: Understanding the Differences Between Inflation, Deflation & Stagflation
Savings Yields Don't Have To Rise With Interest Rates — and They Probably Won't
When inflation is high, interest rates generally rise. Cash-hungry banks then offer bigger yields on savings accounts to incentivize deposits.
That's not happening this time around.
Interest rates are expected to rise, which means things like car loans and mortgages will get more expensive, but don't hold your breath waiting for your savings account to finally start paying you back.
"Most economists predict that interest rates will start to increase either at the end of 2022 or in 2023," said Shawn Plummer, CEO of The Annuity Expert. "The interest rates on high-yield savings accounts would likely increase at around the same time depending on the bank's decision on how long to wait before increasing the interest rate on your account."
That's the key part. Banks usually increase yields on CDs and savings accounts when interest rates rise, but they don't have to — and next year, they probably won't. According to Vox, banks are flush with cash and just don't want your money enough to pay for it in the form of outsized yields.
"As for interest on savings and high-yield accounts, we're more likely to see short, incremental increases throughout 2022 if the economy does grow as expected," said Shaun Heng, VP of growth and ops at the crypto price-tracking site CoinMarketCap. "Whether we reach genuinely high-yield returns before 2023 seems unlikely, however. Lower interest rates can't last forever, but we're going to need some patience before they're back to pre-pandemic levels."
The problem is, pre-pandemic levels weren't anything approaching enough to keep up with even the much lower rate of pre-pandemic inflation. Nominal increases next year certainly won't change that.
"One or two small bumps, such as a 0.25-point increase in the federal funds rate, won't mean much for savers," said Laura Adams, MBA, a personal finance and credit expert for Finder. "Rates will still be at historic lows, even on so-called high-yield savings accounts."
More From GOBankingRates