5 Teen Jobs That Don't Exist Anymore — and How To Make Money Instead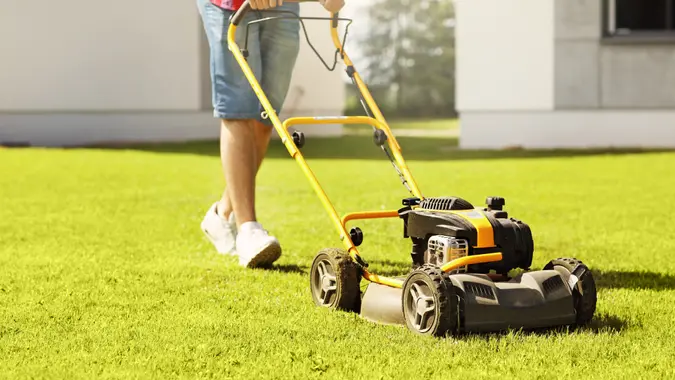 ©Shutterstock.com
Those of us who grew up in snow country might remember the teens who went door to door with their snow shovels, asking if the homeowners would like their driveways cleared after a storm. Or the same kids the following summer, who took their long-handled brooms and buckets with soap around the neighborhood to see if anyone wanted a siding wash.
Related: 10 Most Promising Careers for Gen Z Workers
See: Surprising Ways Gen Z and Millennials Are Worlds Apart Financially
Those jobs for teens, it appears, are gone. The typical ways teenagers made money just a decade ago have gone the way of the paper route, with teens' ability to earn pocket money largely now tied to their digital skills.
"It is impressive to see how fast things change. I indeed belong to that generation when it was normal to improvise a lemonade stand or go to my neighbors' house to wash their cars to earn a couple of dollars," said Maciej Kubiak, the head of people at PhotoAiD, a start-up in biometric photography. "But these two jobs for teenagers are certainly disappearing. First, technology has disconnected us from the real world. Teenagers are more likely, during the summers, to stay at home in front of a screen. Secondly, COVID-19 has dramatically changed the perspective in which we socialize."
Make Your Money Work Better for You
The Financial Guide to Adulting: Real Money Advice From Older Generations
Find Out: 5 Financial Steps Gen Z Should Be Taking Now
Indeed, teenagers have found new ways to make money. So taking a walk down memory lane, what are some jobs for teens that have vanished, and how are young people today cashing in instead?
The Old Guard
GOBankingRates asked today's professionals — now the people who are doing the hiring — for their recollections about how they and their friends made money as teenagers, and they remembered jobs that today's teens might not have ever had a chance of working.
Video store clerk. "There were so many rental stores for CDs and DVDs 10 years back. In those stores and shops, teens used to guide other kids, teens and people about which CD/DVD they could rent," said Stephen Curry, the CEO of CocoSign, an electronic document signature company. "Today, CDs and DVDs are out of fashion. So, those jobs don't exist anymore."
Messenger. "One job that doesn't exist anymore for teenagers is the messenger job," said Craig Miller, the co-founder of Academia Labs in Austin, Texas. "Before, we used to hire teenagers to carry our letters and deliver them to other businesses or to our customers. With the advent of technology, we can now easily send out emails to our recipients so we no longer need people to carry our physical letter and deliver them."
Lawn mower. "Landscaping and mowing lawns used to be something that teenagers usually did over the summer to make some cash," said Michael Fischer, founder of Elite HRT, an anti-aging and wellness company. "However, people started to get more particular with their landscaping, especially with plant care, and lawns have started to phase out in many parts of the country, such as the west coast with droughts."
Newspaper deliverer. "I used to deliver daily newspapers. I got up at 4:30 a.m. and delivered papers on my bicycle to addresses around my local area before heading off to school," said Amit Raj, founder of The Links Guy, which helps companies with search engine optimization. "Christmas was a time when my customers — who I never met face to face — gave me a tip for my dedication throughout the year. I sometimes collected $500 and along the way learned what a good work ethic looked like."
Gift wrapper. Department stores once offered free gift wrapping, allowing shoppers their pick of festive papers with teens happily packaging the presents. Now, if stores have gift-wrap services, it generally is a box and bow with a sticker or two.
The New Guard
So just what jobs are teens filling? Not surprisingly, they are rooted in technology and require skills that past jobs didn't, such as good spelling and grammar.
"The job that teens fill now is the social media manager position," Miller said. "This job is filled by teenagers perfectly as they are tech-savvy and can create engaging posts that tend to go viral. Teenagers are so great at managing social media pages of businesses that they are dominating these positions now."
Make Your Money Work Better for You
Raj, whose business is helping companies build their SEO profile, said teens are a natural in his line of work now.
"How about being an SEO intern in your teens? We wouldn't have known this would be a thing back in the day," he said. "But if you are good with keywords there's good money to be made guiding a small business through the Googleverse."
Another job that didn't exist in the past in which teens are thriving?
"Video game and online game testing is among the most fascinating teen jobs today," Curry said. "You will find job posts on Indeed and other major job-hunting sites as well as social media sites. From rare, this job role has become a common part-time job."
More From GOBankingRates
Make Your Money Work Better for You
Last updated: Oct. 5, 2021 
Make Your Money Work Better for You