56% of Gen Zers Are Blowing Up Their Careers — and Inflation Is To Blame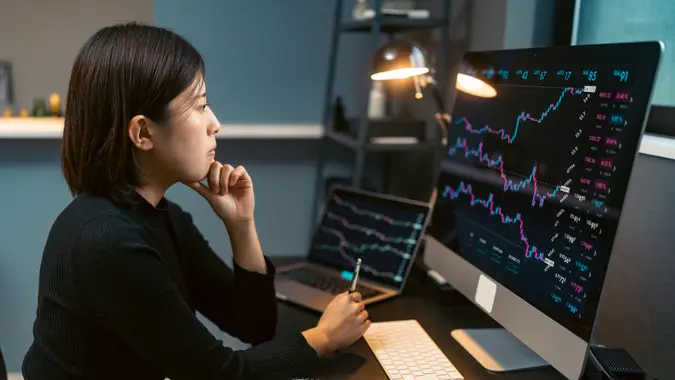 recep-bg / Getty Images
Recent graduates and those still in post-secondary education are revising their career expectations post-pandemic, largely in light of inflation according to a new report from the CFA Institute.
The 2023 Graduate Outlook Survey looked at the views of young adults, ages 18 to 25, regarding their career prospects today vs. in 2021. Three-quarters of graduates said they are "confident in their future career prospects," and 56% said their prospects are better than their parents' generation. But 56% also said they are reassessing their career sector in light of inflation.
Concerns about landing a job where the pay is too low in light of inflation have replaced fears of finding a job at all. Sixty-two percent of graduates stated that "a good salary" is the number one factor in choosing an employer.
Finance has replaced healthcare as the top industry, perhaps as a result of burnout in the healthcare sector following the COVID-19 pandemic. Graduates are flocking to careers in finance and STEM as opposed to healthcare or medicine. More than half of graduates (56%), however, are prolonging making a decision by extending their education while the job market remains volatile, the study said.
Those who are extending their education are doing so to boost their salary. Nearly three-quarters (72%) of those surveyed said they believe post-graduate certifications will increase their earning power when they enter the job market.
Survey respondents believe certain fields provide better career prospects. The top five fields where graduates felt most confident in 2023 are:
Finance (24%)
Education (19%)
Sales, Media & Marketing (18%)
IT & Telecoms (18%)
STEM (17%)
Make Your Money Work Better for You
(Respondents were permitted to choose up to three fields.)
Prior to starting college, Gen Z had different expectations. Nineteen percent of respondents were considering a career in education, citing it as "the most appealing," while 18% chose medicine, and 17% chose healthcare.
However, a shift to finance, STEM and other fields has given GenZ hope for the future. A whopping 74% believe they will be able to get the job they originally wanted or one that is much better or slightly better. Only 2% said they think they will get a job much worse than the one they originally wanted.
More From GOBankingRates