10 Jobs Where Millennials and Gen Zers Can Still Get a Pension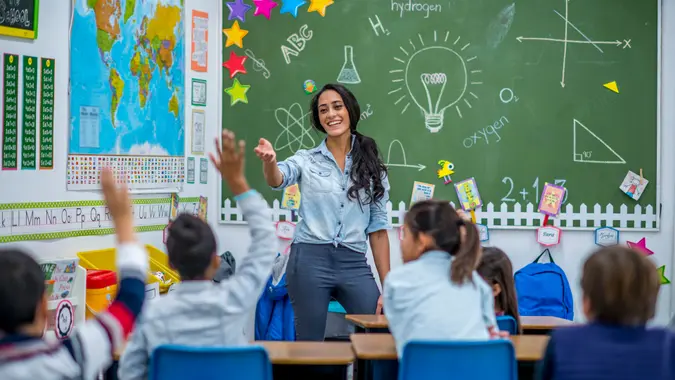 FatCamera / Getty Images
Today's working landscape looks vastly different from how it did 50 years ago. As times are changing, traditional pension plans and the job security that comes with them are harder to find, leaving many millennials and Gen Zers wondering if this career goal is still within their reach.
Despite the current shifting tides defined by gig work and side hustles, there are still sectors and opportunities that prioritize long-term financial security for their employees. Here we explore 10 career paths where the younger generations can find pension opportunities that provide not only a reliable income, but contribute to building a comfortable retirement.
Teachers
The teaching profession offers a wide range of job opportunities in different subject areas and age groups, providing a stable and rewarding career. Public school teachers, in particular, often have access to pension plans.
According to Brookings, 90% of public school teachers are taking advantage of pension plans where their benefits are based on their salary and how many years of teaching experience they have under their belt. The median teaching salary in the U.S. is $56,784 with the range ranging between $47,418 and $69,251.
While specific retirement eligibility rules vary by state, many require around five years of service to qualify for pension benefits. Across the U.S., 26 states require five years of service and 15 require 10 years, with the remaining states offering less than five years or between five and 10.
Make Your Money Work Better for You
Police Officers
In recognition of their service, many police departments produce pension benefits for officers. These benefits offer a stable income during retirement, typically based on the officers' years of service and station location. Being a protective service worker requires rigorous physical requirements in order to perform the role, so pension benefits are also able to help employees who can no longer meet the physical demands of their careers
The average salary of police officers is $60,736, with the average salary after more than 10 years of service rising to $84,048. While the pension rules depend on the location, many offer benefits starting at ages 50 to 55 after 10-20 years of service.
Military Personal
The military is another one of the few sectors that still offers a defined benefit plan. Service members who dedicate their careers to the armed forces become eligible for a military pension after serving a minimum of 20 years. The pension amount is determined based on factors including rank, years of service, and the specific retirement system in place at the time of enlistment.
The average military salary in America is $51,584, with a wide annual range of $24,000 to $108,000.
Government Employees
Government positions, whether at the federal, state, or local level, often offer pension benefits to employees. These pension plans provide long-term financial security and are typically based on a defined benefit structure. The specific eligibility criteria and length of service required to qualify for a pension may vary on the government agency and retirement system.
Make Your Money Work Better for You
The average government employee salary in the U.S. is $62,575 per year, with the majority of salaries ranging between $45,000 and 75,500. Generally, government employees contribute a portion of their salary toward the pension fund and the benefits they receive during retirement are determined by factors such as years of service and final average salary. With most government positions requiring around five years of service to be eligible for a pension, this career path offers a solid retirement plan for millennials and Gen Z.
Nurses
Another occupation where younger generations can enjoy some retirement benefits and financial security is nursing. Nursing is a critical profession in the healthcare industry, and while not all nursing positions offer pension plans, several healthcare organizations and hospitals provide pensions to their employees. 
The average annual salary of a nurse in the U.S. is $92,012 as well as $12,000 in overtime annually. Additionally, the specific pension rules and eligibility requirements vary by institution, but nurses typically become eligible for pension benefits after serving 5 to 10 years. The pension amount is often based on factors such as years of service and the final average salary. Nurses can benefit from a stable income stream during retirement, enhancing their financial well-being
Utility Workers
Utility workers, including electrical engineers, power line installers, meter readers and valve installers, are essential for maintaining infrastructure and providing essential services. Utility work can also be a smart move for Gen Zers and millennials. Not only does this career path offer pension benefits, but it also offers younger generations other benefits.
Make Your Money Work Better for You
These benefits ensure a reliable income stream during retirement and help utility workers achieve long-term financial security. The specific pension rules and reliability requirements vary by company, but most require around 5-15 years of service to be eligible for pension benefits. Utility workers can enjoy the dual benefits of a pension plan and high-paying jobs without requiring a college degree.
In the U.S., utility worker's average base salary is $62,704 per year with a pay range of $38,304 to $102,646. 
Firefighters
Firefighting is a physically demanding but highly rewarding career that offers pension benefits and a path to early retirement. Firefighters put their lives on the line to protect communities and respond to emergencies. Many fire departments provide pension plans to their firefighters as a way to reward their service and dedication.
Alongside the pension benefits, firefighters also benefit from healthcare coverage and generous retirement packages. The combination of early retirement, healthcare benefits and a stable income stream makes firefighting an attractive career choice for those seeking a pensioned job. The average base salary of a firefighter is $52,567 annually and ranges from $35,521 to $77,792 depending on the job position and the length someone has been working.
Postal Employees
Working for the United States Postal Service (USPS) offers the unique advantage of pension benefits for eligible employees. Postal workers, including mail carriers, clerks and other positions, can become eligible for a pension after five years of service. This relatively short vesting period allows younger employees to establish retirement benefits early in their careers.
Make Your Money Work Better for You
Additionally, if postal employees transition to another federal government job they can often transfer and combine their pension benefits. Alongside the pension plan, postal employees also have access to healthcare benefits, making it a comprehensive package for long-term financial security. The average salary for a postal employee is $42,313 per year with salaries ranging from $29,013 to $58,828.
Air Traffic Controllers
The Federal Aviation Administration (FAA) offers a pension plan for air traffic controllers that provides competitive retirement benefits. Air traffic controllers often enjoy a higher income compared to many other professions, with a salary range that reflects the level of responsibility and specialized skills required. The salary range for air traffic controllers is between $69,019 and $103,689 with the average salary at $84,238.
Because air traffic controllers must remain focused and react quickly to conditions that change frequently, this job can be stressful. For those looking for an early retirement, becoming an air traffic controller might just be the job for you because the FAA requires controllers to retire at age 56.
Construction
The construction industry offers diverse career paths and can be a promising venture for millennials and Gen Zers seeking a pensioned job. While not all construction jobs provide pensions, many positions within unionized construction trades offer access to pension plans. These plans typically consider factors such as years of service, contributions and other qualifying criteria.
Unionized construction workers can also benefit from cost-of-living adjustments (COLAs), ensuring that pension payments keep pace with inflation. Additionally, construction careers offer the opportunity to develop valuable skills, earn competitive wages and contribute to a secure retirement. The average construction worker salary in the U.S. is $40,135, with the salary range falling between $35,663 and $44,559.
Make Your Money Work Better for You
More From GOBankingRates