8 Ways Your Side Hustle Can Cost You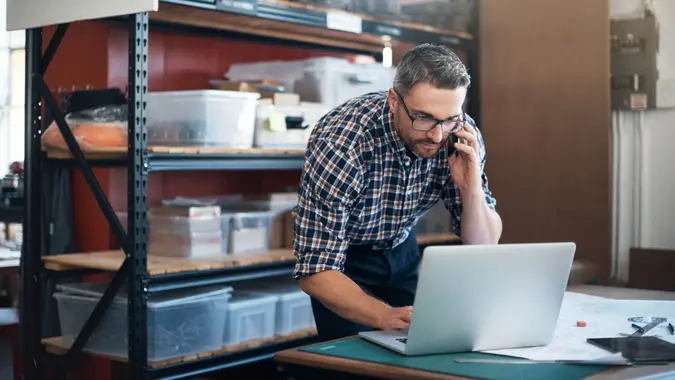 shapecharge / iStock.com
If income is tighter than you'd like, you might think of picking up a side hustle to add some cash to your bank account. There are lots of ways to take on work, from ride-sharing to consulting and a lot of gigs in between. However, before you leap into something new, consider the hidden or unexpected costs that can be associated with such a gig. Experts weigh in on eight ways your side hustle can actually cost you, so you can be prepared.
Find Out: 11 Best Lucrative Side Hustle Ideas: Earn More
Your Money: Stay on Track With the Financial Stability Roadmap
Startup Costs
Depending upon the type of side hustle, most of the time there are initial startup costs, says Kamyar Shah, chief fractional operating officer at Kamyar Shah business consulting. "Many incur thousands of dollars in debt especially if they wish to start a service business. The interest rates for paying back these debts are recurring expenses that may hinder the rapid growth of a business."
Tools or Equipment
If your side hustle requires you to purchase any sort of tools or equipment, ranging from a new computer to inventory of any kind, or even a vehicle, you need to factor in these costs. "Even for the smallest of jobs, you can't work without it," says Amy Wampler, a financial consultant for Spartan Mechanical. "For example, if you're a photographer you need a professional camera, lens, tripod, lighting equipment…Even a writer needs a laptop. This equipment will cost you money and repair and maintenance costs."
Learn More: 27 Most Lucrative Side Hustles for People Over 50
Travel Expenses
Cary Hastings, head of content at Bonsai says, "You'll need to factor in travel expenses if you don't work from home and have clients in your area," especially if you're not a remote worker.
Make Your Money Work Better for You
Taxes
Something many people might not think about when income from a side hustle starts rolling in is the taxes you have to pay on that money. As an employee, your employer withholds taxes from your paycheck. On your own, you must make quarterly tax payments on anything over $600 earned in one year, says Logan Allec, CPA and owner of the personal finance site Money Done Right. "If you don't make your quarterly tax payments…you may be liable for an estimated tax penalty from the IRS and possibly your state tax department as well."
Follow Along: 31 Days of Living Richer
Building and Maintaining a Website
Even a side hustle can require maintaining an online presence, and depending on whether you have the skills to set up your own website, this could cost you some money in both web design and web hosting.
Paying a Mentor
If you are entering into a side hustle where you still have more to learn, you may need to take a course or find a mentor in that subject says Steffa Mantilla, a certified financial education instructor and founder of the personal finance website Money Tamer. "While it's important to invest in continuing education, it can be easy to fall victim to gurus who sell overpriced courses that promise easy riches."
Discover: 11 Best Lucrative Side Hustle Ideas: Earn More
A Side Hustle Can Interfere With Your Main Job
Allec cautions people with a side hustle to make sure it's not interfering with your regular job.  "I've seen a lot of people get so distracted by their side hustle that may only make a few extra dollars a month that they stop excelling at their main hustle, their career," he says.
Make Your Money Work Better for You
Side Hustles Can Lead to Burnout
A non-financial cost of a side hustle is that it can contribute to burnout and low productivity levels at your main job, says Sally Stevens, co-founder of FastPeopleSearch. "Working extremely hard on your side hustle, which is often the case with most side hustles, plays a key role in increasing burnout," she says. "People often forget the boundaries of working and rest…Slowly a side hustle may end up inhibiting your focus and productivity."
NEW POLL: How Much Will You Spend Over the Holidays Relative to Last Year?
Before You Start a Side Hustle…
Lauren Kendzierski, an adjunct professor of entrepreneurship and innovation at Clark University in Massachusetts, suggests that before you start a side hustle you ask some key questions:
Could you pay someone to do this task and still make money off it?
Can you pay yourself a reasonable hourly rate?
What are your expenses?
"Every hustle is rife with the same challenges of any business. Decide how much you want incoming and work backwards. Set up and define clear customer policies. And budget your time."
More From GOBankingRates
Last updated: Oct. 27, 2021