More Ways To Make Money With ChatGPT and AI: 8 Hot Jobs and 4 Industries Adding More Workers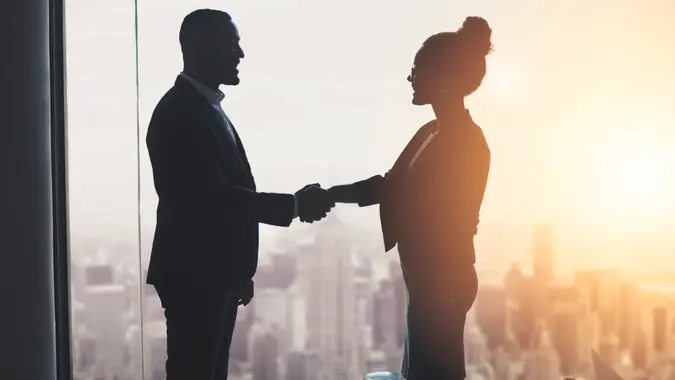 PeopleImages / Getty Images
The rapid rise of generative AI tools is changing the way we work, but it isn't necessarily replacing workers. In fact, a new Upwork survey of 1,400 U.S. business leaders found that those in the highest levels plan to hire more as a result of AI, with 64% of C-suite respondents saying they will hire more professionals of all types due to generative AI.
Here's a closer look at why that is, and how employees across fields can use AI to their advantage as prospective hires.
Why C-Suite Execs Are Looking To Boost Hiring Amid the Rise of AI
Executives at the highest levels are eager to utilize artificial intelligence tools — the Upwork study found that 73% of C-suite executives say that their company embraces generative AI. However, the study seems to indicate that they are not looking to replace workers with AI.
"The C-suite is seeing this as more of an augmentation rather than an automation tool," said Dr. Kelly Monahan, managing director at Upwork's Research Insititute. "Hopefully, we are learning our lesson that doing a substitution effect or an automation strategy in a cost-efficiency play may work in the short-term, but hasn't made long-term winners when you look through technology history."
AI Roles That Are Increasing in Demand
Executives are looking to make some key hires to ensure their companies are utilizing AI tools to their full potential.
"The C-suite is more bullish on looking to hire professionals outside their company because this is a brand-new technology," Monahan said. "The C-suite is thinking that their current workforce doesn't have the skills and expertise that's going to be required to actually use this technology at scale in their organizations."
Make Your Money Work Better for You
Monahan notes that on the Upwork platform, from Q4 of 2022 to Q1 of 2023, there was a 10 times increase in searches for generative AI roles, both from freelancers and clients, as well as a 600% increase in job postings that include the phrase "generative AI." Specific jobs that have seen a boom in demand include AI artists, Midjourney artists, AI researchers, AI writers, AI content creators, ChatGPT specialists, ChatGPT 3 specialists and general AI developers.
"As more players enter this game, we're seeing Google Bard specialists come on as well," Monahan said. "I liken this to the cloud — AWS came on, and then other platforms. So I think as more platforms arise, that's going to require more specialists as well. We're going to see whole workforce models develop around expertise around these specific tools."
Industries That Are Hiring for the Most AI Roles
AI tools can be utilized across many industries, but business leaders in certain industries are more likely to be ramping up hiring.
"We saw four industries in particular spike in terms of their sentiment toward hiring more — business professional services, software technology, media and telecommunications, and financial services," Monahan said. "Those four industries are the most bullish when it comes to hiring for generative AI."
The common thread between all of these industries is that they utilize knowledge workers.
"As we think about what gen AI really is, it's one of the first times knowledge workers are going to be truly augmented and have a tool that they're able to use," Monahan said. "The use cases that we're seeing today are writing, creativity and artistry, and so the ability to come in and augment those roles is where we're seeing it — and we're seeing hiring increase, not decrease, with those four particular industries."
Make Your Money Work Better for You
How Current and Prospective Employees Can Utilize AI to Their Advantage
The Upwork study found that C-suite executives are much more likely to embrace AI than the general workforce.
"One of the things that we saw in the survey is that 73% of C-suite executives are personally using gen AI and their company was embracing gen AI. That number fell to just about half — 52% — when it comes to the workforce," Monahan said. "So there's a little bit of disconnect, with the C-suite signaling that it's going to be a very big deal for the company and there's not that urgency or same level of adoption throughout the workforce."
However, Monahan believes that employees need to start embracing and utilizing these tools ASAP.
"We think about generative AI coming in and being able to do more of the routine, repetitive, administrative work, and actually, quite frankly, do it better than us," she said.
Using AI for these tasks can free up employees to do more impactful work. At the same time, there are certain skills that AI does not have, so employees should focus on honing these particular skills to remain attractive to employers.
"This is the time for people to really double down and develop their human skills," Monahan said. "What are those skill sets that are uniquely human and enduring, and will always beat AI (at least for the foreseeable future of what we know today)? Those are going to be communication, problem-solving, listening skills, time management, empathy and being able to work as a team in a globally distributed company."
Make Your Money Work Better for You
Employees also need to be educating themselves on how generative AI works and its various possible uses within their companies.
"I do think this going to be the next big wave of technology and I do think most companies are going to use generative AI, so more workers are going to have to be educated to be able to take advantage of this," Monahan said. "I highly recommend that people take classes because the more that we can demystify what generative AI is, the more we can appropriately use it and the more we can keep it within its lane. Start using the tools yourself. Start piloting and experimenting with it, and really just keep that open mindset in thinking through how technology can make you a better worker, make you more creative and allow you to engage in more human tasks."
More From GOBankingRates