Does New DoorDash Hourly Earning Option Make Side Hustlers More Money? How It Works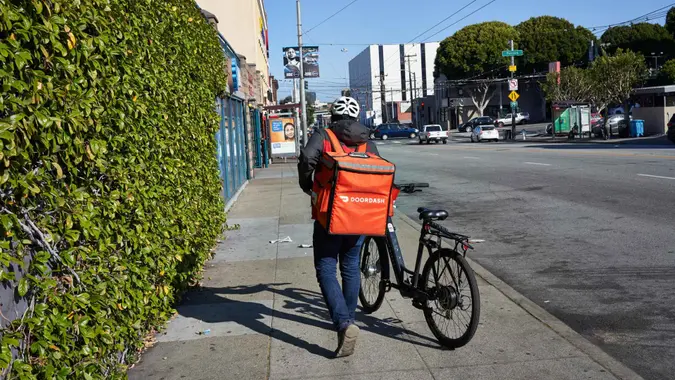 hapabapa / Getty Images
Last week, DoorDash announced a new hourly-based earning option for its delivery workers, ostensibly "to provide them with more reliability."
The company stated that the new option, deemed "Earn by Time," will be available in select cities in the U.S. and Canada. The program will enable workers to earn a "guaranteed hourly rate while delivering (from when you accept an order until it's complete) plus 100% of any customer tips and applicable promotions on top," according to an announcement.
The way it works is pretty straightforward and you can always switch back to the "Earn per Offer" option.
First, pick the Earn by Time option when starting your delivery.
"You can see the guaranteed hourly rate for your dash in your app before you start," the announcement indicated.
The company also detailed that you can decline or unassign up to one offer every hour. However, if you go over this limit, the option will end and you'll shift to "Earn per Offer" mode.
A DoorDash spokesperson told Fox News the guaranteed hourly rate "varies by market but on average, is calculated such that Dashers earn roughly the same whether they choose Earn by Time or Earn Per Offer."
The new option began testing last year and is expected to launch across the U.S. by year-end, the spokesperson said.
Make Your Money Work Better for You
The company said that workers who choose this option "get the most out of their time on the road, while customers in their city receive their orders faster, improving the experience for all," according to a FAQ section attached to the announcement.
Finally, workers who choose the Earn by Time mode will see their pay details at the end of each delivery. Base pay will be calculated using the guaranteed hourly rate and total time spent on the delivery, including the wait time at the merchant.
"Any customer tips or promotions earned on top will be added on top of the base pay amount," the company stated.
More From GOBankingRates