How To Get Free or Cheap DoorDash Delivery: 6 Tips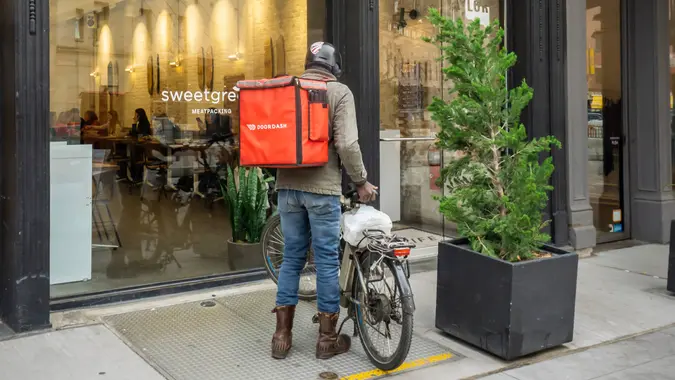 rblfmr / Shutterstock.com
Are you tired of paying delivery fees every time you order food on DoorDash? Luckily, the app offers several ways to get free or cheap delivery. DashPass will be your best friend when you're looking to save some cash when you get food delivered. Here are six tips and tricks to save money on your DoorDash orders. 
See: Find The Upside to Every Purchase
Key Takeaways
Sign up for DashPass to enjoy unlimited $0 delivery fees and reduced service fees on orders over $12.
Check the DoorDash promotions page regularly for special discounts and deals, including free items.
Consider referring a friend to DoorDash or signing up for a new account to take advantage of new customer perks.
6 Ways To Get Free or Cheap DoorDash Delivery
If you're a frequent DoorDash user, you know that delivery fees can add up quickly. Fortunately, there are several ways to save money on DoorDash delivery. Here are six ways to get free or discounted delivery on your DoorDash orders.
1. Free Trial of DashPass
DoorDash's DashPass is a subscription service that provides free delivery and reduced service fees on eligible orders. If you're a new customer, you can sign up for a 30-day free trial of DashPass. After the trial period ends, you'll be charged $9.99 per month unless you cancel. Keep in mind that the free trial is only available to new customers.
Make Your Money Work for You
2. DoorDash and DashPass Promotions
Another way to get free delivery on DoorDash is by taking advantage of the app's promotions. Check the DoorDash promotions page regularly to find special discounts and deals, including free items. You may have to spend some money in order to get the free item, but it can still be a great way to save money and try new restaurants.
During the summer, DoorDash often runs Summer of DashPass promotional offers for DashPass subscribers. These offers can include free delivery on certain orders or discounts on specific restaurants. Be sure to check the DoorDash app or website regularly for these promotions.
3. Credit Cards Can Give You Free DashPass
Chase Sapphire Reserve, Sapphire Preferred and Freedom cardholders, as well as World Elite Mastercard holders, can enjoy exclusive benefits on DoorDash. These benefits include free DashPass membership for at least one year for Sapphire Reserve and Sapphire Preferred members. To access these benefits, you must link your qualifying credit card to the DoorDash app and use it as your payment method.
World Elite Mastercard and Chase Freedom cardholders get three months of free DashPass. After that, you'll also get 50% off of DashPass for nine months if you have a Freedom card. Additionally, World Elite Mastercard holders can enjoy $5 off their first order each month until Sept. 30 or while supplies last.
4. Refer Friends To Get DoorDash Credits
If you refer a friend to DoorDash, you can earn credits toward your next DoorDash order. For each friend who signs up using your referral link and completes their first order of over $25, you'll receive a $10 DoorDash credit. You can refer up to 10 people if you're located in the United States for a total of $100 in free food.
Make Your Money Work for You
5. Skip Delivery Fees With These Tricks
There are a few ways to avoid delivery fees on DoorDash orders. First, you can look for restaurants that offer free delivery. Second, you can place a pickup order instead of a delivery order. Be sure to check that your restaurant allows pickups. Finally, try to time your orders for when DoorDash is running a free delivery promotion.
6. DashPass Is $4.99 for Students
If you're a college student, you can get a discounted DashPass monthly subscription for just $4.99. To qualify, you must provide proof of your student status by providing your first and last name, college, birth date and email. You may also need to provide a transcript or tuition receipt. This an excellent option for students who order food delivery frequently.
How DashPass Saves You Money
One of the easiest ways to save money on DoorDash is by signing up for DashPass. With a DashPass membership, you can enjoy unlimited $0 delivery fees and reduced service fees on orders over $12 from thousands of participating restaurants, grocery stores and convenience stores.
DashPass costs $9.99 per month, but there are ways to get it discounted or free. And if you order food delivery frequently, paying for DashPass can actually save you money. Here's how:
$0 Delivery Fees
With DashPass, you won't have to pay delivery fees on orders over $12 from eligible restaurants. Fee savings can add up quickly, especially if you order food delivery multiple times a week.
Reduced Service Fees
In addition to no delivery fees, DashPass also reduces service fees by up to 10%. This means fewer sneaky fees to increase your takeout spending.
Exclusive Deals and Discounts
DashPass subscribers also get access to exclusive offers from participating restaurants. These can include free items or discounted prices, which the restaurants offer to entice you to eat their food.
DashPass for Dashers
If you're a DoorDash driver, you can also benefit from DashPass. Active Dashers can get one month of free DashPass, followed by 50% off ($4.99 monthly). This can help you save money on your own food delivery orders, which can be especially helpful if you're working long hours delivering food.
Overall, DashPass can save you money on food delivery orders, especially if you order frequently. With no delivery fees, reduced service fees, and exclusive deals and discounts, it's a great way to save money if you order out frequently.
Save Money on DoorDash Delivery
Now that you know how to get free food and deliveries on DoorDash, it's time to put that knowledge to work. First, check if any of your friends have a DoorDash account they can use to provide you with a referral code. You'll save $20 on your first order. Be sure to also sign up for the 30-day free trial of DashPass to save on delivery fees. 
If you're a college student, DoorDash driver, or have a credit card that offers free or discounted DashPass, be sure to take advantage of it. And make sure you share your referral code with friends and family to get even more free food. Finally, check the DoorDash promotions page before you order to save or score a free item with your purchase. 
With these tips and tricks, you can enjoy delicious meals from your favorite restaurants without breaking the bank.
FAQ
Here are the answers to some of the most frequently asked questions regarding saving money on DoorDash delivery.
How do you get free food on DoorDash without paying?

One way to get free food is by creating a new DoorDash account and referring a friend. This way, you can get a $10 credit that you can use to offset your food cost. And with your free 30-day trial of DashPass, you will get free delivery for a qualifying order over $12. 

Is DoorDash free the first time?

DoorDash offers free delivery for your

first order

from participating restaurants, but it's not entirely free. You still have to pay for the food and other fees such as taxes,

tips

 and service fees. However, you can get a

$20 discount

on your first order if you have been referred by a DoorDash user. 

What's the DoorDash glitch?

The DoorDash glitch refers to a

system error

that occurred in 2022, where some customers were able to order food and items but were not charged for their orders. DoorDash fixed the glitch and apologized for any inconvenience caused.
Information is accurate as of June 27, 2023.
Editorial Note: This content is not provided by any entity covered in this article. Any opinions, analyses, reviews, ratings or recommendations expressed in this article are those of the author alone and have not been reviewed, approved or otherwise endorsed by any entity named in this article.
The information related to the Chase Sapphire Preferred, Chase Sapphire Reserve and Chase Freedom credit cards was collected by GOBankingRates and has not been reviewed or provided by the issuer of these cards. Product details may vary. Please see the issuer's website for current information. GOBankingRates does not receive commission for these products.