As the Economy Recovers During the Pandemic, Has 'Hustle Culture' Reached a Peak?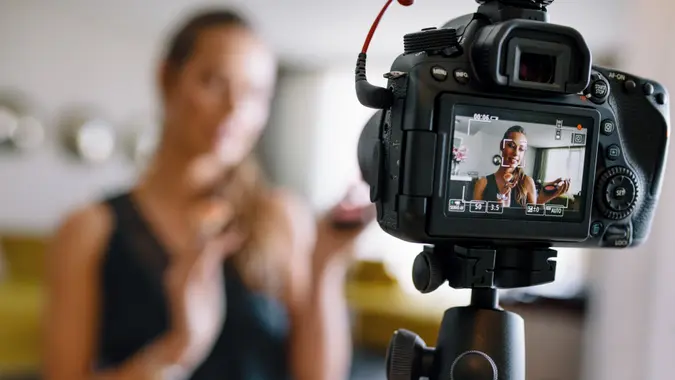 ©Shutterstock.com
2021 was the year of the side hustle. Thanks to the Great Resignation, bloated savings accounts, pandemic anxiety and ever-shrinking barriers to entry, employees transformed into freelancers in record numbers this year.
So, did side-hustle culture peak in 2021?
"Not a chance," said Daniel Caughill, co-founder of The Dog Tale. "I think the pandemic and economic uncertainty of 2020 and 2021 was the final push many people needed to take their side hustles more seriously."
Caughill is hardly alone. There seems to be a wide expert consensus that both workers and businesses alike will continue to embrace the gig economy in growing numbers in 2022 and beyond.
Disc
Economic Realities and Shifting Priorities Will Continue To Fuel the Gig Economy
Despite all the talk of employers raising wages to incentivize talented recruits, the reality is that a dollar buys much less today than it did in 2020 across nearly all corners of the economy. For many in 2022, a second gig will be a necessity, not a passion project.
"Inflation and other upward price pressures are going to continue to cycle with wages, frequently putting workers in the position of needing more hours to make ends meet," said Melanie Hanson, editor in chief of EDI Refinance. "Remote work is going to continue to enable workers with some skill sets to efficiently handle multiple jobs from home."
Make Your Money Work Better for You
But financial pragmatism is not the only reason — or even necessarily the primary reason — that so many people are striking out on their own.
"The working class discovered a newfound sense of self-respect during the pandemic," Caughill said. "Many professionals discovered they were temporarily disposable to their companies, and many others found out they could do their jobs with a far better work-life balance from home. Now businesses are trying to get things to go back to the way they were before, but many employees aren't having it. This is what's fueling the Great Resignation, and a person's ability to build their own income through a side hustle is an instrumental part of it."
So, Too, Might Automation
One of the great ironies of the Great Resignation is that many workers who never wanted to leave in the first place will be forced into the gig economy by the same machines and software that their bosses invested in when their employees started bolting for the exits.
"The automation of typical jobs such as cashiers, warehouse workers, and even truck drivers will continue to push more and more workers into the gig economy," said Douglas Dedrick, a longtime landscaper and a writer for YourGreenPal.com.
The Gig Economy Itself Will Force More People Into the Gig Economy
In 2020, the New York Times reported on the global phenomenon of "de-skilling," where the arrival of unskilled contractors forces skilled workers into the ranks of side hustlers both directly and indirectly.
Make Your Money Work Better for You
For example, Uber and Lyft have all but replaced taxis in many cities, which forces former taxi drivers into the gig economy. But the ripple effects include the doormen, bellhops and concierges who no longer get the tips that used to come with calling and hailing those taxis.
De-skilling does not result in a one-to-one job loss — and in many cases, the bellhop, concierge and doorman all find themselves chasing a new gig right along with the taxi driver.
2022 Could See the Rise of the Gig Economy Co-Op Movement
While working for yourself as an independent contractor is often romanticized as liberation from the chains of the rat race, the truth is, being an employee comes with perks and security that freelancers quickly start to miss.
"Hustling can be exhausting, with the constant pressure to perform while receiving significantly less compensation than a salaried position," said Dino Ha, founder and CEO of MBX, a subscription beauty box company formerly known as Memebox. "And with no benefits such as health care, sick pay, or holiday leave, many gig workers will find getting ahead and maintaining a good work/life balance to be a constant challenge."
Ha expects 2022 to bring a wave of collaboration among successful side hustlers who are seeking strength in numbers, even if they're technically competitors. And why not? Independent local credit unions, after all, formed ATM- and branch-sharing co-ops that allowed them to compete with big banks.
"This long-term struggle may find many independent contractors joining forces to form partnerships or create micro-agencies where they can collaborate on projects and share resources, such as knowledge, skills, and technology," Ha said.
Make Your Money Work Better for You
2022 Might See the Gig Economy Redefine the 'First Job' Concept
The traditional first job has been a rite of passage for generations — but it's likely that in 2022, young people will wade slowly into the working world by dabbling in the gig economy first.
"I think one trend we will start to see is with people who are coming of age to enter the workforce," said Henley Griffin, MBA, co-editor at Money Misfit and author of "25 Side Hustles You Can Start Right Now." "What I think will happen is that they will not enter the workforce in the traditional way. Instead, we will see them becoming part of the gig economy or finding their own way to make money without relying on a traditional job."
Pundits Mostly Missed the Point of the Great Resignation
So many industry watchers were quick to attribute the Great Resignation to stimulus checks, expanded unemployment and laziness. The gig economy, after all, is heavily skewed toward the younger sets — but they continue to defy the stereotypes that have been branded on their generation with each new Form 1099-MISC that the IRS receives.
"It's a misnomer that the Great Resignation is driven by an unwillingness to work, or that Gen Z and the millennials have horrible work ethics," said Monica Eaton-Cardone, COO of Chargebacks911. "The opposite is true — they desperately want to work and they're ready to work hard — but they also want their work to have meaning and dignity. It's a moral imperative. Doing soul-crushing work for an unethical company that cares about profits and not its people is terrifying. The side-hustle economy is precisely why so many millennials and Gen Zers are able to drop out of the traditional workplace. Today, there are other options available. So why work for a boss you hate? Why not become your own boss?"
Make Your Money Work Better for You
Another common miscalculation is that the Great Resignation itself will spell doom for the side hustle movement.
"I strongly disagree with that sentiment," Eaton-Cardone said. "The side-hustle economy will continue to grow and prosper in 2022 — but hopefully, it will evolve into something different, as the side-hustle becomes the main hustle. With FinTech becoming more accessible and cost-of-entry continuing to drop, passionate entrepreneurs will discover new, innovative ways to make their dreams come true. The revolution is just beginning, and I can't wait for the future."
More From GOBankingRates