Unemployment Benefits Are About to Expire – Now It's McConnell vs. Schumer in the Fight for Relief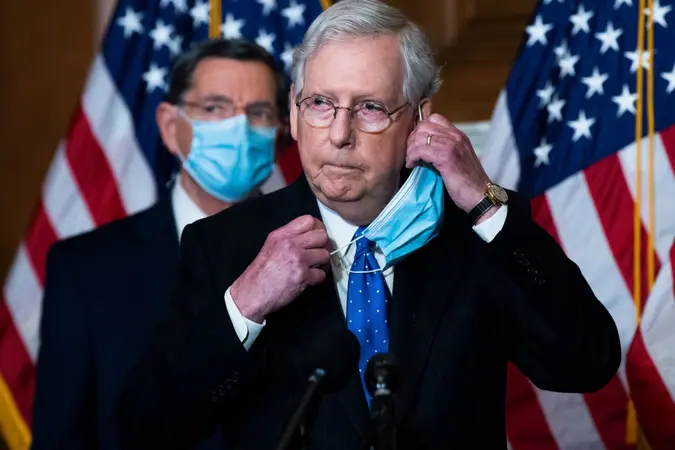 Tom Williams/POOL/EPA-EFE/Shutterstock / Tom Williams/POOL/EPA-EFE/Shutterstock
With news out this morning that 712,000 Americans filed for unemployment benefits last week, eight months since Congress's CARES Act first put relief funds into the pockets of struggling Americans, Congress is once again considering a bill to approve further stimulus funds and none too soon. The CARES Act, which offered extended weekly unemployment support of $600 per week, expired in July and Americans are still struggling with record unemployment. 5.9 million people applied for continued unemployment benefits in November.
Critical Point: 12 Million US Workers Set To Lose Unemployment Benefits Right After Christmas
While this is lower than the 6.5 million claims in March, it still a historic high. Unfortunately, Republican Senate Majority leader Mitch McConnell and Democratic Senate Minority Leader Chuck Schumer are not meeting eye to eye on many aspects of the new proposed stimulus bill, particularly when it comes to unemployment benefits.
Deep Dive: $5 a Week & the State of Unemployment Benefits Across the US
This impasse comes at a particularly inconvenient moment, given that key support for the unemployed will expire at the end of December. If no progress is made, millions of people will lose unemployment benefits just as protections for renters and student-loan borrowers expire, as well.
Act Now: Reasons Your Unemployment Claim Was Rejected — And How To Fix It
McConnell's plan would only extend unemployment benefits by one month through two temporary programs created by the CARES Act. It would not offer a supplement to weekly unemployment benefits — which is a reversal from a plan he put forth in September, which allowed a $300 weekly subsidy. The plan would also take away the jobless benefits offered to self-employed and freelance workers who are typically ineligible for state unemployment insurance.
Make Your Money Work Better for You
Learn More: No Stimulus Checks for Americans in New Bipartisan COVID Relief Proposal
Further, McConnell rejected a $908 billion stimulus compromise achieved by a bipartisan group of House and Senate members. That plan proposes to offer a $300 weekly boost in benefits through March, 2021.
Did It Work?: This is How Americans Spent Their Stimulus Money
In contrast, Schumer, with four other Democratic senators, introduced a bill on Tuesday that would reinstate the $600 weekly subsidy for all unemployed workers through October 2021. The Senate Democrats would allow self-employed, gig and other workers in the Pandemic Unemployment Assistance program to extend their benefits up to 65 weeks (up from 39). Additionally, in the Democrats' plan, workers could get an additional 39 weeks of Pandemic Emergency Unemployment Compensation.
Both Republican and Democratic leaders have expressed a desire to pass legislation before President-elect Biden takes office. However, there is yet to be a compromise that makes a bill's passage likely before December 11, which could result in a government shutdown. In 2019, the government reached a similar stalemate and was shut down for 35 days.
Don't Panic: What To Do If Your Unemployment Is About To Run Out
"They seem far apart at the moment," Mike Leachman, vice president for state fiscal policy at the Center on Budget and Policy Priorities, a left-leaning think tank, said of McConnell and Schumer. "But the need is significant."
More From GOBankingRates
Make Your Money Work Better for You