How To Deal With Conflict in a Remote Work World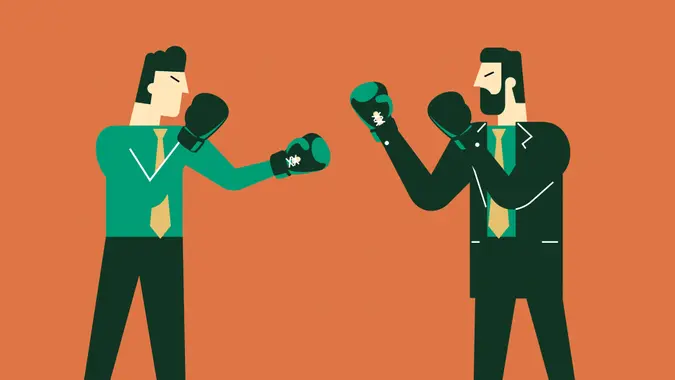 sorbetto / Getty Images
You may be returning to the office soon, but many of us are still working from home — which means having to deal with any conflicts that arise without being able to talk them out face-to-face. And dealing with conflict while working remotely is common — a recent survey conducted by My Perfect Resume found that 80% of remote professionals have experienced workplace conflict. Luckily, there are ways to deal with this conflict even when you aren't in the office.
Helpful: 15 Tips To Create Meaningful Relationships at Work
Who Are We Fighting With?
The My Perfect Resume survey found that most workplace battles occur between co-workers, with 65% of remote workers experiencing conflict with a colleague. Nineteen percent reported having a conflict with their boss, 11% reported conflicts with an external manager and 5% reported having a conflict with employees working at another company.
Be Aware: 15 Work Conversations That Could Cost You Your Job
What's Causing These Conflicts?
The majority of remote workers report a lack of teamwork (25%) or stress about work (25%) as the source of their workplace conflicts. Other causes include rude behavior (24%), a lack of transparency or honesty about an important issue (18%), a clash of values (9%) and false accusations (2%).
Make Your Money Work Better for You
Modern Money Etiquette: Should You Ask Coworkers About Salary?
Most Conflicts Are Happening Over Work Messaging Apps
Work messaging apps have largely replaced face-to-face interactions, so it's not too surprising that most conflicts — 46% — occurred on an app like Slack, Google Hangouts or Trello. Video chat was the next most common platform for conflict, with 37% reporting a verbal dispute and 6% reporting a dispute via the chat function. An additional 11% reported having conflicts via private non-work messages, like texts.
What Do You Think? Should Employers Require Workers To Take Time Off?
How To Deal With Remote Work Conflicts
The source of many remote conflicts is the perceived tone of a non-verbal message — the survey found that 40% of workers reported a conflict arose out of someone sounding short when they didn't intend to.
"Humans rely on gestures and facial expressions to get the feeling and meaning behind the words," said Jennifer Pieniazek, a career advice contributor at My Perfect Resume and the author of the study. "Our communication is about 93% non-verbal. A text message, then, gives us only 7% of the picture! Miscommunications and misinterpretations abound."
Make Your Money Work Better for You
See: How To Protect Yourself When You Return to Your Office
If you feel slighted by something someone said in a Slack message or email, don't jump to conclusions.
"Some simple advice though for those dealing with a remote work conflict: Step away from the apps," Pieniazek said. "When you see that message come in from the person you are having a problem with and you don't like what they're saying, just take a few minutes. It sounds trite, but counting to 10 or doing some deep breathing will give you that pause you need so you don't fire off something you'll regret later."
If you're still bothered by the remarks after taking some time to mull them over, make an effort to talk to the sender about what their intention was and explain why you found their comments offensive.
"Conflicts can be opportunities for growth and greater understanding when handled correctly," Pieniazek said. "When a conflict begins, be open and direct about the issue — the conflict can be nipped in the bud. This can require video chats to get to the bottom of what the hot button is."
Make Your Money Work Better for You
Be Aware: Handshakes and More Office Rules Changed by COVID
If it's a more complex issue, if you've had repeated problems with this person sending inappropriate or offensive messages, or if the conflict is with your boss, you may want to involve someone from your human resources team.
"The HR person will most likely schedule two separate video chats with the opposing parties," Pieniazek said. "Getting the full picture is paramount to conflict resolution. Then, suggestions and proposed compromises will probably be suggested. A video chat with both parties might be scheduled to have an open discussion about implementing those changes to see if they're in agreement."
You should also make an effort to ensure that your communications to others will not cause any conflicts.
"Remember, what you write can be shown to someone else," Pieniazek said. "Keep your communications free of offensive language and avoid engaging when you feel it's getting out of hand."
More From GOBankingRates
Last updated: April 30, 2021
Make Your Money Work Better for You