How the Minimum Wage Changed Throughout the US in 2021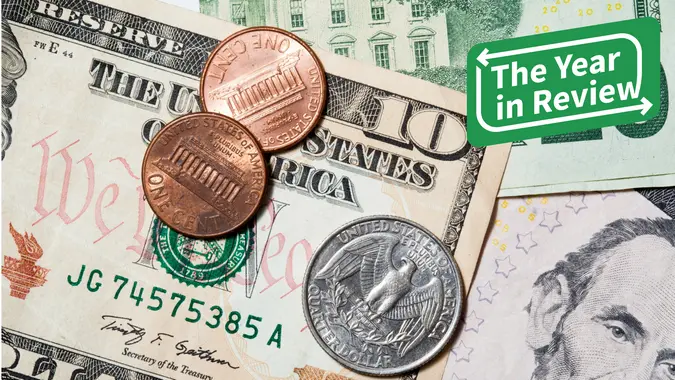 YvanDube / iStock.com
Although the federal minimum wage hasn't changed in more than 10 years, smaller-scale changes have persisted throughout this year. Whether it's cities, states or major employers, there has been much discussion about the minimum wage and changes have followed.
See: 14 Countries That Have a Higher Minimum Wage Than the US
Important: $1M Is No Longer the Standard Nest Egg – Here's How Much Most Americans Think You Actually Need To Retire
As companies have pulled out all the stops to bring people back to work, the minimum wage continues to be a hot topic of conversation. The Economic Policy Institute notes several potential benefits of a $15 federal minimum wage, including an increase in wages for 59% of those below the poverty line.
While no federal minimum wage increase has passed since 2009, efforts continue. In the meantime, below are some of the ways the minimum wage increased in 2021.
Read: Here's How Much You Need To Earn To Be 'Rich' in Every State
States That Raised Their Minimum Wage in 2021
The following states raised their minimum wage in 2021, either by legislation or ballot measure:
Arkansas: $10 to $11, effective Jan. 1, 2021
California: $13 to $14, effective Jan. 1, 2021
Illinois: $10 to $11, effective Jan. 1, 2021
Oregon: $12 to $12.75, effective July 1, 2021
Virginia: $7.25 to $9.50, effective May 1, 2021
Make Your Money Work Better for You
In addition, 18 states and D.C. have their minimum wages indexed to inflation, resulting in modest increases on Jan. 1 of the year. "In 2021, 24 states increased their state-mandated minimum wage, along with dozens of localities," said Jeanniey Walden, CIO of DailyPay. "And more increases are planned for many states and localities in 2022."
See: Costco, Amazon and 16 Other Companies That Raised Their Minimum Wage to $15 (or More)
Several states also have areas with different minimum wages at the county or city level. For instance, Maine increased its minimum wage to $12.15 via inflation indexing on Jan. 1. However, the city of Portland will increase its minimum wage to $13, $14 and then $15 at the beginning of 2022, 2023 and 2024, respectively.
And that is not the only caveat to state minimum wage laws. Michigan was set to increase its state minimum wage to $9.87 on Jan. 1, 2021. But that didn't happen because the increase was contingent on keeping the state's unemployment rate below a certain threshold. The unemployment rate the prior calendar year was above 8.5%, so the increase didn't happen. This might seem strange given the impact of COVID-19, but this legislation was passed in 2018, well before COVID-19 put millions out of work. The result is Michigan was left with a $9.65 minimum wage, but the $9.87 rate is set to once again take effect in 2022.
Make Your Money Work Better for You
Career: Chick-fil-A and 23 More Companies With Surprisingly Great 401(k) Plans
How Companies Changed Their Minimum Wage
Several large companies increased their minimum wages in 2021 to incentivize people to come back to work. Some have offered increases and bonuses during the holidays, while others have enacted permanent changes. "With the Great Resignation leaving many businesses short staffed, companies have been incorporating competitive payments and benefits packages from on-demand pay to increased wages," Walden said. "As the competition to recruit top candidates intensifies, businesses that resort to incorporating a pay related benefit have been seeing an uptick in recruitment and retention."
And many large organizations are in fact increasing their minimum wages to keep up. "Several bigshot companies increased the minimum wage of workers in 2021," said Lyle David Solomon, principal attorney at Oak View Law Group. "This includes Bank Of America, which raised its minimum wage to $21 per hour. They are even planning to make it $25 per hour by 2025."
Make Your Money Work Better for You
And several companies have made similar increases. Walmart increased its minimum wage to $12, Costco raised its minimum to $16, and Chipotle raised its minimum to $15 per hour. There are dozens of examples of companies taking the initiative to raise their minimum wages. 
Many groups around the country have been pushing for higher minimums, and companies are not waiting for the federal government to take action.
Related: Here's What the US Minimum Wage Was the Year You Were Born

The Push for a Higher Federal Minimum Wage
Although the federal minimum wage hasn't changed since 2009, there has been a lot of discussion about increasing it. The result is that there have also been attempts to pass legislation, although those attempts have failed so far. "On January 26, 2021, Democrats in the House and Senate reintroduced a bill called the Raise the Wage Act," said Monica Plaza, VP of strategy at Wonolo.
Plaza noted that the bill was first introduced in 2019 but never saw a vote in the Senate. This bill would have raised the federal minimum wage gradually each year, reaching $15 per hour in 2025. In addition, it would eliminate sub-minimum wages for youth and disabled workers, Plaza notes.
She went on to say that President Joe Biden voiced his support of the bill and aimed to include it in his stimulus package. "Of the issue, he said, 'No one should work 40 hours a week and live in poverty. But it's totally legitimate for small business owners to be concerned.'"
It's Not Much: What You Can Rent on a Minimum-Wage Salary in Every State

The concern that the minimum simply doesn't cut it is hardly unfounded. "Currently, individuals who earn the federal minimum wage make $15,080/year, which is only $2,200 above the federal poverty line for a single-person household and below the poverty line for households with 2 or more people," Plaza said.
She went on to explain that some have expressed concerns over the potential impact on small businesses, including a Central Budget Office (CBO) report. But not everyone agrees with the CBO's conclusions, she said. "…[T]he Economic Policy Institute conducted an analysis of the Raise the Wage Act and found that almost no jobs would be lost."
More From GOBankingRates
Make Your Money Work Better for You