How the Rise of Remote Work Is Empowering Women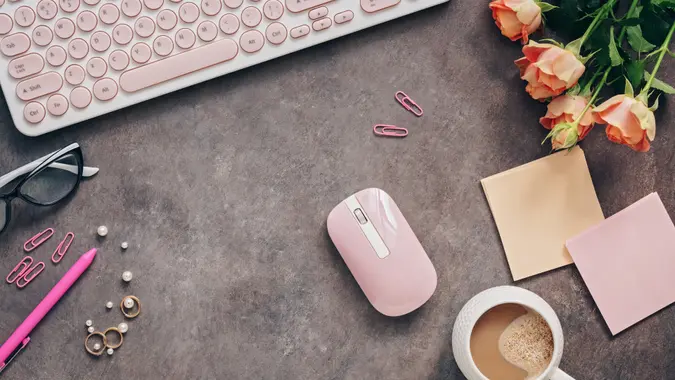 Yulia Gusterina / iStock.com
In today's "Financially Savvy Female" column, we're chatting with Rachel Neill, a mom of five and the CEO and co-founder of Carex Consulting Group, which offers its employees a flexible work schedule and remote working possibilities. Neill shares how a switch to remote work has helped her achieve a better work-life balance as a female founder and retain high-performing female employees, and how this "new normal" is empowering women workers across many fields.

Keep Up With the Latest: Sign Up for The Financially Savvy Female Newsletter
What Money Topics Do You Want Covered? Ask the Financially Savvy Female
How has being able to work remotely and have a more flexible schedule enabled you to thrive both professionally and personally?
For me, I was able to start a new company during the pandemic while I was home with all of my kids. I attribute that to having more flexibility in my schedule and not feeling so torn between my work, my commute and my kids.
Make Your Money Work Better for You
At Carex, you've enabled workers to choose their own working arrangements based on what works for them. How has this helped you to retain your female talent?
I definitely think it's helped with retention rates, especially now that the talent and labor market is really tight. A lot of companies are throwing money at people to come over. Our employees, too, are getting alternative offers, and they've decided to stay at Carex for the flexibility and the trust they have in our organization, and the fact that they don't have to hide if they have to go to a doctor appointment during the day or deal with something with their kids. They have the flexibility to do that.
See: 4 Essential Tips for Moms Re-Entering the Workforce
What are some of the wide-ranging, long-term benefits of allowing working mothers to have more flexible schedules?
The cost of daycare and child care in America is astronomical. Women are not making as much as men, and a lot of times when couples choose who will stay home, it usually falls on the women. I think a misconception is that when your kids start school, you don't have to pay for daycare anymore — and that's not the truth. Afterschool care is incredibly expensive as well, and so is summer care. If we gave women, or just parents in general, more flexibility to be able to shift their work hours or go home a little bit earlier to be a remote employee, I think that it would have so much of an economic and personal impact for those parents.
Make Your Money Work Better for You
From the Experts: 3 Money Moves Every Woman Must Make, According to Rachel Cruze
How has the recent emphasis on remote work opened up new career paths for working moms?
I think it encourages those who were stuck in unfulfilling careers because they felt like they had to choose between their family and work, to actually build a real career instead of just going and doing a pyramid scheme or feeling like your only option is selling Rodan + Fields. There's a lot of very smart, educated women who feel like they don't have the ability to take on what an employer requires. At the same time, employers are struggling to find qualified, good employees, so it seems like it would be a win-win.
I think it might even encourage women to get more education, whether it's a specific degree or some skillset, because they feel like they could potentially use it. Long term, it would probably create more wealth and put more employees and women in the workforce because they see a path forward.
GOBankingRates wants to empower women to take control of their finances. According to the latest stats, women hold $72 billion in private wealth — but fewer women than men consider themselves to be in "good" or "excellent" financial shape. Women are less likely to be investing and are more likely to have debt, and women are still being paid less than men overall. Our "Financially Savvy Female" column will explore the reasons behind these inequities and provide solutions to change them. We believe financial equality begins with financial literacy, so we're providing tools and tips for women, by women to take control of their money and help them live a richer life.
Make Your Money Work Better for You
More From GOBankingRates
Make Your Money Work Better for You