How To Become A Certified Personal Trainer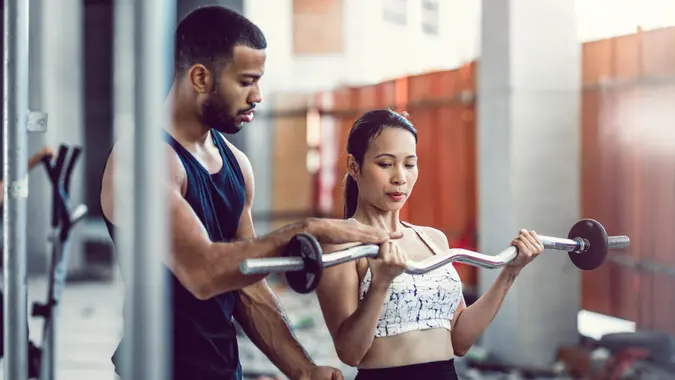 sanjeri / iStock.com
Are you passionate about fitness and would like to hone and share your skills on a professional level? Becoming a certified personal trainer may be the perfect career path for you to pursue. The central part of the work of a certified personal trainer is to develop safe and effective workout programs for clients seeking fitness goals.
As a personal trainer, you will go beyond the gym and offer foolproof advice to your clients on nutrition. You should also be well-conversant with the latest research, professional recommendations, and trends in fitness and nutrition to remain relevant and valuable to your clients.
The fitness industry is one of the most rewarding industries because you improve people's lives and find fulfillment in seeing results in real-time. On average, personal trainers make $45,650 per year. Plus, you don't need a college degree to get into personal training and the certification can be quite affordable.
5 Steps To Becoming a Personal Trainer
Here are straightforward steps on how to become a certified personal trainer.
Make Your Money Work Better for You
1. Get Your High School Diploma
Most personal certification programs in the country require you to have a minimum of a General Education Development or a high school diploma. Getting your GED can be fairly affordable, and you can get it for under $150 in most states. With some focus, you can get your GED in about three months.
Many certification companies also need trainees to come with Automated External Defibrillator certification and Emergency Cardiac Care. However, if you currently don't have these two, you can find a trainer certification package that bundles these as part of training.
There are many CPR/AED certification programs you can check out. You can even get started with the classes in case you want the training separately before enrolling in personal training certification classes.
The AED/CPR Certification and the skills you get are necessary for your day-to-day personal training. These programs will equip you with life-saving skills to be better positioned to help your clients in case of a medical emergency as they wait for a medical professional.
2. Define Your Fitness Specialty and Study Options
Before you enroll in a certifying body, you need first to choose a fitness specialty. The choice of the personal training specialization should align with your:
Skillsets
Professional goals
Personal interests
Make Your Money Work Better for You
Once you've decided on the specialization you want to pursue, take time to review the different certifying bodies. You want to look at their fitness certifications specifically. With the help of a mentor or credible online information, pick a program that best matches your skill sets, training goals and personal interests. Choosing a certification program that makes the most sense to your goals boosts your chances of success.
Depending on your availability, you'll have many learning and certification options. If you're looking to be certified quickly, you can go for the self-study option. If you have time and that is what you want to do, you can get a college degree and a personal training certification.
After choosing a fitness specialty, you want to learn the concepts effectively. Besides getting enrolled in a certifying body, you also have many options to hone your training skills, such as:
Unaccredited online options (self-study)
Gym program (in-person)
3. Prepare for the Certification Examination
The National Commission for Certifying Agencies is the most recognized accrediting body for personal training certifications. Other recommended certifying bodies for personal trainers include:
National Academy of Sports Medicine
American College of Sports Medicine
National Strength and Conditioning Association
American Council on Exercise
Make Your Money Work Better for You
Once you pick the certification body, your next step is to learn all about the exam ahead. Most personal trainer exams offer students practice questions to work on online. You can also take online exam prep courses. Do not take any chances if you want to go through with the test only once. Study hard until you are confident you will pass the exam.
4. Pick a Date, Take and Pass Certification Exams
Register for your exam when you have prepared and are confident you're ready to be the next personal trainer in your community. The process of registering for the examination is easy. Simply apply and pay the required fee.
The test is likely to have anywhere between 120-150 computer-based questions. In most cases, the number of questions and types will be similar but greatly dependent on the individual test. The common areas covered in the personal training exams include:
Program planning
Exercise techniques
Client consultation and fitness assessment
Safety or emergency issues
One step that many trainees fail to take seriously is not picking an early enough date for the examination. When you have data in mind, you will be prepared to work towards the goal each day. However, if you put off the date, you might end up taking longer than necessary to take the exam.
Some programs require trainees to set the examination date as soon as they are enrolled, but you need to be realistic as you do this. Give yourself sufficient time — say three to six months — to study and prepare for the examination ahead. Once you've sufficiently prepared, you have a high chance of passing the test and becoming a certified personal trainer
5. Apply for Personal Jobs and Build a Portfolio
Now that you have personal training certification, you can apply for different positions in different fitness settings. Choose job posts whose descriptions resonate with your skills and personal interest
As you wait to get accepted in those dream companies, sharpen your skills and gain experience working in your local gym. You might even want to build your clients online and in-person and work independently.
Takeaway

Becoming a certified personal trainer can be pretty straightforward. Once you have the prerequisite qualifications, choose your preferred training method and company. After that, you can register and sit for personal training certification to be the next certified personal trainer with plenty of career paths ahead.
Our in-house research team and on-site financial experts work together to create content that's accurate, impartial, and up to date. We fact-check every single statistic, quote and fact using trusted primary resources to make sure the information we provide is correct. You can learn more about GOBankingRates' processes and standards in our editorial policy.
Make Your Money Work Better for You