How To Know Your Value at Work — and Ask To Be Paid Accordingly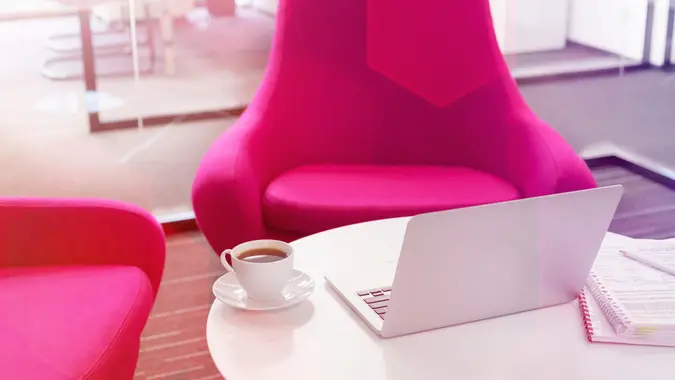 IPGGutenbergUKLtd / iStock.com
Women are still not earning as much as their male counterparts. In fact, a recent analysis conducted by the Pew Research Center found that the gender pay gap has barely budged over the past two decades, with women earning 82% of what men earned as of 2022. While the onus is not on individual women to close the gap — there are clearly systemic issues at play — there are things women can do as individuals to ensure they are being paid fairly.
In this "Financially Savvy Female" column, we're chatting with Laura Gassner Otting, an author, TEDX presenter and life coach, about how women can understand their true value at work and build the confidence to ask for the wage they deserve.
How can women take a holistic view of the value they bring to the work that they do?
Last month, when readying for a paid gig, I turned to my husband and said, "I feel like the Wizard of Oz. It just feels so fake to get paid actual real money for 40 minutes of work." And that's when he turned to me and, with a face that can only be described as mystified, said, "No, you are getting paid for 25 years and 40 minutes of work." And, that's when it hit me: we are not just the person that we appear to be in the moment, we are the sum total of all that has come before us.
Make Your Money Work Better for You
For those of us later in our careers, it is the compounded wisdom of decades of experience. For those of us just starting out, it is the trial and error period of iteration, and the strength of the network of friends, mentors and champions that we gather around us and learn from with breakneck speed. At any place along our personal and professional evolution, it is never the momentary glimpse of genius, but the hard yards that came before it.
Take Our Poll: Would You Move for a Job That Paid You a $10,000 Signing Bonus?
You have spoken about accounting in prep time if you are someone who charges by the hour. How can women make sure they are billing for an adequate amount of time?
Women tend to do more of the "office housework" than men, so in addition to the prep time it takes to show up for the client engagement work, we tend to take on even more of the prep work for the entire team. Your price is what it takes for a client to hire you to do the job, but your value is the wisdom that you bring when you are actually sitting in the meeting.
Make Your Money Work Better for You
We need to start negotiating on value, and not just price. So, how do you set your price? Ask yourself, "What is the cost of the problem that I am solving for them?" Because that's how much they'll value your solution.
If you find that you are currently being undervalued, how can you best approach your employer about this situation?
Emotions have a hard time arguing with facts. Put together a list of other people who are doing the same work, and show how you are being underpaid for similar contributions. Black and white numbers are hard to debate, and this will [spark the need] for your employer to have an honest discussion with you about why you are at your level, and whether this was an accidental oversight or an intentional slight.
Remember that most pay discrepancies happen because you were hired at a moment in time that disadvantaged you as a job seeker, or [because of] an unfair salary history that you took into the original negotiation. But the past doesn't have to be the prologue, and you can use any significant win at work as an opportunity to renegotiate for what is fair.
What should you do if a manager/employer pushes back when you ask for higher pay?
Remember that every "no" becomes a "not yet" when you counter with an opportunity to revisit the question. First, get clarity on what your manager needs from you in terms of a demonstration of skills or documented accomplishments before they would consider you worthy of that higher pay level. Second, ask for a second meeting in three months where you can discuss those skills and accomplishments, giving you ample time to either pull together your argument or earn the promotion or raise you seek.
Make Your Money Work Better for You
More From GOBankingRates
Make Your Money Work Better for You