How To Use 'Quiet Hiring' to Your Advantage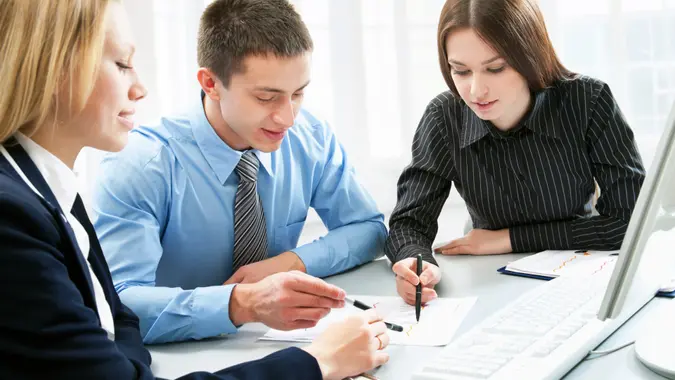 ©Shutterstock.com
It's a new year and there's a new workplace buzzword in play: quiet hiring. What is it and what does it involve? Most important: How can you take advantage of it if it happens to you?
What Is Quiet Hiring? 
First, let's define quiet hiring. 
"Quiet hiring is when executives decide that employees must work in other roles or departments that may or may not be associated with their current job description to meet a current critical need in the organization," said Dr. Wanita Mercer, founder and CEO of Lead My Heart Executive Coaching and Consulting. "Or, a business may choose to hire contractors to outsource essential tasks to [reduce or eliminate] costs of onboarding, training and benefits associated with full-time employees.
"Unlike what the term depicts, when organizations choose to 'quiet hire' for new skills or increased performance, they are not actually hiring employees. They are simply reassigning them. Examples of quiet hiring include mandating that a customer service manager devotes a portion of their day to answering or making customer service calls or mandating that an employee who works in the admissions office at a university work in the financial aid office during peak periods."
If you're an employee who finds yourself reassigned to a new position that may or may not be associated with your current job, how can you take advantage of the situation to further advance in your career? Let's have a look. 
Make Your Money Work Better for You
Get Clarity
"No one wants to feel pulled in 20 different directions," said Jenn Lim, CEO of Delivering Happiness andWall Street Journal-bestselling author of "Beyond Happiness."
"So if an organization is trying to quiet hire you, it's important to get clarification on what this new role will look like, as well as what, if any, responsibilities you will carry over from your current position. Stretching yourself too thin and keeping too many plates spinning will land you in burnout-frustration mode." 
Have an Open Dialogue With Your Boss 
"Talk with your employer about your expectations and concerns," said Emma Salveson, a founder of The Hub Events. "Make sure you understand the terms of the temporary assignment or reassignment, including how long it is expected to last and what your responsibilities will be. Try setting some criteria for success so that you and everyone else know how you thrived in that role."
Bring Up Compensation and/or Flexible Hours 
"If new responsibilities are more involved than your current role, know your worth," said Vicki Salemi, career expert for Monster. "Do external research to determine what the job pays — talk to industry insiders, former bosses and colleagues who work at competitors and more — and then schedule a meeting with your boss to see if a pay increase is possible.
"If your boss hires someone externally for the same role, there's a considerable amount of ramp-up time to learn the role and assimilate to the culture — and, since you're internal, that's a moot point," Salemi continued. "If your boss says no to increasing your salary, ask for this — how you stepped up to the plate when asked — to be strongly taken into account during the annual salary review process. Also, ask about one-time bonuses perhaps in the form of a spot award.
Make Your Money Work Better for You
"You may also want to talk about flexible hours or a more flexible schedule," Salemi said. "If you're being told you're moving into another role, even if it's not your desire, talk to your boss about the concessions that you're making. Perhaps there's a global weekly meeting that's at 7 a.m. — speak to your boss about perhaps changing your hours so that day you can work from home and stop working at 3 p.m."
Ask About Training and Mentoring 
"How will you get up to speed in the new role? Will you shadow someone? Will there be online training, etc.?" Salemi said. "Inquire about how you can succeed in the role. Engage in a healthy dialogue with your boss so you're provided with resources, support and training to succeed. Learning is always a good thing."
Take This Opportunity To Learn
"If you're still new to the workforce or have been considering a change in your career's direction, this quiet hiring trend may be the perfect opportunity for you to explore other roles while building new skills and knowledge," said Amanda Augustine, a career expert for TopResume. "If nothing else, it may help you determine what careers are not right for you. If you hear that another department is struggling to complete a project or find enough help, talk to your boss about whether you could be of assistance."
Keep Track of Your Achievements
"During a quiet hiring assignment, be sure to document your accomplishments and the skills you are learning," Salveson said. "This will help you demonstrate your value to your employer and make it easier to talk about your experience when applying for future opportunities."
Make Your Money Work Better for You
Ask for More Challenging Roles and Responsibilities
"A major perk to quiet hiring is the fact that you can ask for more challenging roles and tasks that can help you with building upon your skills," said Rachel Eddins, career counselor, therapist and executive director at Eddins Counseling. "You might get the chance to be team lead more often, which means being able to be in a tougher role, which will help you with many different skills and leadership development."
Network With Others in Your New Role
"Quiet hiring assignments can be a great opportunity to build relationships with others in your industry," Salveson said. "Take advantage of the chance to learn from your colleagues and make connections that may benefit you in the future."
Negotiate a Promotion
"Employees who are willing to pivot to job functions wildly outside of or above their current role now have the perfect opportunity to open conversations about a promotion they've had their eye on," said William Stonehouse III, founder and president of Crawford Thomas. "Employees can sit down with their manager and express they are eager to be a team player and would like to explore what it means for their career in the short and long term."
Make a Horizontal Career Shift 
"If an employee is unsatisfied in their current position but likes the company they work for, this is an excellent opportunity to test the waters to determine if shifting departments within their current company or pursuing another career path entirely is the right move," Stonehouse said. "Quiet hiring offers a low-risk entry point for curious professionals. The employee is at an advantage since the company is in need of quick help."
Make Your Money Work Better for You
Add Value in New Ways
"If your employer is looking for volunteers to help out in other roles or projects, don't hesitate to give it a try," Augustine said. "One of the best ways to keep your job secure — especially during uncertain times — is to find new ways to add value. The more indispensable you are, the less likely your position will end up on the chopping block."
More From GOBankingRates