How Women Can Close the Gender Wage Gap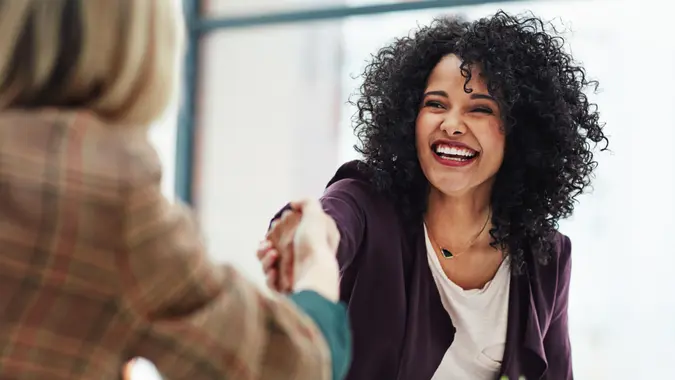 laflor / iStock.com
Elizabeth Koraca still remembers how excited she was to get her first job after graduating from college. The Canada native had landed a position with the Canadian government with a $36,000 salary. But that excitement turned to disappointment when she learned that a male colleague who had the same level of work experience she had was getting paid nearly $10,000 more than she was.
"That was a really big eye-opener for me," said Koraca, who now is an executive coach and career strategist. "I made sure that didn't happen again."
Click to read more about how women stack up in America's economy.
Unfortunately, Koraca's story is not unique. A recent GOBankingRates study found that there is a gender wage gap in every state and the District of Columbia. Even in the same occupations, women tend to earn less than their male counterparts, the study found.
However, women don't have to resign themselves to making less than men. As Koraca and other career experts have found, there are ways to close the gender wage gap. Keep reading to find out how.
Know That You Can Negotiate
Koraca said that the big mistake she made with her first job was not realizing that she could negotiate her salary. "I didn't do my research," she said. "I didn't know I could ask for more."
Compensation database PayScale has found that women are less likely to negotiate their salary than men. They tend to be more uncomfortable with the process. But recognizing that they can negotiate their pay and getting comfortable asking for more might help women close the wage gap, Koraca said.
Make Your Money Work Better for You
Research What You're Worth
Before you can negotiate your pay for a new job or ask for a raise at your current job, you need to know what you're worth. "Become an educated job applicant and get really informed on what the compensation levels are for the roles you're seeking — before you interview or before you receive a job offer," said Kelly Hoey, author of "Build Your Dream Network: Forging Powerful Relationships in a Hyper-Connected World."
Websites such as PayScale and Salary.com can give you an idea of the salary range for your position. However, Hoey said the best way to find out how much you should be making is to ask peers in your industry for their salary range. Also, take advantage of informational interviews or job interviews when you're not actually seeking a new position to ask salary questions and find out what the pay range would be for someone with your education and experience, she said.
Get Comfortable With Self-Promotion
If you want to get paid at the top of the salary range for your position, you have to be prepared to tell employers why you need to be at the top, Koraca said. That means getting comfortable with self-promotion. "It's important to know your worth and believe you're worth it," she said.
Don't think of it as bragging. Instead, think of it as advocating for yourself, Koraca said. Before going to an interview or asking for a raise, make a list of what you bring to the table — your education, skillset, workplace accomplishments, results you've delivered. Think about what sets you apart from other people in your industry, Koraca said. Collect and present positive feedback from management, co-workers or customers. "Then you'll be prepared and justified" in asking to be paid more, she said.
Make Your Money Work Better for You
Learn More: 5 Things I Ask Myself Before Asking for a Raise 
Keep Improving Your Skillset
Another way to close the gender wage gap is to continue building your skillset to get a raise or promotion, Hoey said. Start by finding out from your manager or an industry mentor what skills you need to advance to the next level, she said.
Take advantage of any training opportunities your employer offers and look for opportunities beyond your workplace. "When there are events or conferences that you know will help you advance your career, go," Hoey said. "If your employer won't pay for it, pay for it yourself." Then summarize key takeaways from conferences in a memo or email to share the insights you've gained with your colleagues, she said.
Network, Network, Network
You also can close the pay gap by networking. A good way to start is by building relationships with peers at work. "Find ways to connect with colleagues across departments and the corporate organizational chart as this will prove invaluable when it comes to advancement," Hoey said.
Also, build your profile outside of your workplace. You can do this by volunteering with an industry organization, joining a group that focuses on your subject matter expertise, seeking speaking opportunities, contributing to an industry blog and keeping your LinkedIn and college alumnus profile updated. "External recognition for your knowledge and contributions may tip the balance in your favor when it comes to advancement," Hoey said.
Make Your Money Work Better for You
More on Networking: Not Having These 8 Networking Skills Will Cost You
Don't Focus Solely on Salary
Getting paid what you're worth can certainly go a long way toward closing the gender wage gap. But you shouldn't focus solely on salary, Koraca said. "When you're looking for a new job, you have the ability to design your professional life," she said.
So before interviews, make a list of what is important to you. Perhaps it's a flexible work schedule, more vacation time or a workplace that supports women with children. Keep that list beside you as you search for jobs and ask whether the position descriptions line up with the goals you've set for yourself, Koraca said. Sometimes the positions that pay more might not offer the workplace benefits you want.
Read: When I Negotiate My Salary, I Bring Up These 3 Essential Things
Be Willing to Make a Move
If you ask for a raise and are shot down even after making a strong case for a higher salary, Koraca said you should explore other options. Look at other departments in your company for roles you could fill that pay more. Or look outside your company. "It's easier to find a job when you have one," Koraca said.
To find a better paying position, tap into your network. Just make sure when you're asking for other people's help that you make it easy for them to help you. Get clear on what you want to be doing, where you want to do it and how much you want to be making, Koraca said.
Make Your Money Work Better for You
Click to read more about jobs where women make more money than men.
More on Making Money