Job Hunting? Ask These 4 Questions To Find the Best Boss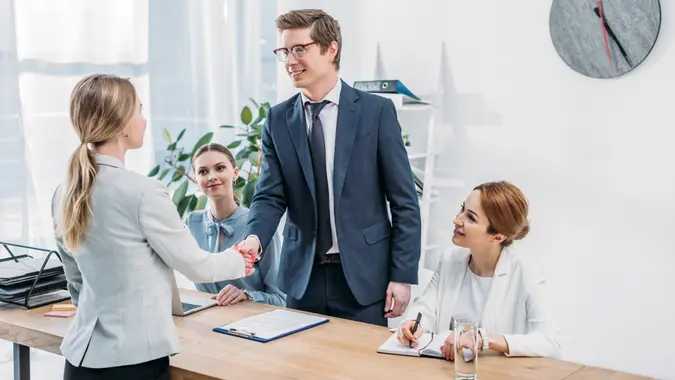 LightFieldStudios / Getty Images/iStockphoto
New year, new you, new job (evidently). According to a poll from Monster.com, nearly all Americans (96%) are looking or plan to look for a job in 2023.
See the List: GOBankingRates' Best Banks of 2023
Explore: Protect Your Financial Future With Gold and Silver
Learn: This Company Will Pay You $1,500 To Go On 15 First Dates
Job seekers know to be on their best behavior and to avoid certain crucial mistakes when applying and during job interviews, be they over zoom or in person. However, what they may be less aware of is hiring managers and other executives working hard not to show any flaws. In other words, they're trying to look like the perfect boss. So it takes asking the right questions to reveal whether they'll be a good boss or not.
What questions should you ask during the interview process to find out whether your prospective boss, or bosses, are going to be unnecessarily difficult people to work for? The Wall Street Journal shared some tips:
1. "Which skills will my performance review take into consideration?"
This is a direct question that your prospective boss should easily be able to answer. What you're looking for here is a direct answer. Run, don't walk, if you get any of the following responses:
"We'll know it when we see it."
"A good culture fit."
"My gut instinct."
Make Your Money Work Better for You
These are vague and inarticulate responses. You can't work with them at all!
2. "When do meetings start?" or "How quickly do you expect replies to your emails?"
These are also direct questions that require direct answers that are not difficult to give. Again, you're looking for specifics here. If you get vague or narcissistic codes as replies, you know this is a bad boss situation.
3. "What does micromanaging look like to you?"
This is a question that may take your potential future boss time to answer, as it's something that they may not have reflected on before. It's important that both you and your prospective boss agree on what micromanaging is because a lot of bosses do this and don't think they're doing it. It's in a similar vein as a person being passive aggressive and not realizing it (and may be another good question to ask: "What does passive aggressiveness look like to you?). Be on the same page about what toxic behaviors look like so that if either of you is found guilty of them, you can easily work them out rather than driving one another crazy with them.
Companies Offering Retention Bonuses Boosts Inflation: Will Wage Hikes Push US Into Recession?
Experts: Why You Need To Leave a Toxic Workplace
4. "Can we meet in person?"
In these post-pandemic days when so many jobs are remote and/or hybrid, it can be difficult to get in the same room together. But if you and the people interviewing can make it happen, do it. Just being around one another in person can help you both get a sense for one another that you would never get in a Zoom room.
Make Your Money Work Better for You
More From GOBankingRates
Make Your Money Work Better for You