Laid Off: What It Means and What To Do Next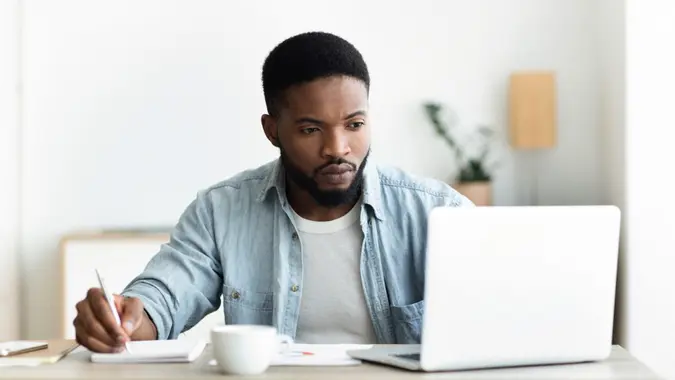 Prostock-Studio / Getty Images/iStockphoto
As the year's final quarter is coming to a close, some of the world's largest companies are announcing significant layoffs. Meta Platforms, Inc., Amazon.com, Inc. and Twitter, Inc are just a few prominent examples. But smaller companies are also letting substantial chunks of their workforce go, leading people to uncertainty at the peak of the holiday season.
While there is never a good time to experience a layoff, all is not lost. We'll cover what you need to know to make the most out of this situation and make choices that benefit you now and in the long run.
What Does It Mean to Get Laid Off?
Getting laid off means your employer is temporarily or permanently terminating your employment. Companies usually announce their decision to lay off employees before they execute, giving you some time to plan your next steps. Some companies offer severance packages after layoffs, but this is not a federal mandate as per the Fair Labor Standards Act.
Make Your Money Work Better for You
Although mass layoffs are not new, Forbes reports that the lingering byproducts of pandemic hiring practices are triggering the latest wave, including the looming economic recession. Other reasons include restructuring protocols, acquisitions and mergers, downsizing and evolving business needs.
An estimated 28% of Americans experienced a layoff in the last two years.
Up to 40% of Americans were laid off at least once in their lifetime.
In 2009, 2.10 million Americans experienced layoffs due to the housing market crash.
At the start of the pandemic in 2020, 4.6 million people experienced job separation.
In 2021, a staggering 17 million layoffs were announced.
As more Americans feel the effects of these layoffs, it's necessary to understand how to navigate the new job market and prepare for what is coming personally and professionally.
Is Getting Laid Off The Same As Getting Fired?
Getting laid off is not the same as getting fired. The layoff did not come from an action you took or a mistake you made. Nor is it due to a lack of performance on your part. It is entirely on the company and comes from a lack of planning or unforeseen circumstances that led to this decision.
Make Your Money Work Better for You
Some companies try to mitigate the harm caused by layoffs by connecting laid-off employees to staffing agencies and offering generous severance packages. Others keep your insurance benefits active for some time and provide references that explain the circumstances of your termination. Fired employees usually do not get any of these perks unless their contracts mandate this before they start working.
Most importantly, when an employee gets fired, it's usually due to a lack of performance, an egregious action, or a chronic violation of their employment terms. None of these apply to a layoff. Your employer would not resort to this termination if the circumstances were different.
With that said, you are still without a job after the layoff happens. Your actions immediately after learning about your company's plans have a definitive effect on the next phase of your career.
What Should You Do After Getting Laid Off?
You'll experience many tumultuous emotions after you learn of an impending layoff. From anger to anxiety, this news is never easy to digest, especially if you have responsibilities and dependents. Below are a few pointers that make all the difference when planning your next steps.
Make Your Money Work Better for You
Stay Calm And Do Not Retaliate
It may seem like the end of the world, but it is not the case. Staying calm after learning the news of being laid off pays off in the long run. Your professional acceptance of the fact gives your managers more incentive to refer you to other employers. Staying calm also keeps your emotions in check and prevents you from saying or doing something you will regret later.
Moreover, it's essential not to retaliate verbally or physically. Your supervisor most likely had no say in the company's decision to lay off employees. Taking it out on them or a colleague leaves a negative impression on everyone, and they will remember how you handled the matter.
Get The Facts
You are responsible for ensuring that you have all the documentation and information you need before leaving the company. According to the Washington Post, once you learn about an impending layoff, ask for details like the last day of employment and your terms of separation. If you have the financial capacity, check with an attorney before you sign off on any legal documents.
Don't underestimate the value of reviewing your state's unemployment laws and federal notification mandates. Also, ask how your company will communicate your layoff terms to future employers.
Process And Recalibrate
Once you are home and out of the company, it's time to process what happened and recalibrate so you can start your job search. If you have a solid support system at home, expressing anger and resentment over the company's decision is OK.
Getting laid off is a significant life change and will come with emotional and financial obstacles. Talking to a trusted person or a professional helps you process and plan your next move. Both are important for your peace of mind and allow you to vent in a safe space before you start looking for a new job.
Register for Unemployment
You can file for unemployment insurance if you become unemployed through no fault of your own. When you register for unemployment, you receive cash benefits through your state's unemployment insurance program.
It's essential to apply as soon as you become unemployed and have the information needed ready. According to the Department of Labor, it takes about three weeks to receive your benefits after applying. Usually, unemployment lasts for 26 weeks. However, some extensions are possible in times of high unemployment.
Scout The Job Market
Now that you are no longer employed, you can evaluate your options to find the best fit for you. Many people are stuck in jobs that don't allow them to actualize their full potential. But they cannot leave for multiple reasons, such as familial obligations and financial responsibilities. With more time to plan, start scouting the job market for positions you have always wanted to pursue.
The job can be in the same industry you left or a new one you always wanted to join. Of course, this plan may have limitations depending on your skill set. But with the right approach and an understanding of the current job market, you can tailor your job search to find a position that may end up being better than the one you left.
Consider Staffing Agencies, But Don't Forget To Network
Staffing agencies can help you find a temporary or permanent position at a company depending on your skills and what you are looking for in a career. Recruiters at staffing agencies have multiple connections and can source hard-to-find jobs. They will match you to a suitable position based on your experience at no cost to you.
However, don't rely on a recruiter to find you a position — networking is just as effective. When you meet and mingle with the right people in your industry, you'll hear about opportunities that might lead to a job. The wider you cast your net, the faster you find a job.
Moving Forward After a Layoff
If you were laid off, it might seem like your career is crumbling before your eyes. But despite the surge of negative emotions, don't let fear of failure and the uncertainty of the future hamper your efforts to do something better.
Always remember that being laid off is not a reflection of what you did. Instead, it can be an opportunity to get out there and discover more career potential than you imagined. In the long run, and after you find another job, you may find that the layoff was a stepping stone to an ideal career that suits you better.
Our in-house research team and on-site financial experts work together to create content that's accurate, impartial, and up to date. We fact-check every single statistic, quote and fact using trusted primary resources to make sure the information we provide is correct. You can learn more about GOBankingRates' processes and standards in our editorial policy.
Make Your Money Work Better for You