Looking for a New Job in 2023? Hiring Managers Reveal Mistakes To Avoid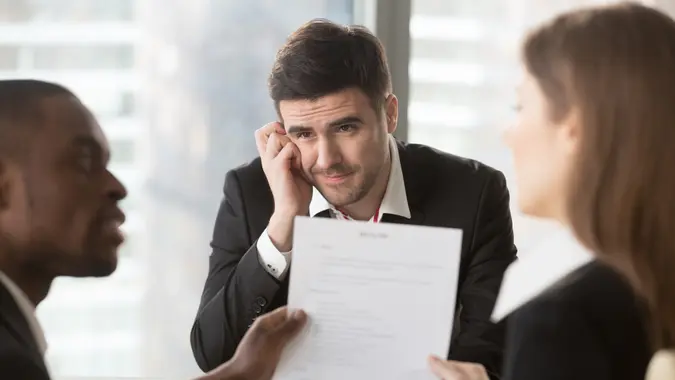 fizkes / Getty Images/iStockphoto
There's no denying that it's a tough job market right now. As recession fears loom, many companies are actively laying off employees or instating hiring freezes. That means it's more important than ever to make yourself stand out as a candidate to land the positions that are currently available — and you want to stand out in a positive way.
Making a misstep during the hiring process that may have been overlooked before might now get you flagged by a hiring manager and put you out of the running. To find out the mistakes you need to avoid during the job search process — especially in the current climate — GOBankingRates spoke to recruiters, hiring managers and HR pros. Here's what they say are the biggest no-nos.
Not Tailoring Your Resume
Many companies now use applicant tracking systems to pre-screen candidates, so if your resume isn't tailored to the specific job you're applying for, there's a good chance it won't make it through the screening process.
"Companies typically run a keyword match between the job description and your resume," said Kat Sabatini, hiring expert and founder of Tuesday Resume. "If you don't have a high enough match rate, your resume will go to the discard pile — without giving you any reason for the rejection."
To avoid this, "copy the job description and paste it into FreeWordCloudGenerator.com to identify the most important keywords," Sabatini said. "Include these in your resume in the summary section and skills. For each application, complete this quick exercise to tailor your resume."
Make Your Money Work Better for You
Not Making a Personal Connection
In a competitive job market, you may have to do more than simply fill out the application to get noticed.
"Use LinkedIn as a networking tool. Put a face to the application by finding the relevant hiring manager, team leader or team member for the role or company you're interested in," Sabatini said.
Once you figure out who you should contact, do some research into their interests and find any common ground you may have, such as an alma mater or mutual connections. Then, reach out to them personally.
"When you reach out, make it easy, valuable and interesting for them to assist you," Sabatini said. "Come prepared with the exact job posting link, job title, etc. that you're most interested in. Find a point of mutual connection or interest to add value to their interaction with you. Be friendly and polite! Send a cool article they might enjoy. Ask for their opinion or advice. I've even seen someone offer to donate to their favorite charity as a thank you for their time."
Taking Too Long To Respond
In a competitive job market, time is not on your side.
"With a number of recent layoffs, there are a lot of folks out on the market; therefore, time is of the essence," said Adrienne Dinkelacker, co-founder of The Atlas Group, a tech recruitment agency. "I've seen candidates lose out on roles because they took too long to respond to set up an interview, or took too long to respond after the first interview."
In the time it takes you to respond, someone else can swoop in and snag the opportunity. Dinkelacker recommends responding within 24 hours at the maximum.
Make Your Money Work Better for You
Coming Across as a Know-It-All
It's important to confidently communicate your skills during an interview, but you don't want to cross the line into cockiness.
"If you come across as a know-it-all, the first question I ask myself is, 'How trainable are they? Will they be open to working in new ways, or are they likely to cause conflict?'" said Robert Hourie, IT recruitment specialist and company director at Elwood Roberts. "In my experience, the best [employees] always want to learn more."
Being aware of your word choice during the interview can help ensure you don't come across as cocky. "Use [phrases] like, 'I do things this way' rather than 'it's done this way.' That will showcase your skills and not give off the impression that you feel it's the only way to do it," Hourie said.
Not Researching the Company
Going into an interview without knowing about the job or company is a big mistake, Hourie said.
"Every interview I conduct I ask, 'What do you know about the company?' The [number] of people that simply say, 'Not too much, can you please let me know [more]?' would shock you," he said. "It shows a lack of interest in the role. Why would you want an interviewer to spend 10 minutes explaining the business, instead of you explaining to the interviewer why you are a great fit? Huge mistake."
Before the interview, research the products or services the company provides and the latest news about the company. Also, be prepared to share why you love what the company does.
Make Your Money Work Better for You
Speaking Negatively About Prior Roles
Complaining about an old boss or poor treatment at a previous company can often be seen as a red flag.
"Hold off on saying anything negative," Hourie said. "It can give the impression you have a tendency to complain. The interview is not an open forum to discuss what you didn't like about your last role."
It's likely that you will be asked why you are leaving your current position, so be prepared with a response that doesn't involve you throwing your co-workers or manager under the bus.
For example, Hourie recommends, "'I think I have gone as far as I can in this role professionally.' If you [have been at the position for] less than six months, say something like, 'It's not quite the role I had envisioned, and this role is more aligned.'"
Being Late
Whether your interview is virtual or in person, it's essential to show up on time.
"It's important to show you are responsible," said Joanna Chavers, director of people & engagement and HR consulting at Atrium, a talent acquisition and workforce solutions firm. "If you are interviewing on the phone or via video call, test your equipment. There are no excuses for not being ready for a call — this will create a negative first impression that will be difficult to overcome.
"Likewise, if it's an in-person interview, make sure you leave plenty of extra time to get to the location," she continued. "Confirm the address, floor, etc. well in advance of your meeting."
Make Your Money Work Better for You
Not Preparing Questions for the Interview
"Coming to the interview with very few questions is a red flag," said Eryn Marshall, senior director of global recruiting at Oyster, a global employment platform.
Some questions she recommends asking are:
Why is this job open? Why now?
When researching the company, I saw X. Can you tell me more about that?
How collaborative is this role cross-functionally?
What are the roadblocks to success?
Utilizing these questions can make you look much more proactive and enthusiastic about your job search, which is a good sign for those doing the hiring.
More From GOBankingRates