6 Surprising Red Flags Recruiters Might Find on Your Social Media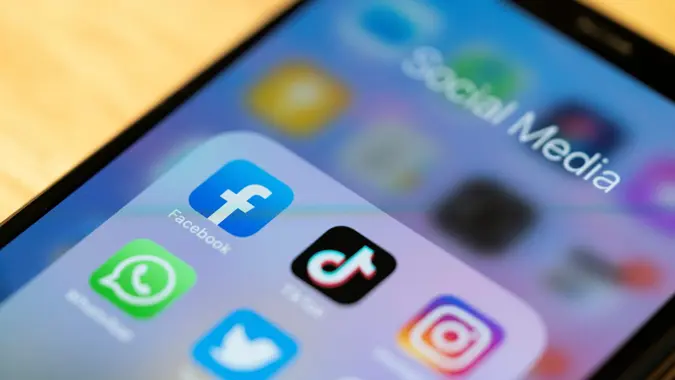 P. Kijsanayothin / Getty Images
It's not just your resume recruiters are looking at when you apply for a job. In fact, it's common practice to provide your LinkedIn in a job application, and some social media-related jobs even require you to share your Instagram, TikTok or other social media profiles. 
The profiles you don't share, though, recruiters may still find with an easy online search. And this doesn't always bode well for job candidates. 
"Social media has blurred the lines between professional and personal lives, but it can still be useful for companies when they are trying to get to know potential employees," said William Westerlund, co-founder at Almvest.  
You likely already know your social media shouldn't be littered with evidence of drinking, drugs or otherwise obscene content. But there are less-obvious warning signs recruiters may see that make them lose interest.
Take a look at these surprising social media red flags you'll want to address before sending in a job application.
Posting About Politics 
Jobvite's 2021 Recruiter Nation Report revealed recruiters' biggest turn-offs when it comes to social media posts from job seekers. Nearly one-third said theirs were political posts.
"In today's polarized climate, it's more important than ever to keep your political views to yourself when you're job hunting. That doesn't mean you have to purge your social media of all political content – but it does mean that you should avoid anything that could be construed as a partisan rant," said Andrei Kurtuy, co-founder and COO of Novoresume.
Make Your Money Work Better for You
"If you absolutely must post about politics on social media, make sure to keep your opinions balanced and respectful. Otherwise, you risk turning off potential employers who might disagree with your views."
Ranting About Anything
It's not just political rants that turn off recruiters. If your social media showcases a lot of highly opinionated language – even about noninflammatory topics – it could disqualify you from a job.
"People want to work with kind, happy people. Subtle language that implies someone might not be a pleasant person to be around can deter recruiters.For some, social media has become a place to vent. Be careful in doing so, however, because constant complaining can be a sign to potential employers that working with you won't be an enjoyable, encouraging experience," said Mike Van, CPA, co-founder and CEO of Furnishr.
Speaking Poorly of a Current or Past Employer
"It's best to keep any criticisms of your employer strictly confidential," advised Jordan Fabel, founder of ApprovedCourse. "Employers and brands with a strong social media presence will be particularly keen to avoid hiring candidates who tend to overshare when it comes to their work. Negative or disparaging comments about co-workers and colleaguescan also be potential red flags for recruiters."
Using Poor Spelling or Grammar
Jobvite's report found that 45% of recruiters are turned off by employees who utilize poor spelling or grammar on their social media. 
"Poor spelling and grammar shows a lack of attention to detail, subpar communication skills and even laziness, none of which are something that a business wishes to represent their level of quality," said Adelle Archer, co-founder and CEO of Eterneva.  
Make Your Money Work Better for You
"In addition, using lingo or slang in a professional profile demonstrates no ability to read the room or how to behave in a work environment. Though it may seem insignificant, attention to basic grammar and writing skills says more about a candidate than most think, and is why it should be attended to very carefully."
An Unprofessional Profile Picture 
"Since a picture is worth a thousand words, your profile picture should express the proper message. A professional first impression is created by a clear headshot with an acceptable background," said Zephyr Chan, growth marketer and founder of Better Tools. 
Although your profile picture on Instagram or Facebook may still matter, you should pay special attention to the one you select for LinkedIn.
Chan added, "Many prospective employers are concerned with your public presentation. If your profile picture displays you dancing while holding a drink on a table, you may be sending the wrong message. While you can (and should!) have a life outside of work, if this is the picture you choose to present on your professional social media, a hiring manager may question your professionalism at work."
Not Having Social Media at All
Unfortunately, avoiding social media altogether won't do you any favors in your job hunt.
"Recruiters see hundreds of resumes in which many candidates are extremely close in qualifications, thus, many will access social media to gain more insight. So lack of a social media presence can actually be a red flag. Regardless of the reason, many recruiters will see the absence of evidence as the evidence of absence, meaning they might view it as odd or even an attempt to hide information," said Matt Miller, founder and CEO of Embroker.
Make Your Money Work Better for You
At the very least, Miller recommends you have an up-to-date LinkedIn profile that describes your interests, qualifications and past experience. It's also important to make sure what you say on your LinkedIn matches up to your resume. Recruiters may take any discrepancies as a sign of embellishment or even outright fabrication.