Side Hustle Tax Pitfalls: How Gen Z's Embrace of Gig Economy Could Haunt Them in 2023 (and Beyond)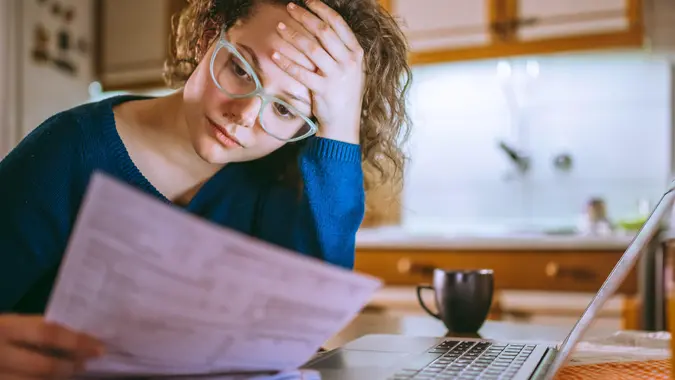 urbazon / Getty Images
Give Gen Zers credit for one thing: They are not afraid to be creative when it comes to earning money. Many have embraced side hustles to develop new income streams, build more financial independence and gain more control over their lives and work.
See the List: GOBankingRates' Best Banks of 2023
Know: Looking for Work? Expert Suggests Pitching Yourself as the 'Solution'
Prepare: Job Hunting? Ask These 4 Questions To Find the Best Boss
But embracing the gig economy in such a big way also carries risks — including the risk of misjudging how much you might owe in income taxes.
More than half (52%) of Gen Zers in the United States have some kind of side hustle, according to a pair of new surveys from H&R Block and Wakefield Research. However, 70% of respondents don't realize they could owe taxes on money they earned through digital content creation, and 44% are unaware that peer-to-peer payments transactions can also be taxable. 
Make Your Money Work Better for You
In addition, nearly three-quarters (72%) of Gen Zers did not keep detailed records of the money they made from side hustles and more than one-third (36%) have not set aside money to cover taxes they might owe. Nearly two-thirds (63%) don't seek the advice of a tax professional, while 64% plan to file without a professional's help. 
All of which means that April 2023 "could prove to be a painful month for Gen Z," H&R Block said in an email shared with GOBankingRates. That pain will likely come in the form of a hefty tax bill, as well as fines and penalties. 
The key to avoiding pain is to familiarize yourself with the income tax rules. Rule No. 1: You will owe federal and maybe state income taxes on money you earn from side hustles, regardless of the amount.
Because gig workers are independent contractors rather than paid employees, tax money is not taken out of paychecks, which means you need to keep track of how much you've earned and how much you will owe in taxes. Ramsey Solutions recommends setting aside 20% to 35% of your side hustle income for income tax purposes. Be sure to keep detailed records of all your side-gig earnings throughout the year.
Make Your Money Work Better for You
Take Our Poll: How Do You Think the Economy Will Perform in 2023?
Depending on how much you earn, you might also have to pay estimated taxes to the IRS every quarter, and your state tax division if applicable. As a general rule, you'll need to pay estimated taxes if you expect to owe more than $1,000 in federal income taxes when you file your tax return.
When it comes time to file that return, you need to be very careful about the deductions you claim. Specific tax deductions for independent contractors largely depend on what you do for a living, according to H&R Block. For example, those who work from home won't have mileage expenses, but they might have home office expenses.
Here are some of the tax deductions for self-employed individuals:
One-half of self-employment tax
Self-employed health insurance deduction
Qualified Business Income Deduction
Car and driving related deductions, in the form of either mileage or actual expenses
Home-office deduction
Internet and phone
Licensing and fees
Advertising
You also need to familiarize yourself with various tax forms. As Intuit TurboTax noted, some gig workers will receive Form 1099-NEC from individuals or companies that paid you money during the year. If you receive payments through online payment services such as PayPal, the reporting form might be a 1099-K.
Make Your Money Work Better for You
If you earned less than $600 from a side gig in 2022, the payer is not required to send you a 1099 form — but you are still required to report the earnings. If you don't, you could face penalties and fines. This also applies to cash payments you received for services you performed.
Side Hustle in 2022? CPAs Advise To Take These Steps Now for Easy Tax Filing
Career Planning: Consider Pursuing 10 Bustling Jobs in the Next 10 Years
Finally, it's a good idea to hire a tax professional to help you with your returns — especially if you earned a lot of money from many different payers for side hustles. A tax pro can help answer questions and ensure that your taxes are paid accurately and on time.
More From GOBankingRates
Make Your Money Work Better for You