The Average Starting Salaries for 10 Popular College Degrees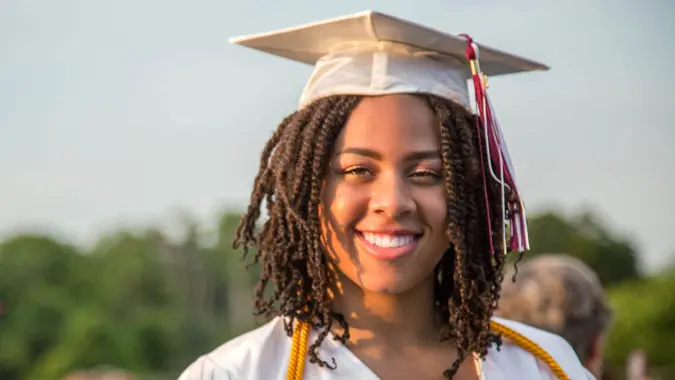 @SBphoto / Twenty20.com
The most popular majors aren't always the most lucrative. This doesn't mean they're not worth pursuing, but it might be a surprise to some how much the starting salaries are for the fields students are most likely to choose.
Generation Z: The Future of Finances
Learn More: Gen Z Has Strong Opinions on Capitalism -- Do Experts Agree?
Here are the most popular bachelor's degrees, according to Niche, and how much someone just starting out can expect to bring home on average. 
Business and Management
Average Starting Salary: $58,869
The most popular degree earns the average person close to $60,000 just out of school. That's pretty good, considering the median individual income for the United States was just over $30,000 in 2019. The most popular career paths with this degree are in sales, human resources, accounting and becoming an entrepreneur.
Nursing
Average Starting Salary: $72,249
Make Your Money Work Better for You
A degree in nursing can bring in anywhere from $58,000-92,000, with most falling right around the $70,000 mark according to Salary.com. Factors that affect salary are location, certifications and what type of healthcare the nurse specialized in. California and Hawaii top the list of places where nurses can make the most money.
Find Out: These Elite Colleges Went Virtual — But Raised Tuition Anyway
Psychology
Average Starting Salary: $48,562
Graduates with a bachelor's in the third most popular major earns about $23.35 an hour on average. Sunnyvale, CA is cited as the city where graduates can make the most with a degree in Psychology at $58,843 — but most positions will earn just under $50,000. As far as specialization, the field of Experimental Psychology is projected to bring in the most money. If this number sounds low in comparison to what you imagined therapists and other clinicians make, it's important to remember that doing psychotherapeutic work requires at least a master's degree. 
Biology
Average Starting Salary: $54,685
Those starting out with a Biology degree often take jobs as a lab technician, or an associate scientist and make just over $50,000 a year. With a Bachelor's Degree in Biology, a person could expect to make about $100,000 at the height of their career. These positions are typically jobs where someone would lead a department, like Head of Molecular Biology.
Alternate Routes: The World's Most In-Demand Jobs That Don't Require a Degree
Engineering
Average Starting Salary: $71,088
Make Your Money Work Better for You
Getting a degree in Engineering can bring in a nice paycheck at just over $70,000. Typical first jobs depend on what type of engineering was studied, but might include mechanical engineer, materials engineer, electrical engineer or chemical engineer.
Education
Average Starting Salary: $56,484
Depending on which grade level teachers educate, they can, on average, expect to make anywhere from $55,000 for elementary education to $58,000 for high school education. Though typically, those with an Education degree work in schools, there's also the opportunity to lead educational efforts for non-profits and other educational outlets.
Ouch: 15 College Degrees That Won't Make You Money
Communications
Average Starting Salary: $58,174
Comparable to a degree in Business and Management, a degree in Communications could earn graduates a starting salary close to $60,000. Those with a Communications degree have a wide range of opportunities open to them, including jobs in public relations, advertising, and fundraising.
Accounting
Average Starting Salary: $47,482
Make Your Money Work Better for You
Accounting brings in just under $50,000 for a starting salary. This comes out to about $23 an hour. Job titles include Accounting Clerk, Accounting Assistant and Administrative Accounting Support.
Check Out: 20 Jobs Where You Can Make $60,000 Out of College
Finance
Average Starting Salary: $60,851
Someone with a bachelor's degree in Finance will earn right around $60,000 for a first job, on average. These types of jobs include Financial Analyst and Financial Advisor. Working the way up the ladder can pay off. An SVP of Finance is said to make $165,781 on average.
Criminal Justice
Average Starting Salary: $50,997
Rounding out the top 10 most popular degrees is  Criminal Justice. On average, graduates in this major bring in $50,000  during their first year of employment. Some entry level jobs include CIA Analyst, Paralegal, and Crime Laboratory Analyst.
More From GOBankingRates
Last updated: Sep. 22, 2021
Make Your Money Work Better for You