9 Things Young Professionals Can Do Now To Have More Later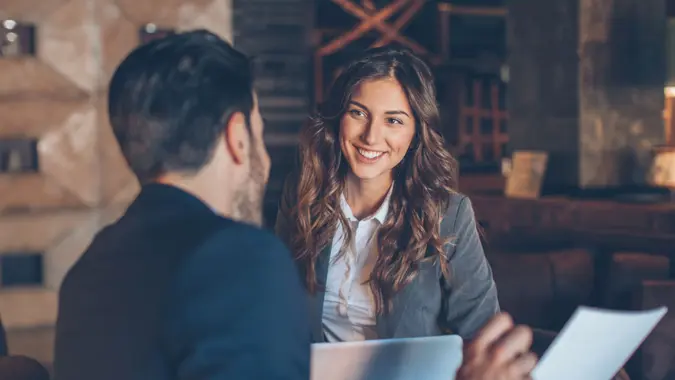 pixelfit / iStock.com
Today's young professionals face challenges that their parents and older siblings were lucky enough to avoid at the start of their careers — but Gen Zers and young millennials also enjoy access and opportunities that are unique to their time.
This era's up-and-comers don't have it easy, but they can make choices that will set them up for success when it's their turn to welcome the next generation into an ever-changing financial and professional world.
1. Invest in Index Funds
Young investors from all generations enjoy the same advantage — time. But many of them squander their most precious resource because they're confused, overwhelmed or intimidated by stock investing.
They should consider low-cost index funds, which remove all the guesswork by providing instant and fully diversified portfolios with the purchase of a single ETF.
"If you buy an individual stock, you are only investing in that company," said Katharine Perry, client advisor at investment management firm CooksonPeirce.
On the other hand, index funds give you an ownership stake in every business listed on the index it tracks, like the S&P 500. That makes them an excellent starting place for young novices — especially since fractional-share investing means you put your money to work no matter how little you have.
"You can start with any amount," Perry said. "Something is better than nothing."
2. Put a 401(k) on Your Deal Breaker List — And Get Every Matching Dollar
If you're a young professional working for a company that doesn't offer retirement benefits with an employer match, find a different profession — or at least a different company.
Make Your Money Work Better for You
Pensions are a thing of the past, and modern professionals build nest eggs by contributing a portion of every paycheck to tax-advantaged retirement funds with free money added by their employers.
Never contribute less than the company match, but don't necessarily stop there, either.
"Find out if your employer's retirement plan offers the option to increase your contribution amount automatically and on a regular basis," said Leslie Ingberg, communications strategy leader of wealth management and investment services at U.S. Bank.
3. Contribute to an IRA (or Roth IRA)
If your employer doesn't offer a 401(k), then it's up to you to save on your own with an individual retirement account (IRA). Alternatively, you might choose an after-tax savings vehicle — IRAs and 401(k)s grow your nest egg on a pre-tax basis — like a Roth IRA.
"It is hard to imagine what your money now will look like in the future, but if you were to save $5,500 a year in a Roth IRA for 30 years, with an expected return of 7%, the value would equal $555,902," said Jennifer Weber, a certified financial planner and vice president of financial planning at Weber Asset Management.
4. Pay Off Your Debts ASAP
According to CreditKarma, adults ages 18-26 have an average of $16,283 in debt — and they'd be wise to attack it now, so it doesn't smother them later.
"The best thing millennials can do is also the most boring," said Howard Dvorkin, CPA, founder and chairman of Debt.com. "Get rid of as much debt as possible right now,"
Make Your Money Work Better for You
According to Dvorkin, the federal government offers numerous programs for consolidating, reducing and even eliminating student loan and credit card debt. Nonprofit credit counseling agencies also can help you reduce payments by up to 30% to 50%, although they take a couple of years to work, Dvorkin said.
"But once you do that, you're still young enough to take the money you were paying in interest and fees and invest it in your future — which will be a long one," he said.
5. Take Advantage of Down Markets
Most experts advise not trying to time the market and instead investing consistently over time irrespective of your portfolio's performance.
But Corey Sunstrom, certified financial planner and director of financial planning at Hobart Financial Group, said down markets and corrections actually help younger investors with longer time horizons by allowing them to go discount shopping in their retirement accounts.
"It's important to develop a consistent savings and investment strategy in order to take advantage of these market cycles," he said.
6. Get a Health Savings Account
Medical bills — whether anticipated or unexpected — can seriously strain your ability to pay bills and get ahead financially. Daniel L. Grote, a certified financial planner and behavioral financial advisor with Latitude Financial Group in Denver, said healthy young professionals should consider getting a high-deductible insurance policy and investing in a health savings account (HSA).
"Simply put, these plans allow you to build wealth and minimize insurance premiums," said Grote. "As long as one saves the difference into the health savings account and doesn't have any significant health issues right out of the gate, they'll get a good start to self-funding for minor health issues and will be protected for major ones.
Make Your Money Work Better for You
7. Take Your Banking Online
Right now, interest rates are the highest they've been in decades, which is great for savers — but big brick-and-mortar banks are still offering minuscule yields while some online banks are paying over 5%.
"Online banks do not have the overhead that traditional banks have because they do not have branches all over the country to staff and maintain," said Matthew Coan, owner of the personal finance site Casavvy. "They pass these savings on to their customers in the form of little-to-no fees and much higher interest rates — sometimes 10 times higher than that of traditional banks."
8. Create a Budget and Live According to a Spending Plan
No matter what you do, you'll never be in your best financial shape if you're not tracking your income and planning your spending according to a budget.
"Many Americans don't bother making a budget or keeping track of their spending, even if they owe money," said Baruch Silvermann, financial expert and CEO of The Smart Investor. "This can result in overspending and having less money saved than you could. A budget helps you set aside specific amounts to save and prioritize your financial goals. It also helps you understand what you really need versus what you just want, so you can make smarter choices with your money."
9. Save For Emergencies Now or Borrow For Them Later
Whether they know it or not, young professionals have unforeseen expenses coming their way — and if they don't have cash in the bank to pay for them, they'll mortgage their future to cover the costs.
Make Your Money Work Better for You
"Saving for emergencies is super important because life can be unpredictable," said Silvermann. "You never know when you might face unexpected costs like medical bills, car repairs, or losing your job. Having a financial safety net gives you peace of mind and helps you avoid taking loans or using credit cards, which can lead to debt. If you save enough money to cover your living expenses for three to six months, you'll be better prepared to handle any unexpected situations without messing up your finances. It acts like a cushion, helping you get through tough times and stay financially stable. This way, you and your family can feel secure and have a stable financial situation."
Morgan Quinn contributed to the reporting for this article.
More From GOBankingRates