We Won't Reach Gender Parity in the C-Suite Until 2060 — What Can We Do To Speed This Up?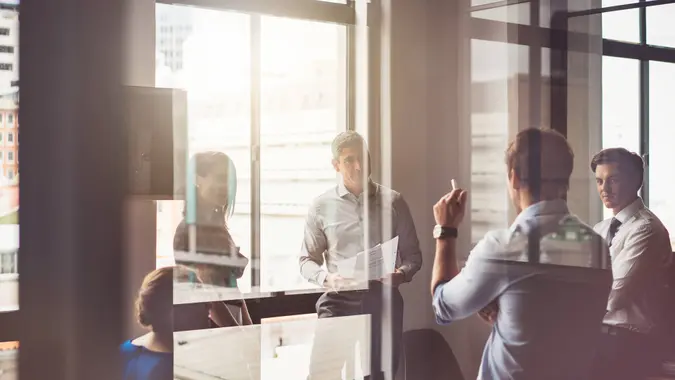 Portra / Getty Images
Women still have a long way to go when it comes to having equal representation at the executive level. According to a recent Morningstar report, "while the number of women at the top of the corporate ladder has inched up, women will have to wait until 2060 to reach representation parity at the present rate of progress."
Find Out: How To Get Rich With a Normal Job
See: 22 Side Gigs That Can Make You Richer Than a Full-Time Job
This stat is alarming, but there are actions employers and those currently in leadership positions can take to speed this up.
Hire Fairly and Pay Fairly
To get to the top, women must first get their foot in the door.
"Employers and leaders can hire fairly and pay fairly," said Senofer Mendoza, co-founder and general partner at Mendoza Ventures. "The funny thing about bias is it works both ways — we as people are more likely to work with someone like us. So, if we lift more women into positions where they hire a lot of people and into the C-suite, this problem will literally fix itself."
Make Your Money Work Better for You
Mendoza said that women (and men) in leadership positions need to be proactive about ensuring that women within the organization get a seat at the table.
"Look around the rooms you are in and pull someone into that room who wasn't invited," she said. "Invite women with different backgrounds onto your teams, into your board rooms and onto your cap tables. Women need to create a culture of investing in other women. As our representation grows, so will our equity."
POLL: Do You Think Student Loan Debt Should Be Forgiven?
Prioritize Women for Leadership Roles
Employers should promote qualified women to leadership roles when possible, said Carolyn Betts, CEO and founder of Betts, a female-founded nationwide technology and recruitment services firm.
"At Betts, we have a lot of women in the organization, and we have great retention of our female employees because of this strong female presence," she said. "We've been successful in creating a path for ourselves and fostering female leadership from the bottom up to the top of our business. Female leaders will, in turn, be role models for younger women to look up to and guide them on their own paths toward executive positions."
Make Your Money Work Better for You
Even at the Top, Women Face a Pay Gap
The Morningstar report found that the gender disparity in the C-suite goes beyond representation — women in top roles are also paid less than their male counterparts. And the gender pay gap among women executives has been growing instead of shrinking.
The report found that "female C-suite pay as a percentage of pay earned by their male counterparts reached a record low for the nine-year period since 2012. On average in 2020, women with C-suite positions earned only $0.75 for every $1.00 earned by men at the top of the corporate ladder, down from $0.88 for every dollar in 2018."
Sara Adam Slywka, a female founder and CMO at Nestig, said that when it comes to closing the pay gap in the C-suite, women need to be proactive and stand up for themselves.
"Without having an open and honest discussion about the pay gap, there will be no progress," she said. "Women need to put themselves forward and create the initial dialogue with their male counterparts. To spark change, they need to speak with a sense of purpose."
"When communicating with colleagues about pay transparency, start with the objective, and the verbal or physical signs of a gender pay gap," Adam Slywka continued. "Confirm if the signs you're noticing are correct. Not only does this create a more inclusive environment, but also holds companies accountable. Everyone must be proactive, and men need to be part of the solution."
Make Your Money Work Better for You
More From GOBankingRates
Make Your Money Work Better for You