Here's What Might Be Costing You $1 Million Over the Course of Your Career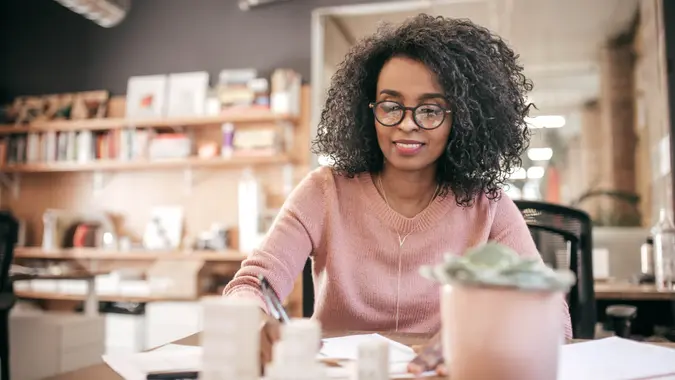 kate_sept2004 / iStock.com
Salary negotiations can be stressful, but avoiding uncomfortable discussions at work can cost you a fortune.
"Failure to negotiate pay could indeed cost employees a significant amount of money throughout their working lives," Kimberley Tyler-Smith, an executive at the career tech platform Resume Worded. "Research shows that even a small increase in salary at the beginning of one's career can significantly impact their earning potential over time."
Here's what you need to know.
Million-Dollar Question: May I Have a Raise? 
For context as to just how much is on the line, Melanie R. Savelli, Ph.D., professional growth consultant and founder of empowerHERcareer, cited a Salary.com study that profiled two hypothetical employees who receive offers of $45,000 a year. One accepts the $45,000 and a 1% annual raise. The second negotiates for $50,000, a 1% yearly raise and a 4% raise every three years. 
After just five years, the pay gap becomes $6,816. Upon retirement, the two are separated by $43,616 in annual salary and the employer who settled has lost $1,037,773.
Make Your Money Work Better for You
Compounding Power of Base Pay
Just like interest in your bank account, raises compound salary growth based on the original amount. "Remember, salary increases are based on your base pay at the time," said Ronald Auerbach, author of "Think Like an Interviewer: Your Job Hunting Guide to Success."
"So let's say you were to get a 3% pay raise. With a base salary of $35,000, your pay increase would be $1,050. But if your base salary were $37,000, your pay increase would be $1,110, which is $60 more a year. The next time you come up for a raise, it will be based on your base pay at the time. But the gap the next time around won't be $2,000, it will be $2,060. So the amount you are sacrificing from not having negotiated your pay will compound over time, meaning grow to bigger and bigger amounts."
Take Our Poll: Are You Concerned About the Safety of Your Money in Your Bank Accounts?
Indirect Costs of Failing To Negotiate
Auerbach's example and the Salary.com study focused purely on pay. But since the all-important 401(k) employer match is based on a percentage of your salary, you'll be shorting your retirement fund by a small fortune over time, too — and the losses don't stop there.
"It will also affect your unemployment benefits should you lose your job," said Auerbach. "That's because unemployment is calculated off your pay, which was lower due to not negotiating." 
Make Your Money Work Better for You
Failing to fight for what you're worth also sets the bar lower for your next boss. "When you change jobs, employers will see that you were making $X instead of $Y. So why would they pay you $Y when you were only making $X?"
So, When Do I Pop the Question? 
According to Savelli, "The timing of a salary negotiation can be just as important as the negotiation itself."
She outlined the following milestones, which present good opportunities to pounce:
After a positive performance review
After receiving a new job offer
After being promoted to a new role
After completing a major project or achieving a significant accomplishment
But the best time of all might be upon getting an offer for your very first job.
"For most, the gap is real and starts early," said Boston-based career coach and author Amy Feind Reeves, founder of Job Coach Amy. "A failure to negotiate can cost between $5,000 and $10,000 for new college grads and only increase from there. At that point, you don't have much of a track record. Still, more than half of employers say that recent grads leave money on the table."
Make Your Money Work Better for You
Prepare, Plan and Go in With a Strategy for Success
Matthew Warzel, CPRW, president of MJW Careers, offered the following guidelines for getting paid what you're worth:
Acknowledge that you understand the economy and the company's financial situation.
Do not insinuate that your current salary or job position is a problem.
Never give an ultimatum or threaten to quit if you do not get a raise.
Don't tell them if you have a better offer from another company.
Prepare to hear 'no' so you can respond unemotionally and state your prepared arguments. Take the initial rejection as a jumping-off point to start the negotiation.
If you leave empty-handed, schedule another meeting in four to six months.
Savelli expanded with her own suggestions: 
Research the market rate for your position and experience level, as well as the company's or industry's salary range.
Set a realistic goal and determine your ideal salary and the minimum salary you are willing to accept.
Emphasize your value, skills, experience and accomplishments.
Practice your negotiation pitch with a friend or family member to build confidence and ensure you communicate your points.
Be open to negotiation and consider other forms of compensation, such as bonuses, stock options or extra vacation time.
Make Your Money Work Better for You
Utilizing some of these tips should set you on your way for getting paid what you're worth. Good luck!
More From GOBankingRates
Make Your Money Work Better for You