Why Can't We Fill Jobs? Openings Are at a Record High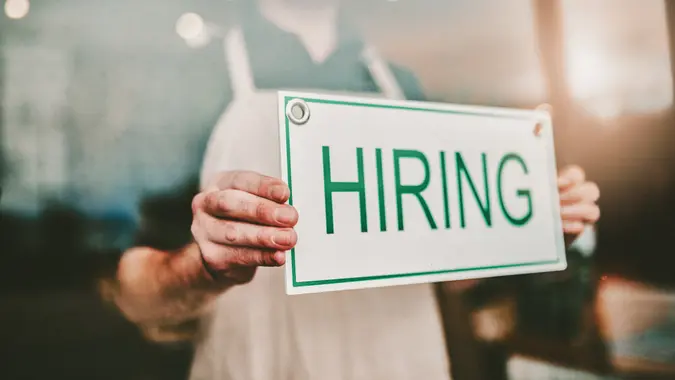 Charday Penn / Getty Images
America had a record 10.1 million jobs openings in June, but businesses are struggling to fill these open positions, CNN reported. So what's causing this mismatch between worker supply and demand?
Get the Money You Want: 5 Things To Negotiate at Your Job Other Than Salary
Follow Along: 31 Days of Living Richer
According to Hourly Workers, These Are the Primary Reasons That Businesses Are Facing Difficulty Hiring
A recent survey of over 3,000 hourly workers conducted by Branch is shedding some light on the divide between worker supply and demand. The hourly employees surveyed said that the No. 1 reason businesses are likely having difficulty filling open roles is that wages are too low. Sixty-eight percent said that they believe people are earning more from unemployment benefits/stimulus checks than they would be working at the retailers, hotels and restaurants that are desperate to hire. Going hand-and-hand with that, 59% of hourly workers said that companies need to provide higher wages to attract new workers.
Other reasons businesses are having difficulty hiring, according to the workers surveyed, are that employees fear COVID-19 exposure (46%), companies are not providing enough benefits to their employees (28%), people are rethinking their careers and are taking their time before taking on a new job (28%), a lack of child care/school (27%), a lack of career growth opportunities within companies that are hiring (22%) and a lack of scheduling flexibility (20%).
Make Your Money Work Better for You
"In order for industries like hospitality to eventually return to normal, the industry needs to meet new expectations from workers in the field," said Sumir Meghani, CEO and co-founder of Instawork, a digital marketplace connecting local businesses with professionals. "Our team at Instawork regularly meets with hourly workers, and we hear repeatedly that flexibility is incredibly important in order to better care for their families. In addition, they're looking for higher wages that better correlate with their individual levels of experience and unique skillsets."
Read More: 30 Best Jobs If You Want To Retire Early
The Labor Force Has Shrunk
The dissatisfaction about current working conditions is causing the labor market to shrink, so there are now fewer people to fill job openings than there were pre-pandemic.
"There are about 3 million fewer people in the U.S. either working or looking for work now, as compared to before the pandemic," said Gus Faucher, chief economist at PNC Financial Services Group. "If employment is to return to its pre-pandemic level, labor force growth must pick back up. Some of the contraction in the labor force is due to concern about the coronavirus, some is due to child-care responsibilities, some is due to an increase in legislated unemployment insurance benefits."
Make Your Money Work Better for You
Lack of available child care has disproportionately affected female workers, which took a major hit on the available labor force.
"The labor participation rate has been declining for years, especially for men, while the participation for women nearly doubled from 1950 to recently," said Ira Wolfe, president and chief Googlization officer at Success Performance Solutions, an employee testing provider. "The reality is women drove the U.S. labor force until recently. But then the pandemic hit and women left the workforce in droves, [we experienced a] 'SheCession.' Women still hold the role of caregiver in most families. When push came to shove, they had a choice — take care of their kids or parents, or their career. Kids and parents won out. The female participation dropped from just a little over 60% to approximately 52%."
Learn: The Top Company Hiring Now in Each State
Save Money: 94 Money-Making Skills You Can Learn in Less Than a Year
Another reason the labor force has shrunk is a reduction in immigration.
"The pandemic stopped immigration in its tracks," Wolfe said. "This isn't sustainable, but currently is a reason for so many unfilled jobs, especially low- to moderately-skilled jobs."
Yet another factor leading to a reduction in the labor force is that many workers decided to retire early after being laid off or furloughed amid the pandemic.
Make Your Money Work Better for You
"Baby Boomers have been leaving the workforce since 2002, but at a rate slower than predicted," Wolfe said. "But then the pandemic hit and as an at-risk population, the rate accelerated."
More From GOBankingRates
Last updated: Aug. 30, 2021
Make Your Money Work Better for You