Why I'm Working to Quit a Great Job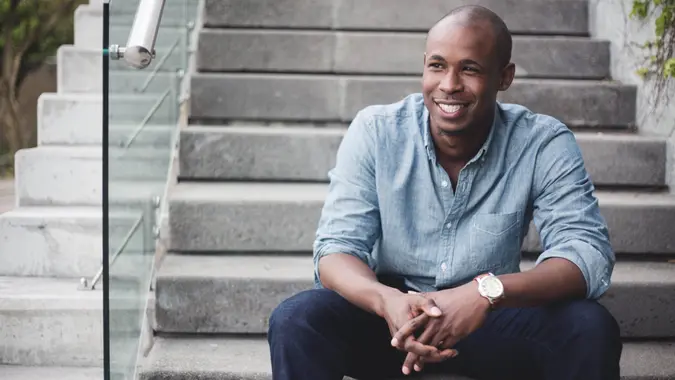 @justin_02 / Twenty20.com
Confession time: No auditor ever dreamed of becoming an auditor as a child. I know, shocking. So, how did I find myself working as one? I stumbled into my career much like superstar Tim Tebow got into Major League Baseball. Let's just say it wasn't my first plan.
But, just because something isn't the job of your dreams doesn't mean it can't help you reach your goals. If that sounds like a contradiction, keep reading. I'll explain why I'm working to quit a great job as the U.S. quit rate hits a 17-year high.
Read More: Why It's So Important to Negotiate Your Starting Salary
First, I recognize I'm fortunate to have a secure, fair-paying job when that is not the case for many. I am not blind to my privilege. But, I think fellow millennial Jeff Johnson — who went through a quarter-life crisis prior to taking charge of his career pivot — summarized our plight best with his meme-worthy quote: "The only thing worse than being good at something you're indifferent about is being expected to remain complacent about it for 40 hours a week, 52 times a year, for the next 40 years of your life."
You Should Be Grateful to Have a Job
Despite a nearly 15-year career, a recent vacation reminded me I've never been away from work longer than two weeks. My longest break occurred when I needed extra time to relocate from one job to another. In fairness, I've been rewarded in pay, raises, respect and even seniority. Maybe that is the natural trade-off between work and life. Am I crazy to seek greater balance?
I thought I caused my former employer an aneurysm when I informed them during my annual evaluation that I wasn't motivated by the raise they offered. Rather than money (a cost to the company), I pleaded for a probationary leave of absence from my 40-hour office sentence. Instead of compensation, could the company offer a work-from-home option (we had the technology), or a flexible schedule to give me some semblance of a life outside of work? When they greeted me with awkward silence and visible confusion, I continued on, explaining that I needed something more valuable and less replaceable than money: I needed to reclaim my time.
Make Your Money Work Better for You
Obviously, they completely understood.
"Request denied!" came the verdict.
My peers offered their condolences. "It could be worse," they said. "You should be grateful to have a job."
I thought to myself, "If it could be worse, then, doesn't it also stand to reason that it could be better?"
But the office council had spoken. After all, nothing rocks the career boat more than staff complaints about meager raises (even if those raises are 80x smaller on average than the CEOs'). Apparently, we as a society have accepted that stagnant wages are better than being voted off workforce island.
Check Out: 24 Tips to Change Your Career and Land Your Dream Job
My Job Is Something I Do, Not Who I Am
The idea that millennials don't want to work is easily disproven. Like most millennials — and I don't mean the stereotypical profile of a millennial that the media uses for clickbait — I joined the workforce as soon as I was legally able (age 16) because I was taught work was the only way to better my financial circumstances. For my troubles, I graduated from college in time to survive at least two recessions and, depending on who you ask, receive the same reward many other millennials did: stagnant wages, ever-increasing demands and never-ending work schedules that tether us to smartphones and laptops. Despite these obstacles, in a recent GOBankingRates survey, 50 percent of respondents ages 25 to 34 (millennials) stated that the average time they stayed with a company was at least four years, and 26 percent of those spent an average of seven years or more. So, clearly, we're trying to stick it out. We want to work.
In reality, salary increases are at a standstill and yet, employers' expectations are equally, if not more, demanding. The same GOBankingRates survey found that the vast majority of millennial respondents answered "Want to make more money" as their biggest incentive for changing jobs. Simply put, if you're going to pile on the demands, we want to be fairly compensated for our efforts. That some find this request completely absurd only highlights the conflict in expectations between employer and employee.
Check Out: 10 Signs You're Financially Ready to Quit Your Job
Further, Deloitte's Millennial Survey found 7 in 10 millennials plan to work independently rather than for a traditional organizational structure. This is because a traditional organization offers us a fixed salary to live in a world that has grown two to three times more expensive. And then, the powers that be wonder why we don't grovel for more, gratefully accepting minuscule raises that make no real difference to our bottom line.
Make Your Money Work Better for You
Come hell, high water or mid-career burnout, the system teaches us from childhood to exchange time for money as we claw our way from the bottom rung of the career ladder into the esteemed corner office of middle management. There, or so we are told, we get to be king of career hill, looking out our glass window upon the people beneath us (who are enjoying the real world). But in reality, we are sitting in our very own ergonomic human fishbowl.
Ironically, millennials' plans to escape the traditional workforce might have best been summarized by someone who isn't even a millennial, Lori Greiner: "Entrepreneurs are the only people who will work 80 hours a week to avoid working 40 hours a week."
Read More: My 16-Year Career Ended so I Started Over — Here's How
More From Our Smart Money Squad: