Bing Chat vs. ChatGPT: Which AI Can Make You More Money?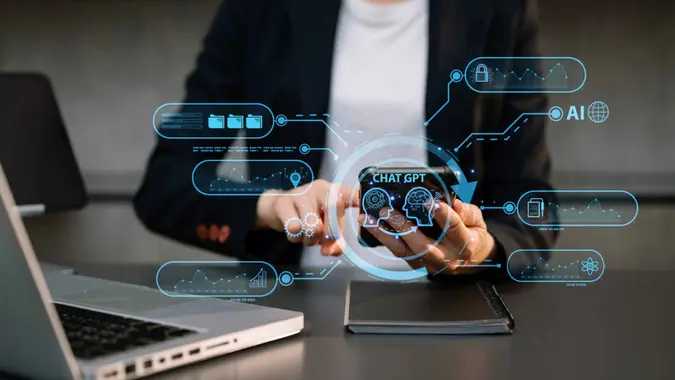 nuttapong punna / Getty Images
Recent advancements in the field of artificial intelligence are leading to more opportunities for regular people to build up new income streams. Earlier this year, it was revealed that Microsoft had made another significant investment in OpenAI, the parent company of ChatGPT. Since then, Microsoft has launched its own chatbot, Bing Chat, built into the Microsoft Edge web browser.
If you search through message boards and social media, you'll find that both AI-powered tools have built up legions of loyal fans. This article will compare Bing Chat to ChatGPT to determine which is the better platform for making money. Due to the scope of this article, it compares only the basic versions of both chatbots –it's worth noting that ChatGPT has a premium version, as well.
Making Money With ChatGPT
Since this chatbot was released to the public in late 2022, many new use cases have been coming out for how to use the tool to make money. 
Main Financial Features of ChatGPT That Allow People To Make Money
Writing content for blogs: You can use the tool for keyword ideas, content generation, summaries and headline assistance. 
Create social media content: You can also prompt ChatGPT to assist with creating content for every social media platform.
Coding: There have been examples of users prompting ChatGPT to write code that builds browser extensions that can be sold on the Chrome Web Store.
Writing scripts for YouTube videos and other social media platforms: If you're unsure what to discuss, the chatbot can handle this for you.
Resume creation services: You can create resumes and other professional documents with ChatGPT.
Creating customized workout and meal plans: Many personal trainers have used AI for assistance with this.
Make Your Money Work Better for You
Those are just a few examples of how you could use the chatbot to generate money, as new stories are coming out daily.
Making Money With Bing Chat
When ChatGPT came out to the market, it was evident that the other tech giants would soon follow with competing products. One of the common complaints about ChatGPT was how the tool was limited to information pre-2021. While ChatGPT still gives detailed responses to your prompts, this limitation isn't there with Bing Chat, which provides updated and accurate data. Bing Chat offers search and chat functions, while ChatGPT is only a chatbot.
Bing Chat can be used to make money with all of the strategies mentioned in the section above, as you can use similar prompts to create content, write code and treat the tool like a personal assistant.
Unique Financial Features of Bing Chat
You can search the web while prompting the chatbot. This means that you can conduct more profound research when you're looking to create content.
Bing Chat can compare multiple products as you search the web. This means that you can track competitors and see how your product compares.
You can earn points with Microsoft Rewards for using Bing's AI search engine, so you're getting paid to browse. You can redeem these Microsoft points for gift cards at retailers like Amazon.
Bing Chat lists the sources for its information. You know where the data came from.
Make Your Money Work Better for You
Microsoft also announced that the chatbot will soon be able to summarize longer documents on the web — PDFs, eBooks and longer articles. This capability could be helpful when researching or even trying to learn a new skill.
Which Chatbot Can You Make More Money With?
You have the potential to earn more money with Bing Chat, since this chatbot has access to the entire internet when you're prompting it — you're not limited to information that's pre-2021. Bing Chat's web browsing capabilities are important, because this will help with content creation and finding accurate information. One of the main criticisms of ChatGPT since day one has been a lack of a web browsing function.
It's also a major asset that Bing Chat cites its sources, while ChatGPT just gives you the information without any sources. Knowing where your information coming from can help prevent you from getting into trouble when publishing content, because you want to ensure your information is completely accurate — and avoid accidentally plagiarizing someone else's work.
Also, if you're browsing online, you may as well utilize the fact that you can earn Microsoft points. These points will allow you to get compensated for conducting your research.
Make Your Money Work Better for You
On the business side, Microsoft recently introduced Bing Chat Enterprise, a new tool that provides additional protection and security controls to businesses worried about using generative AI. This will be a helpful addition if you're running a larger-scale business that relies more heavily on AI chatbots.
Closing Thoughts
While Bing Chat will provide you with web browsing functions and accurate information, ChatGPT can often provide more detailed responses. The good news is that you can use both AI tools to make money with the wide variety of features they offer. You can also use both tools simultaneously — you could have your ChatGPT open with Bing Chat in the sidebar.
If you ever get stuck, you can always ask these AI-based tools for suggestions on making more money. 
More From GOBankingRates