How To Make Money With AI-Generated Music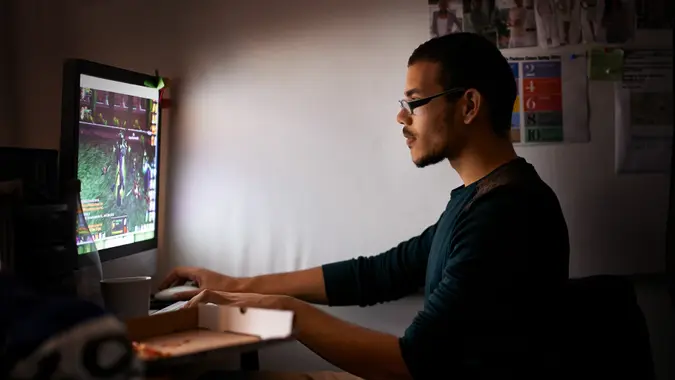 Yuri_Arcurs / iStock.com
The recent advancements in AI have been revolutionary, to say the least, as new tools continue to emerge with phenomenal capabilities. We've heard of writers making money using AI tools like ChatGPT to create written content and marketers using DALL-E 2 to create cover art. One of the most recent advancements now allows you to create audio content with generative AI. 
Making income from selling music created by AI is the next sub-sector of this technology that's worth paying attention to. With tools like AIVA, Shutterstock and Google's MusicLM, text-to-music generators are becoming more accessible to regular people. 
Here's how you can make money with AI music. 
Monetizing AI Music Videos on YouTube
YouTube is still one of the biggest platforms in the world. Since many people turn on lo-fi beats as background music for almost anything, you can try to monetize your channel with this. 
You can create footage or artwork with an AI art generator like Midjourney to have a visual effect as the music plays. You can also create background music with a tool like Mubert or whatever service you're most comfortable with.
You can also use AI-generated music in your videos if you have a YouTube channel. You can create playlists, make music videos or compilations of lo-fi beats that you monetize through ads on YouTube. 
Make Your Money Work Better for You
If your channel grows enough, you can look into other monetization options like merchandising, affiliate products and sponsorships. You can publish more content as you become more proficient at creating lo-fi beats with AI tools. You may even have other creators on the platform reach out about music, sounds or intros. 
Selling AI-Generated Music at Stock Websites
There are platforms where people search for stock music for their content or products. You can utilize these online marketplaces to sell the work that you create with the help of AI. You can start off by trying out Bandcamp, Amazon Music or iTunes to see if there's any demand. 
You can also create sounds you sell on websites like AudioJungle, where you get paid whenever someone uses your music. You can sell sounds, music clips and sound effects to those interested in your offering. The money you earn will depend on the genre and the quality of the music that you create. As your music quality improves, you can increase your prices.
Creating AI Music For Others
While these AI-powered tools are becoming easier to use, many people still haven't invested the time in mastering prompts. If you can become proficient at prompting the AI tools, you can generate music for others.
You have a few options for making money with AI music:
You can generate and sell AI-based tracks to businesses and individuals. Content creators could be interested in using your sounds for their business, so they'll purchase them outright. 
You can license your AI music. Once your library expands, you can look into licensing instead of selling your music. 
You can create podcast intros and other content. There are tools like FlexClip or Descript that help with generating podcast intros. Hosts of podcasts or YouTube channels could come to you for unique intros or background music. 
Make Your Money Work Better for You
What To Know About AI Music
As with all other advancements in AI, we must consider the legal implications. The courts and laws can't keep up with the technology yet, so we have to observe how this plays out. 
It's worth noting that there could be legal complications if you use copyrighted work in your AI music that you monetize. You don't want to put yourself in a compromising legal position by selling or licensing music that has copyright infringements. 
The music industry will more than likely be investing serious financial resources into legal battles with AI-generated music and royalties. You have to ensure that the AI music that you monetize is yours to monetize so that you don't find yourself in a legal battle. With famous artists like Drake having robot clones, there will certainly be legal disputes over the commercial use of such sounds. 
Final Thought
As AI-based tools become more popular and more accessible, new income streams are born. There's more to discover with the new AI-powered tools that can create music and how they affect the industry. If you have time to experiment with AI audio tools to generate music, edit music or handle production, you could find a new income stream. 
More From GOBankingRates