8 Ways You Can Use ChatGPT To Make Money on TikTok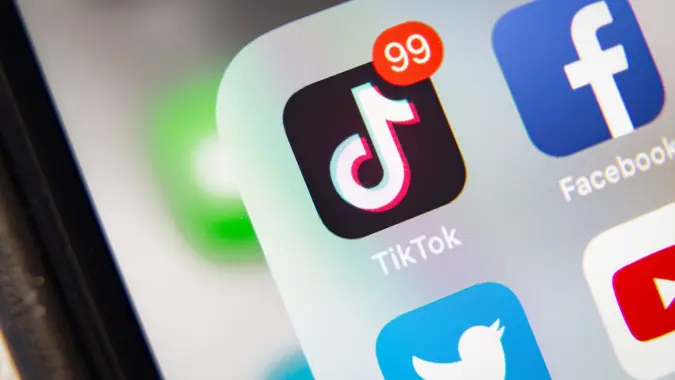 5./15 WEST / Getty Images
You've probably wondered how so many people have managed to make money on TikTok. Of course, brand deals play a huge role, but how do you gain their attention so that they want to work with you?
Experts say this is where AI can be a big help. Plus, there are a few other ways that don't have to do with brands that can help you make a couple extra bucks using TikTok. Here's how you can use ChatGPT to make money with the popular platform.
Idea Generation
First and foremost, to succeed on TikTok, you need to be making videos people want to watch, and continually growing your audience. That's how brands find you and want to work with you.
"In the dynamic world of TikTok, making money requires a substantial and engaged audience. To build this audience, the first step is creating high-quality videos that captivate and entertain," said Burak Özdemir, the founder of Morse Decoder. Once you've established your niche and audience, then you can use ChatGPT to your advantage.
"Start by asking ChatGPT for video ideas. You can base these on a topic of interest, a current trend, or even something completely random. For example, you might ask, 'ChatGPT, give me a fun video idea related to summer vacations'," Özdemir said.
Data Collection
"If you're looking to monetize your TikTok account, understanding your data is key," said Michelle Burson, president of MarComm. Luckily, OpenAI's ChatGPT-4 code interpreter plugin helps you do this.
Make Your Money Work Better for You
"It can take a CSV file of your TikTok data — such as posts, usernames, and dates — and it turns that data into actionable insights that help generate more revenue." Burson explained. The plugin counts the number of posts made by a user, then analyzes the frequency of posts. It also can show you word frequency analysis of your post text text.
"This shows you the topics that are getting the most attention," Burson said.
Collaborate With Brands and Influencers
If your videos don't catch big brands immediately, ChatGPT can help you convince them. "ChatGPT can help you craft persuasive pitches to brands and influencers for potential collaborations," said Casey Jones, founder and head of marketing at CJ&CO.
Captions
You've made the video and now all that's left to do is post, but you didn't think about what you would write for your caption. ChatGPT can help.
"Use ChatGPT to craft an engaging video description and choose relevant hashtags. These elements will help your video reach the right audience," Özdemir said
Engagement
One thing that will keep watchers coming back to your channel is if you interact with them through the comments. But if you have a lot of comments to address, that can be time consuming.
Fortunately, ChatGPT can actually help come up with those comments for you. "AI can help draft responses, saving you time and helping you maintain an active, engaged presence on your channel," Özdemir said
Make Your Money Work Better for You
Offer Digital Products
Brands aren't the only way to help you make money on TikTok. If you offer some type of good that you can market to people, you can use ChatGPT to help spread the word.
"Another way to monetize your TikTok account is by offering digital products, such as e-books, templates, or courses, which can be promoted through your videos," Jones said. "ChatGPT can help you create promotional content and sales copy for these products, ensuring they appeal to your target audience."
Provide Services
ChatGPT can help you help others. If you're doing well on TikTok, other people are going to want to know how. ChatGPT can help you create a marketing plan based on your TikTok success, while incorporating other people's needs.
"You can use ChatGPT to create content for others, such as writing video scripts or social media captions for clients. By offering your services as a content creator, you can generate additional income while leveraging your TikTok presence," Jones said.
Search the App
When you search "how can I use ChatGPT to make money" on TikTok, tons of videos come up. Users coach viewers on how to make anywhere from $700-$11,000 relatively quickly using ChatGPT.
A lot of the videos say that what you have to do to make the money only takes an hour or so. There are also accounts made to spread this type of content, like @makemoneywithchatgpt for example.
More From GOBankingRates
Make Your Money Work Better for You