5 Insane Things That Have Sold on eBay: How You Can Make Money, Too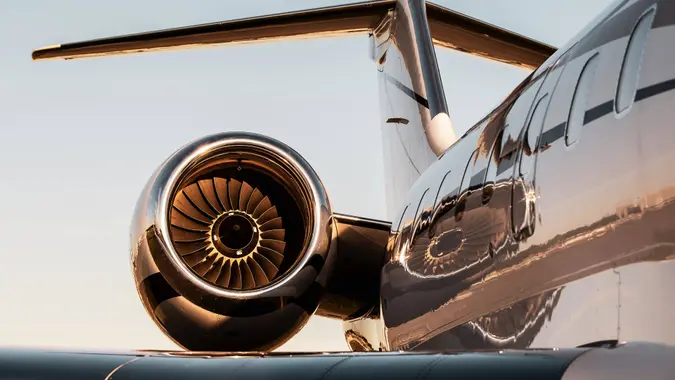 Jetlinerimages / Getty Images/iStockphoto
According to BusinessOfApps, 18.3 million sellers on eBay generated $9.7 billion in revenue in 2022.
If you're hoping to join the online auction gold rush, you have plenty of inspiration to draw from. The biggest auctions in the platform's history have brought in millions — and if you can imagine it, people have sold it. Sellers have earned six-figure sums by auctioning everything from rare sports memorabilia and helicopters to supercars and motorhomes.
I'm a Financial Planning Expert: Here Are 3 Ways ChatGPT Can Save You Money
But the items that have commanded truly royal ransoms prove that you can sell absolutely anything online — as long as you can find a willing buyer. Here's a look at the weirdest, wildest and most expensive things ever sold on eBay, with some tips on how you can become tomorrow's next headline-grabbing seller.
A 405-Foot Gigayacht
Gargantuan even compared to megayachts and superyachts, gigayachts are custom-built vessels that measure over 220 feet long. Although these floating skyscrapers are the undisputed kings of maritime luxury, you don't need any special connections to buy one — just an internet connection and, of course, the cash.
In 2006, Forbes reported on speculation that billionaire Russian oligarch Roman Abramovich was the buyer who purchased a 405-foot gigayacht on eBay for $165 million.
More than 17 years later, it remains the most expensive thing ever sold on the online auction site.
A Gulfstream II Business Jet
Five years before the nine-figure yacht changed hands on eBay, another plaything of the ultra-rich set the record for the most expensive item ever sold on the world's top auction site: In 2001, a buyer plunked down just shy of $5 million for a Gulfstream II business jet from Tyler Jet.
Make Your Money Work Better for You
If you dream of owning a private plane but you're a little light on cash, you can score a desktop scale model Gulfstream II for $500 plus $30 shipping on eBay.
A Business Meeting With the Oracle of Omaha
The annual eBay GLIDE charity auction has raised more than $30 million, and its biggest haul came from selling a sit-down with history's most successful investor. In 2019, the gavel fell on a record-setting $4,567,888 bid for a power lunch with Warren Buffett.
The big winner was Justin Sun, who founded the blockchain platform TRON and was the CEO of the p2p streaming platform BitTorrent at the time. Sun and seven guests enjoyed face time with Buffett at New York City's Smith & Wollensky Steakhouse.
A Texas Ghost Town
In 2007, a buyer from Italy placed the winning bid for the 13-acre town of Albert, Texas. Located roughly 60 miles north of San Antonio, the town has no residents, but a tavern converted from a general store is open on weekends.
Among the town's peach and pecan orchards is a three-bedroom house no one lives in, a tractor shed, a pavilion and an 85-year-old dance hall.
Albert remains a ghost town, but the dance hall is open for business with music acts booked through the summer.
Make Your Money Work Better for You
A Chalet With an Indestructible Bunker
In 2022, real estate developers Gregory Gibbons and Bruce Francisco listed a very special home in the Adirondack Mountains in New York for sale on eBay. It was built on the site of a decommissioned Atlas-F missile silo designed by the U.S. government in 1959 to withstand a direct hit from a nuclear blast.
Above ground is a sprawling chalet that sits above a self-contained two-story luxury home remodeled from the former Launch Control Center, which contains 20,000 square feet of usable space that descends 14 stories below ground.
The pair had hoped to walk away with $25 million but had to settle for the $2.1 million minimum asking price.
How To Get Top Dollar on eBay
Do you have an old missile silo or gigayacht that you're looking to offload on eBay? If so, your selling strategy will have a lot to do with how much you make at auction.
According to GoDaddy, success starts with comparison pricing — what are other people asking for their ghost towns and Gulfstreams? You also have to optimize your listing for search by filling out your descriptions thoroughly and accurately.
But photos are arguably the most important ingredient.
Don't take stock photos. Always upload in the appropriate dimensions, capture multiple angles and use Instagram-style photos to personalize the product.
Set a listing schedule and establish trust by providing information about yourself and your store, displaying customer testimonials and reviews and by being honest about any blemishes or defects. Finally, always offer free shipping and free 30-day returns.
More From GOBankingRates
Make Your Money Work Better for You