6 Rare Coins That Can Be Sold Online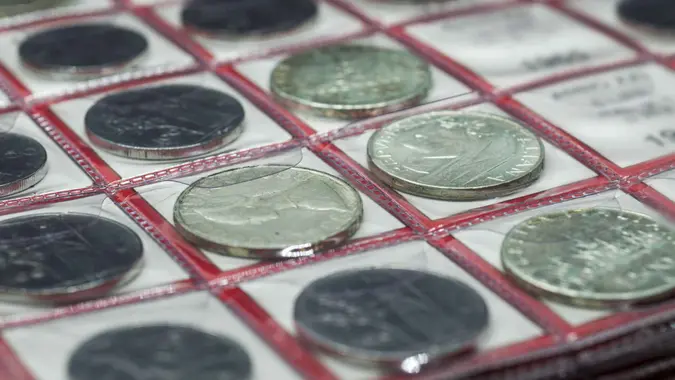 Paolo Gagliardi / Getty Images/iStockphoto
The rise of the internet as a medium for commerce has transformed many industries, including the rare coin business. In the pre-internet era, information about rare coins was hard to come by unless you were an industry insider. But nowadays, if you know where to look, you can learn nearly anything you want about rare coins, including where to buy and sell them and what a fair price range might be.
And the stratospheric prices that some coins can now fetch from online buyers may be enough to get the average American to start looking through pocket change in quest of finding a treasure. Here are just a few of the rare versions of common coins that are generating hefty online prices, with ranges corresponding to the condition of the coin.
2004-D Wisconsin State Quarter With an Extra Leaf
Online prices: $50-$1,200
It's not often that coins from recent vintages can command high prices online. Typically, "rare" coins are at least 100 years old and/or with low mintages. But the 2004-D Wisconsin state quarter is a very common coin, with a mintage of 226,800,000.
So, how does the coin appear on a list of valuable coins? Because there is a rare variety of the quarter that has an extra leaf on its reverse side. According to the Numismatic Guaranty Company, "The Extra Leaf High and Extra Leaf Low Leaf varieties of the 2004-D Wisconsin quarter are without-a-doubt the most popular and interesting varieties of the entire Statehood quarter series. They seem to have been made by an unscrupulous Mint worker with some sort of tool before the dies were put into use striking coins.." Look for an extra husk on the left side of the corn on the coin's reverse, which is not present in regular strikes.
Make Your Money Work Better for You
1999 Wide 'AM' Reverse Lincoln Cent
Lincoln pennies are one of the most collectible series in the coin universe, but many of them are common dates with high mintages, equating to little real value. However, the series is famous for mistakes and errors, and those can drive prices skyward.
The 1999 Wide "AM" Reverse Lincoln cent is one of the most recent varieties, created when the U.S. Mint inadvertently used a proof die for a regular-issue coin by mistake. Look for a space between the A and M on the reverse.
1970-S Large Date Lincoln Cent With a Doubled-Die Obverse
Online prices: $2,000-$22,500
An important distinction to know in the rare coin market is the difference between a double strike and a double die. Double strikes typically show doubling on both sides of a coin, while a doubled die only occurs on one side — the side with the defective die.
Common coins of this vintage can garner from $12 to $275, but the error version snagged $9,000 at a 2022 auction. The Professional Coin Grading Service says top-quality coins could be worth over $20,000.
1955 Doubled-Die Lincoln Penny
Online prices: $1,000-$30,000
The 1955 Doubled-Die Lincoln Cent is one of the most famous errors of the series. Even in terrible condition, the NGC values the coin at $1,000, with top-quality versions reaching $30,000. One seller is currently offering the coin on eBay for $39,995 in MS62 Uncirculated condition. The coin is relatively easy to identify, with "1955," "Liberty" and "In God We Trust" all being clearly doubled on the obverse.
Make Your Money Work Better for You
1983 Penny With Doubled-Die Reverse
Online prices: $185-$7,900
The regular 1983 Lincoln Cent was a very common issue, with a whopping mintage of 7,752,355,000 coins. However, one rare variety comes with a doubled-die reverse, and only 5,000 of those are estimated to still be in existence.
One example of the coin was auctioned off for $7,050 in 2017, and the NGC says versions in top condition are worth as much as $7,900 currently. The "one cent" lettering on the coin's reverse is quite obviously doubled, and the coin is also missing a mint mark on the obverse under the date.
Sacagawea 'Cheerios' Dollar
Online prices: $1,550-$11,500
If you're a fan of surprises that come inside boxes of Cracker Jacks or cereal, then you'll love the story of the Sacagawea "Cheerios" dollar. While 767,140,000 Sacagawea dollars were produced at the Philadelphia Mint in 2000, approximately 5,500 were inserted into boxes of Cheerios cereal as part of a promotion. Of these 5,500, a very few came with a special design on the reverse, bearing a different type of eagle feathers.
It's not known exactly how many of these special types exist, but only 60 to 70 have surfaced thus far. Some dealers suggest coins in top condition could reach as much as $25,000.
More From GOBankingRates