10 Best Apps To Sign Up and Get Instant Bonuses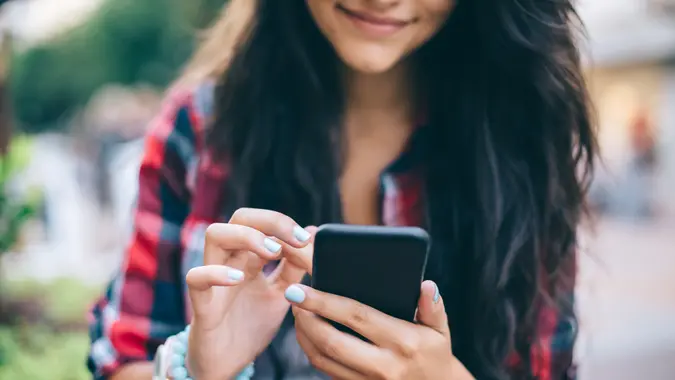 martin-dm / Getty Images/iStockphoto
There is nothing quite like instant gratification. In this economy, money is tight, and when you have taxes to pay and a retirement to plan for, wouldn't it be nice to earn money instantly just for signing up for an app you were going to get anyway? Money may not be free, but it will certainly feel that way when you get apps that give you bonuses for signing up. 
Learn: 3 Ways to Recession Proof Your Retirement
Best Sign-up Bonus Instant Withdraw Apps
Not only can you save money, but you can also make money online by getting sign-up bonus apps. So get ready to shop online and earn some points, cash or even Amazon gift cards — here are some of the best apps offering sign-up and instant bonuses.
1. BeFrugal
Sign-up Bonus: $10
BeFrugal essentially is a cash-back app. You get $10 for signing up and can redeem it once you have earned $10 in cash back. You also have a chance for a $15 referral bonus, and you can get instant withdrawals through a variety of ways, including the following:
2. Cash App
Cash App is a payment app similar to PayPal or Venmo. You get your Cash App instant bonus once you successfully link a bank account or debit or credit card with your Cash App account upon signing up. Even better, you can withdraw the funds immediately to your checking account, as soon as you receive the bonus.
Make Your Money Work Better for You
3. Fundrise
Sign-up bonus: $10
The money you receive for signing up with Fundrise is in the form of $10 of free shares to put towards investing. Fundrise is a real estate investment app and the free $10 goes towards the Fundrise Real Estate Interval Fund.
4. Ibotta
Sign-up bonus: $5
Ibotta gives you cash back every time you shop through the platform. In fact, you get your first bonus of $5 when you sign up and spend at least $15 through the app. Make sure you shop through participating online retailers. 
5. InboxDollars
Sign-up bonus: $5
Not only do you get a $5 bonus just for signing up for an InboxDollars account, but you can also earn more cash rewards by completing surveys, playing games, watching videos or redeeming promo codes through referral links. 
6. MoneyLion
MoneyLion is a mobile financial platform that gives you tools to enhance your financial situation through borrowing, saving and investing. You are awarded a $5 bonus to your RoarMoney account once your account has been approved. There is also a chance for a $50 direct deposit bonus. 
Make Your Money Work Better for You
7. MyPoints
Sign-up bonus: $10
You can earn more when shopping online with platforms like MyPoints. You earn your bonus of $10 with your first purchase, and it can be redeemed in the form of an Amazon gift card. MyPoints works with major retailers like Amazon, Walmart and eBay. 
8. Robinhood
Robinhood is an investment app that offers commission-free trading on stocks, ETFs and crypto. In addition to this, you get a chance to play its pick-a-card game, which will give you a free share of stock ranging in value from $5 to $200. You'll get a sign-up bonus no matter what, but it is exciting to potentially win big.
9. Rakuten
Rakuten works with over 2,500 stores where you can shop to score cash back. It essentially functions as a commission system. Retailers pay Rakuten commission when it directs shoppers to purchase from participating stores, and then Rakuten shares a portion of the commission with you in the form of cash or other rewards. You earn the $30 instant bonus once you sign up and make a purchase of $30.
10. Swagbucks
Sign-up bonus: $10
You can get a $10 bonus just for signing up with Swagbucks and making a $25 purchase through a participating retailer. You can redeem your cash in the form of PayPal cash or prepaid Visa cards.
Make Your Money Work Better for You
Final Take: The Benefits of Sign-up Bonuses
Even though — for some of these apps — it takes money to make money, they all do offer some form of a sign-up bonus, which is beneficial if you were planning on using the app anyway. If you are looking into getting a shopping, investment or payment app for regular usage, you might as well get one that pays you back.
FAQ
What apps pay you instantly for signing up in 2023?

Cash App, Fundrise, InboxDollars, MoneyLion and Robinhood all offer bonuses just for signing up, no purchase required – though you may need to make purchases to meet the minimum amount to withdraw.
You should also note that many credit card companies offer bonuses for signing up, as well, so keep that in mind next time you want a new app or credit card.

What app gives you money instantly for signing up?

There are several apps that give you money instantly for signing up. These sign-up bonuses may come in the form of cash, PayPal cash or even gift cards. Free money is great in any form, so here are some apps to look into that are offering sign-up bonuses:

–

BeFrugal

–

Cash App

–

Fundrise

–

Ibotta

–

InboxDollars

–

MoneyLion

–

MyPoints

–

Robinhood

–

Rakuten

–

Swagbucks

What apps give you $20?

Most sign-up bonuses for apps range between $5 to $10. Some apps, such as Swagbucks, do offer higher bonuses throughout the year as promotions, which can get up to $20, but this isn't consistent. Rakuten offers a $30 bonus, but only after you make an online purchase of $30, so the money you get wouldn't be pure profit.
Information is accurate as of Feb. 13, 2023. Bonus amounts and requirements are subject to change.
Make Your Money Work Better for You