Just 2% of Those With Side Gigs Make Over $1,000 Monthly — 5 Ways To Boost This Income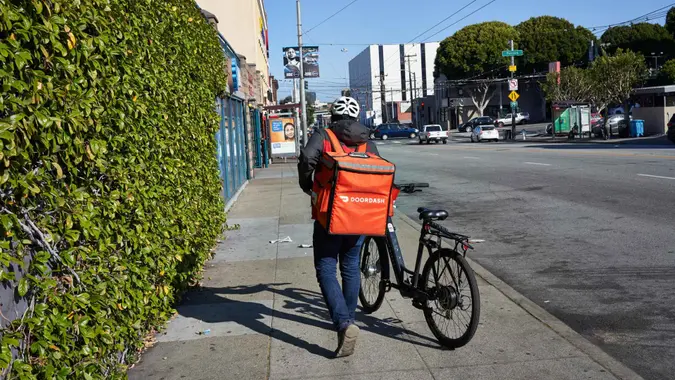 hapabapa / Getty Images
It might sound like easy money, but cash from side gigs doesn't necessarily add up fast.
If you have a side gig and you're earning less than $1,000 a month, you're in the majority. In fact, only 2% of people earn more than a grand per month with side gigs, according to a recent GOBankingRates survey. Perhaps more shocking, the vast majority — 21% — earn less than $300 per month. Just 10% earn up to $500 and only 7% earn $500-$1,000.
Earnings on the lower end might be okay if you're just looking for a little extra cash, but it can be disheartening if you're trying to bring in more. Thankfully, there are ways to boost your wages.
Since you're in the driver's seat with side gigs –quite literally if you're a rideshare or food delivery driver — you can control many of the elements that impact your earnings. If you're willing to get creative, work hard and maybe opt to work during times you'd rather not, you can likely earn substantially more.
If you're ready to enhance your side gig strategy, it's time to roll up your sleeves and get to work. Here's five tips to increase your monthly earnings.
Leverage Your Skills
"Everyone has something to offer," said Katharine Gallagher, a career expert and freelancer. "In life, through education or employment, you will have amassed a number of skills that you can rely on to get gig work."
Make Your Money Work Better for You
Therefore, you might have more options than you think.
"The first step is to identify the type of work you want to do," she said. "Make sure you choose the highest-paying job your skills can attract, as not all gig work pays the same rate."
Diversify Your Portfolio
When it comes to earning more than $1,000 per month, Gallagher advised against putting all your eggs in one basket.
"Spread your reach across various platforms and gig types, balancing short-term and long-term projects," she said. "Market demand, location and your own effort and commitment will dictate earnings."
However, you might not always be in control of your side gig income.
"The truth is that gig work often involves periods of inconsistency, so there are going to be ups and downs in terms of income," said Gallagher. "This flexible outlook on work is crucial."
However, she noted that this might not be much of a surprise.
"Most people who are looking for gig work are actually wanting to fit work around other commitments and go into this type of work with eyes wide-open," she said.
Showcase Your Skills With a Professional Online Presence
"To earn a consistent $1,000 per month, it's essential to build a reputation and client base within your chosen gig economy niche," Gallagher said. "The art of personal branding is the future, and employers want to engage with real people."
It won't happen overnight, but she said your earnings will snowball if you take the time to build your online presence.
Make Your Money Work Better for You
Find Your Niche
While Gallagher advised utilizing a variety of platforms and gig types, Brian Meiggs, an entrepreneur and founder of digital publication Gigs Done Right said it's important not to spread yourself too thin.
"Specializing allows you to hone expertise, build a reputation and charge higher rates," he said. "First, you need to Identify profitable niches like furniture assembly, business consulting, home organization, virtual assistance or web development."
After you've selected a niche that you're already experienced in or can quickly hone an expertise, he recommended marketing yourself to customers directly, instead of relying solely on apps.
"This allows you to build up your own client base who will pay more for specialty work," Meiggs said. "Through this approach, you can cultivate a more stable and recurring income."
Work During Peak Hours
Flexibility is one of the best things about this line of work. However, the time of day you're available matters with some gigs.
"For rideshare and food delivery apps, peak times are typically weekends, evenings, rush hour, holidays, events, etc.," Meiggs said. "You can earn more per hour during busy periods due to surge pricing and demand."
Therefore, if one of these is your gig of choice, he recommended learning your city's peak times and creating your schedule around them to maximize profits.
"Avoid wasting time on sporadic low-demand hours that pay less," he said. "Focus on peak times for maximum earnings per hour."
It might not be the time of day you'd prefer to work, but if you're able to make it happen, doing so can pay off.
Make Your Money Work Better for You
More From GOBankingRates